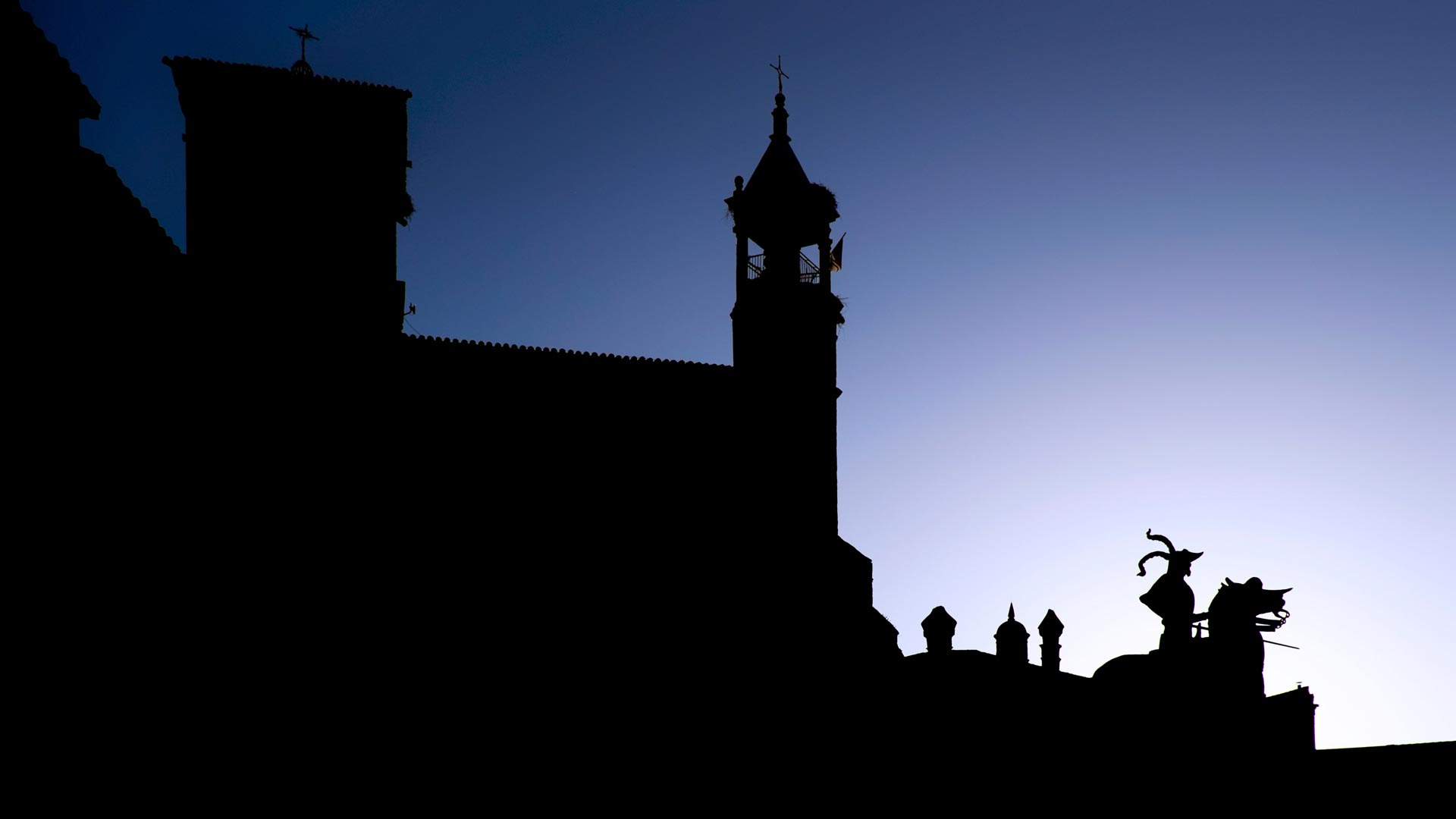 I rushed back to my hotel from Madrid Centre to freshen up for the first event of what I knew would be a week of fun. Let me give you some background information first….
I met a lovely couple at a travel show in February of 2014. They told me that they had recently traveled to Spain where they had volunteered at a six-day English-immersion program for Spaniards. They couldn't rave enough about the program. The wife joked that their only complaint was that they didn't realize beforehand that they could have had separate hotel rooms! She strongly encouraged me to apply as a volunteer. I couldn't race through the travel show fast enough so I could return home to research this program.
Vaughan Systems introduced their volunteer program, VaughanTown, in 2000. Their concept is simple: Volunteers must be native English speakers and must love to talk! After completing an application and being accepted as an "Anglo" volunteer, volunteers are invited to spend six fun-filled days (beginning on a Sunday and ending the following Friday) with Spaniards, getting to know one another by speaking in English only through one-to-one conversations and fun group activities. These programs assist Spaniards in further developing their English speaking skills and helping them overcome their fear of speaking English in business and personal situations.
There are several programs held throughout most of the year at various venues outside of Madrid. Although there is no monetary compensation, Anglos are provided with upscale accommodations and three meals per day (including wine at lunch and dinner!) throughout the program. Anglos are only required to pay for their airfare or other transportation to and from Madrid, as well as food and accommodations before and after the program.
The first event for Anglos was a tapas meet-and-greet, held the Saturday evening before we left for our programs. Without exception, all of the Anglos I spoke with were very outgoing and friendly. There were three groups of Anglos in attendance that evening, each group traveling to different venues. My group was heading to Trujillo, a small town in the province of Cáceres with a population of less than 10,000, located three hours southwest of Madrid. I learned that these programs were so enjoyable that many Anglos return year after year, attending programs at different locations. There was one Anglo there who had completed 36 programs! He lives in Florida and travels to Spain for three months. He volunteers for three consecutive programs, takes one week off, volunteers for three more programs, takes another week off, and then volunteers for three more programs before flying home to Florida! In contrast, I was one of the newbies.
After the evening's event, I continued the fun evening by going out to dinner with two other Anglos, Sharon, and Claire. We dined at La Tagliatella which was within walking distance of our tapas meet-and-greet location. Yes, we did realize that we were eating at an Italian restaurant while in Spain, but how could we resist when our waiter Elvis topped off our wine glasses and brought us a beautiful basket of cracked green olives, warm bread, and infused olive oil? I thoroughly enjoyed a delicious light salad of Insalata di Tortino al Parmigiano (mixed leaves, Parmesan terrine, tomato confit, caramelized pear, duck ham and Parmesan shavings).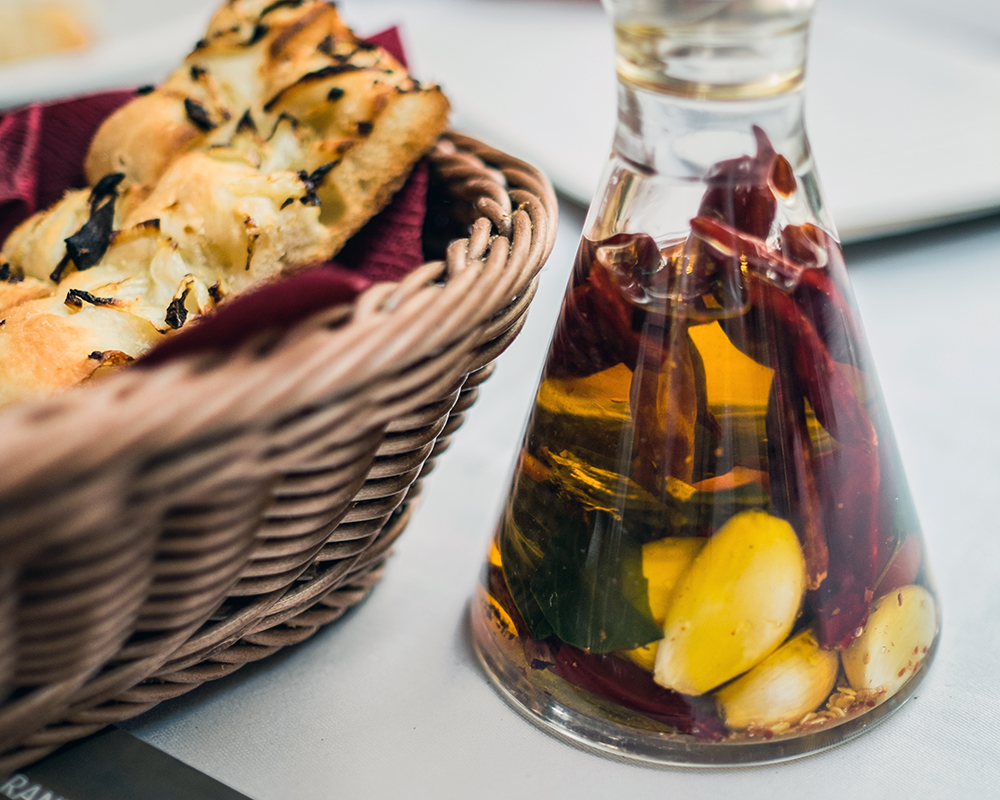 The following morning, accompanied by two VaughanTown staff members, Marisa, our Program Director, and Carla, our Master of Ceremonies, all of the Anglos and some of the Spaniards who lived in Madrid boarded a bus and off we went.  The long drive to Trujillo passed quickly once we began our introductions. We were off to a great start!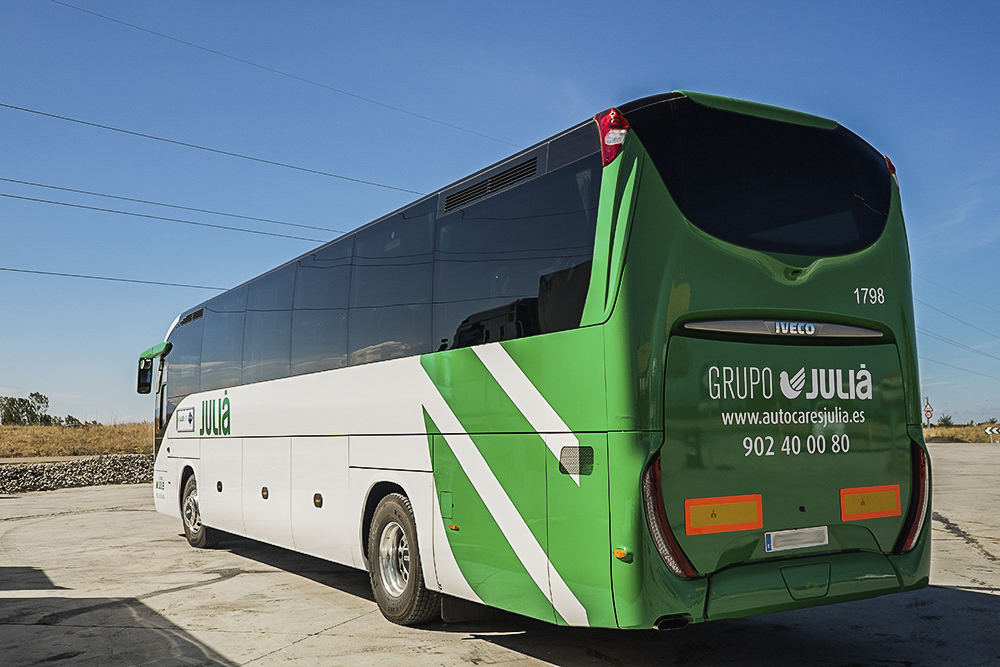 I was thrilled when my new Anglo friend Christine pointed out the Trujillo Castle from the bus window.  We were almost there! The 10th-century castle, located on the highest point of the city and which was originally a Muslim fortress, may only be one of two examples of Muslim fortresses built with stone before the year 1000.  Dates such as this are always mind-boggling to me, considering that the Avila Adobe, the oldest house in Los Angeles, was built in 1818.
Here is my blurry image of the castle, photographed from a moving bus.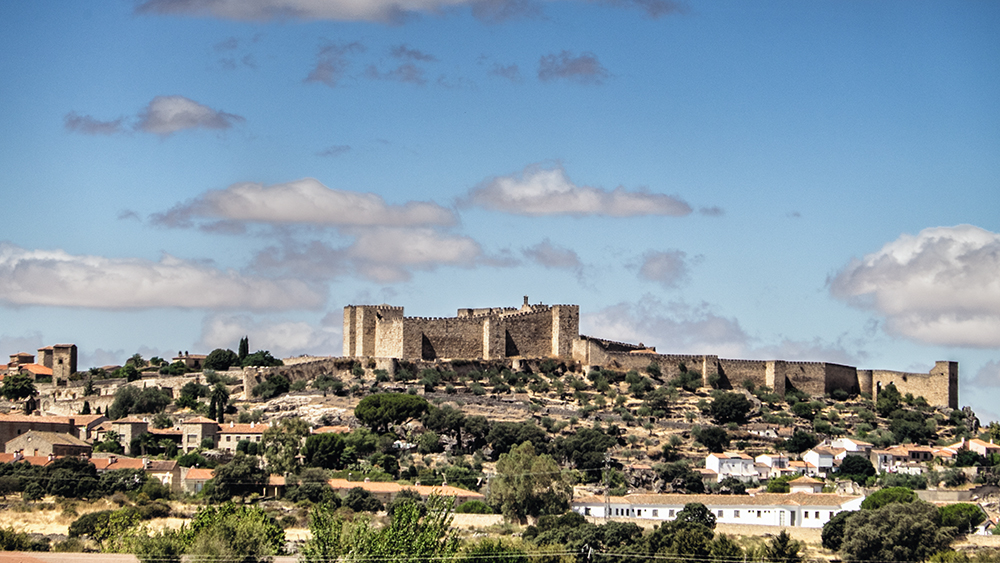 The program was located at Izán Trujillo Hotel, a renovated hotel in Trujillo, which was formerly the Convent of San Antonio in the late 16th century.  I was delighted with my large room with a king-sized bed, sitting area, and a view overlooking the pool.
All of our meals took place in the main dining room made up of square tables with seating for four.  Although we could sit wherever we wanted, we were asked to sit with two Anglos and two Spaniards at each table, Anglos and Spaniards each sitting across from one another.  We alternated our seating arrangements at every meal which became a wonderful way for us to get acquainted with everyone in our program. This was our typical daily schedule:
9:00-10:00 a.m.: Breakfast buffet
10:00-2:00 p.m.: One-to-ones, telephone sessions, conference calls, and/or some group activities (varied daily)
2:00-3:00 p.m.: Three-course lunch with wine (choices always given)
3:00-5:00 p.m.: Siesta (yes!)
6:00-9:00 p.m.: One-to-ones, telephone sessions, conference calls, and/or some group activities
9:00-10:00 p.m.: Three-course dinner with wine (choices always given)
The narrow unassuming street shown below, with a sidewalk only wide enough for one person and the one-way cobblestone street wide enough for only one small car to drive through, was one of the most important streets to walk along because it took us to a magical part of Trujillo's history.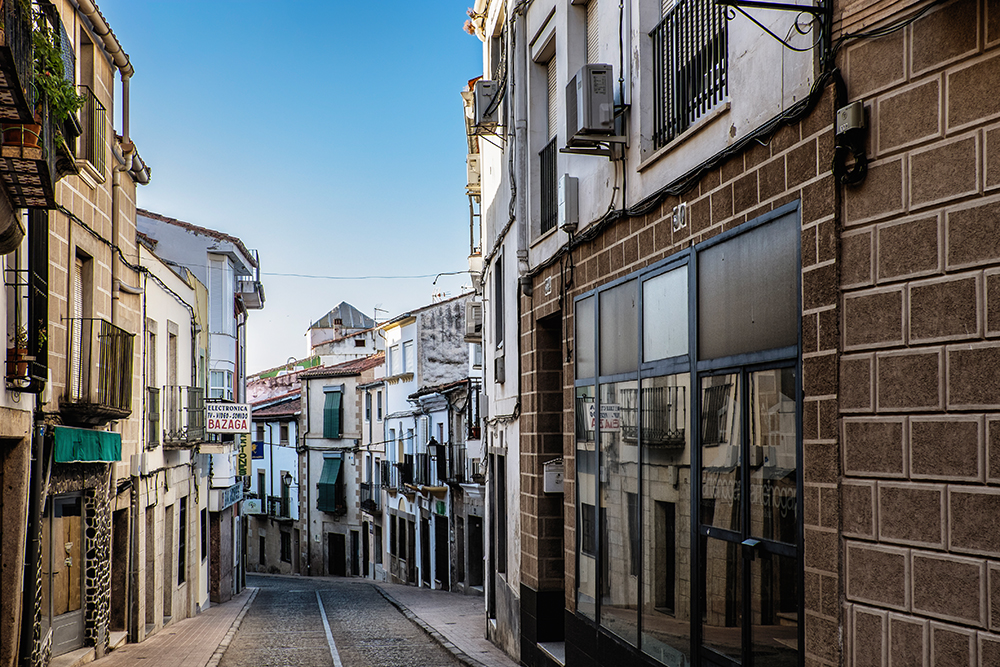 Here is Plaza Mayor, with the Church of San Martín to the right and the statue of Francisco Pizarro standing tall overlooking the Plaza. The Plaza is the central gathering place where family and friends meet for meals and festivals. We were all looking forward to attending a festival which was to take place later in the week.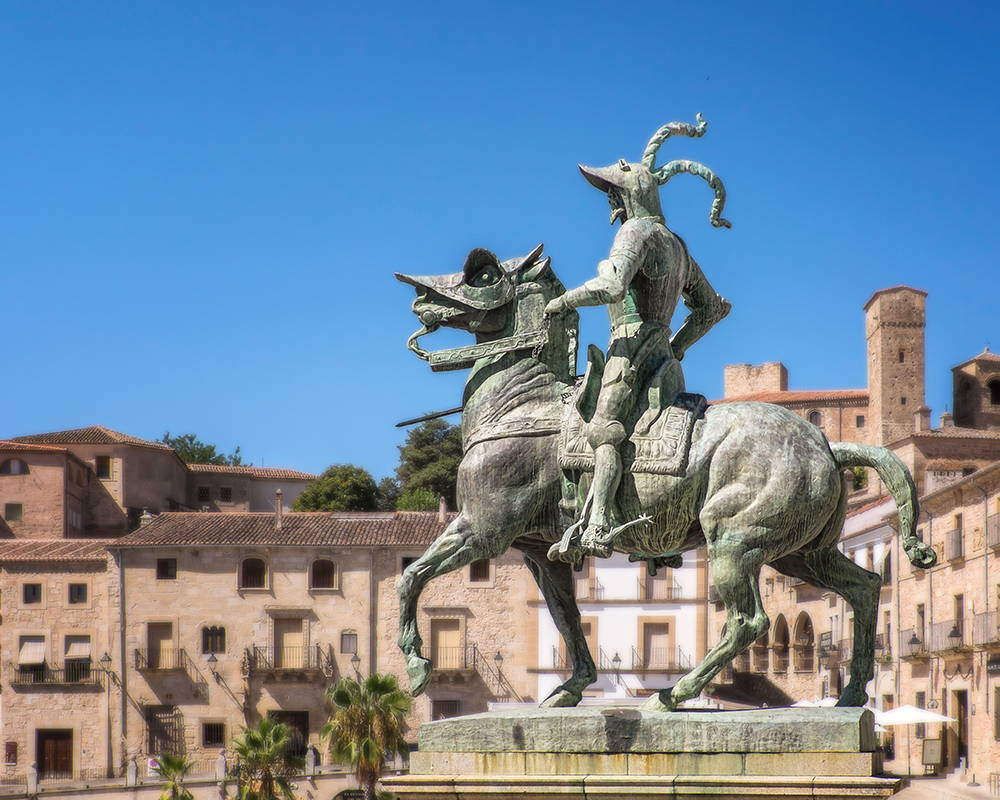 One of the most enjoyable aspects of the VaughanTown program was getting to know the Spaniards while we went on our daily one-to-one walks through town. Each of them enrolled in the program to enrich their English language skills for different reasons. Some of the Spaniards were fortunate to have their employers pay for the program; others were fortunate to have the financial means to pay for the program themselves. While we walked and talked, I photographed the town as we meandered up the hill towards the castle and through the many narrow cobblestone streets.
They all expressed challenges relating to the difficulty in learning to speak English in Spain. While Spanish children are now being taught to speak English in school, the Spaniards in the program persevered on their own. They talked about their current challenges while attempting to learn to speak English outside of a classroom. One Spaniard said that, when trying to hear people speak proper English, she was frustrated watching American movies because they are dubbed and have Spanish subtitles. Another stated that he stayed up late after his wife went to bed so he could watch CNN in English. Another spoke of having to use a U.S. IP address so he could watch American movies in English on Netflix. However, I was very impressed with the Spaniards' tenacity in learning to speak my language. I wonder what lengths I would go to learn English if it was not my native language.
But beyond their challenges with learning to speak English, I greatly enjoyed listening to my new friends speak with pride about their country. "Sharon, you aren't visiting Toledo? You must! It's beautiful." "You must visit Málaga!" Seville. Valencia. San Sebastián. Granada. Córdoba. Salamanca. Segovia. The list goes on. These are the cities that will escape me on this trip. They shared stories about their children, their careers, their country's economic challenges, and perhaps most sadly, one describing his profound loss of a beloved partner. THIS is the Spain that I do not know, this beautiful country whose landscape reminds me of my hometown in California, with its people who greatly value social gatherings, which is clearly evident in their vast knowledge of wine and food. I will be traveling to other cities on this trip before I fly home, but it is clear to me that I will return to Spain to see for myself what, for now, I can only imagine in my mind's eye.