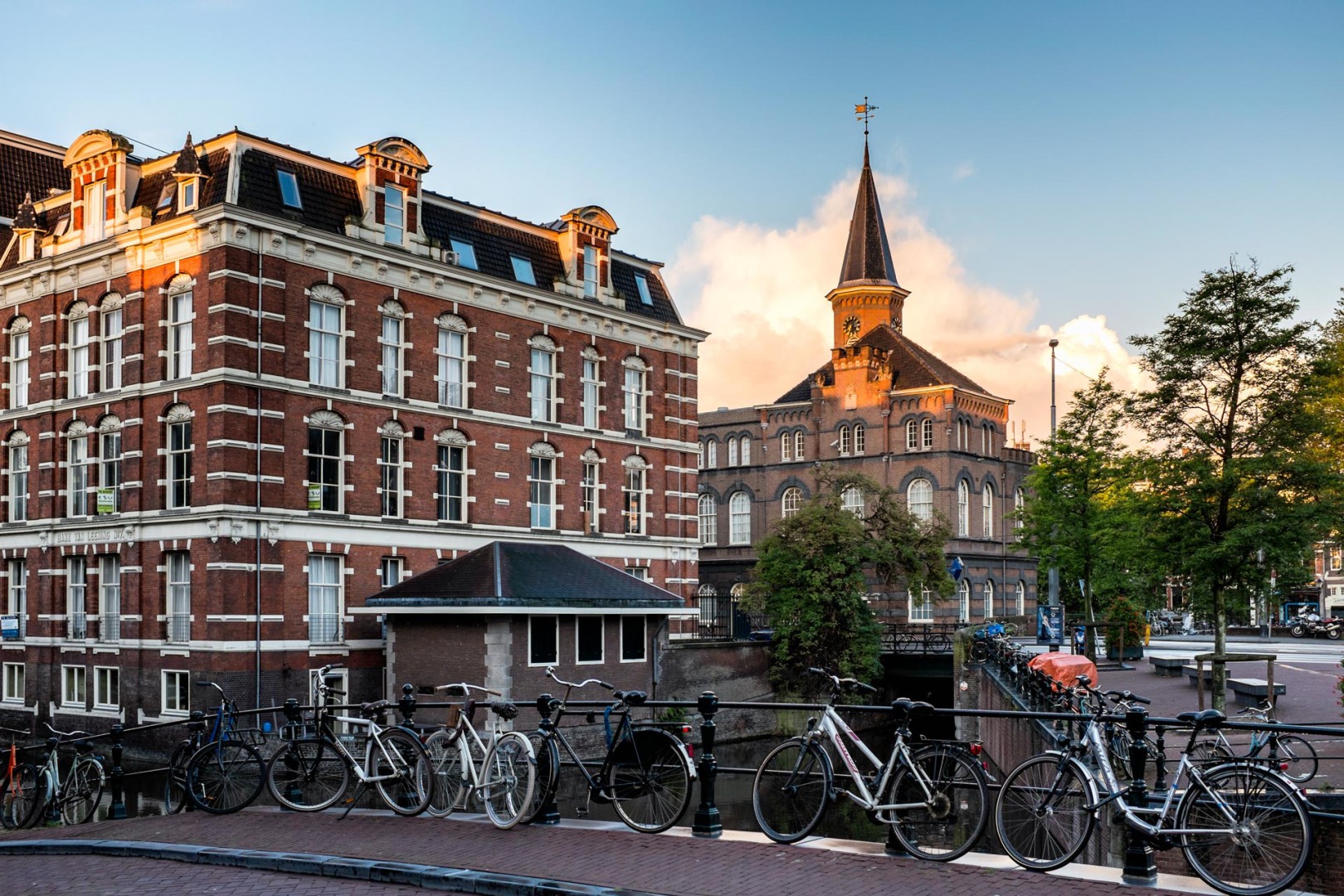 I woke up before sunrise in Amsterdam, many hours before my 10:00 a.m. tour of the Anne Frank house. I wanted to spend as much time as I could exploring the city because I was leaving by train to Delft after the tour.  I hadn't even left yet and I was already regretting the fact that I had only planned a one-day stays at Amsterdam and Delft.   First things first, however; I was hungry and breakfast was on my mind.  Because I didn't know where any cafes were, I decided to head back to the cafe where I had eaten the apple/bacon pancake to try another breakfast dish. Wrong! It's closed in the morning, open for lunch and dinner only, which is when they serve breakfast! I finally found another cafe and had a simple breakfast. I love these European small cafes; I wish they were common in L.A.
The skies were clear one minute and overcast the next, affecting the appearance of the city.
On my way to the Anne Frank house.
I toured the Anne Frank house afterwards. It was everything and more than I was expecting….very sad and humbling.  Anne Frank's diary, which describes the families' lives while hiding in a secret annex, represents both the best and worst of humanity.  It was a somber experience walking through their hiding place. If you leave the museum without having gained a greater appreciation of your good life, you need to revisit the house until you do.
Afterwards, I was on a mission to find Puccini Bomboni, rated one of the top ten chocolate shops in the world. Bingo! Open at 11:00; I was their first customer of the morning!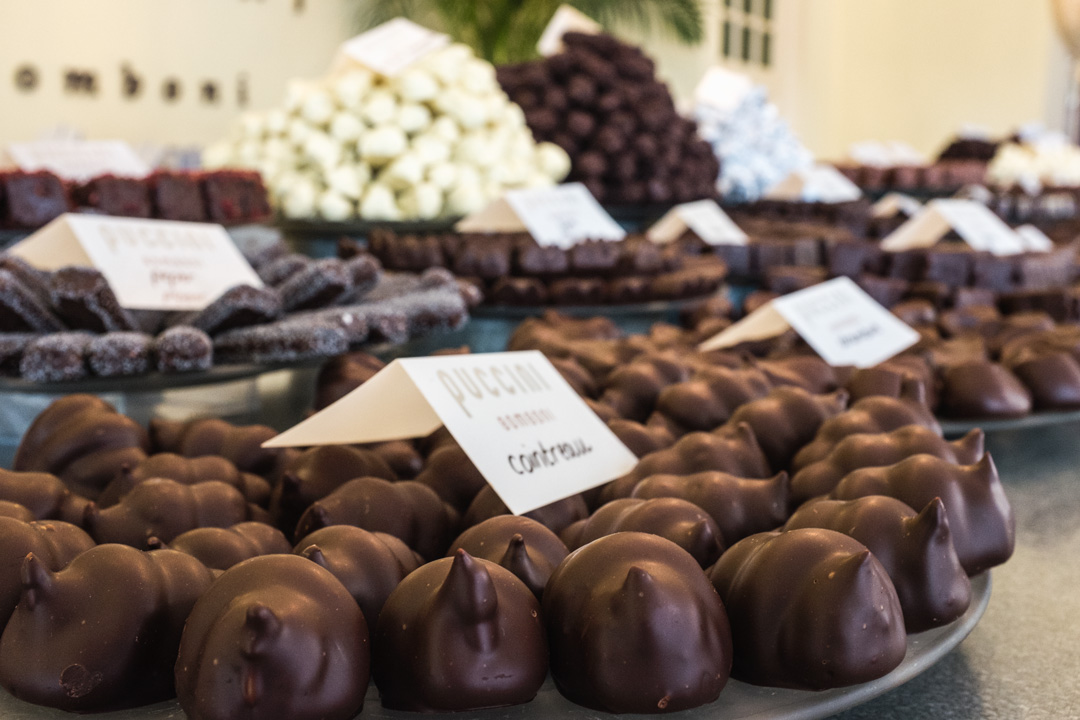 I purchased four chocolates in a little box. Believe it or not (because I can't even believe it!), I haven't tasted one yet! I wanted to photograph my little chocolates (actually, they're huge) properly so I will post that in a later blog when I do.
UPDATE: I just ate two of the chocolates because they got scratched! ;). The first one was cognac (amazing) but the second one….oh, the second one filled with hazelnuts and marzipan….the best I've ever had. Pray for me that I can sleep tonight….even the teeniest bite of chocolate keeps me awake.
I wanted to take a little time to write about each of my hosts whose homes I've been staying before the start of my tour. In Amsterdam, my hosts were Carlos and Herbert, a couple who have been together for thirteen years. They were both very kind to me, laying out maps, tour info, etc., on a table, both of them taking the time to tell me about their city. Herbert was especially dear, turning on a 24-hour Dutch cooking TV show because he knew I was a kitchen designer and raw chef. Sweet. I saw that they had a duvet on the bed. I have never used a duvet with down blanket on my bed, but I have to tell you that I felt like Shirley Temple in "The Little Princess" when she woke up with a fluffy and warm duvet on top of her. It was wonderful!
I successfully made my way to Amsterdam Centraal to board a train to Delft.
When I arrived at the Delft train station, "luckily" for me, I walked left instead of right, going up and down a steep set of stairs, and went the wrong way to my next host's house. Normally it wouldn't be a big deal, but I was carrying my carry-on backpack. Back up the stairs, across the train station and down onto the other side. Let's just say that I was a bit overwhelmed by the time I arrived at Lara's home.
Not wanting to waste any time because of yet another report of rain, I headed to the main square, called Markt, and had lunch in an outdoor dining area. Naturally, I had to stop along the way to photograph a canal!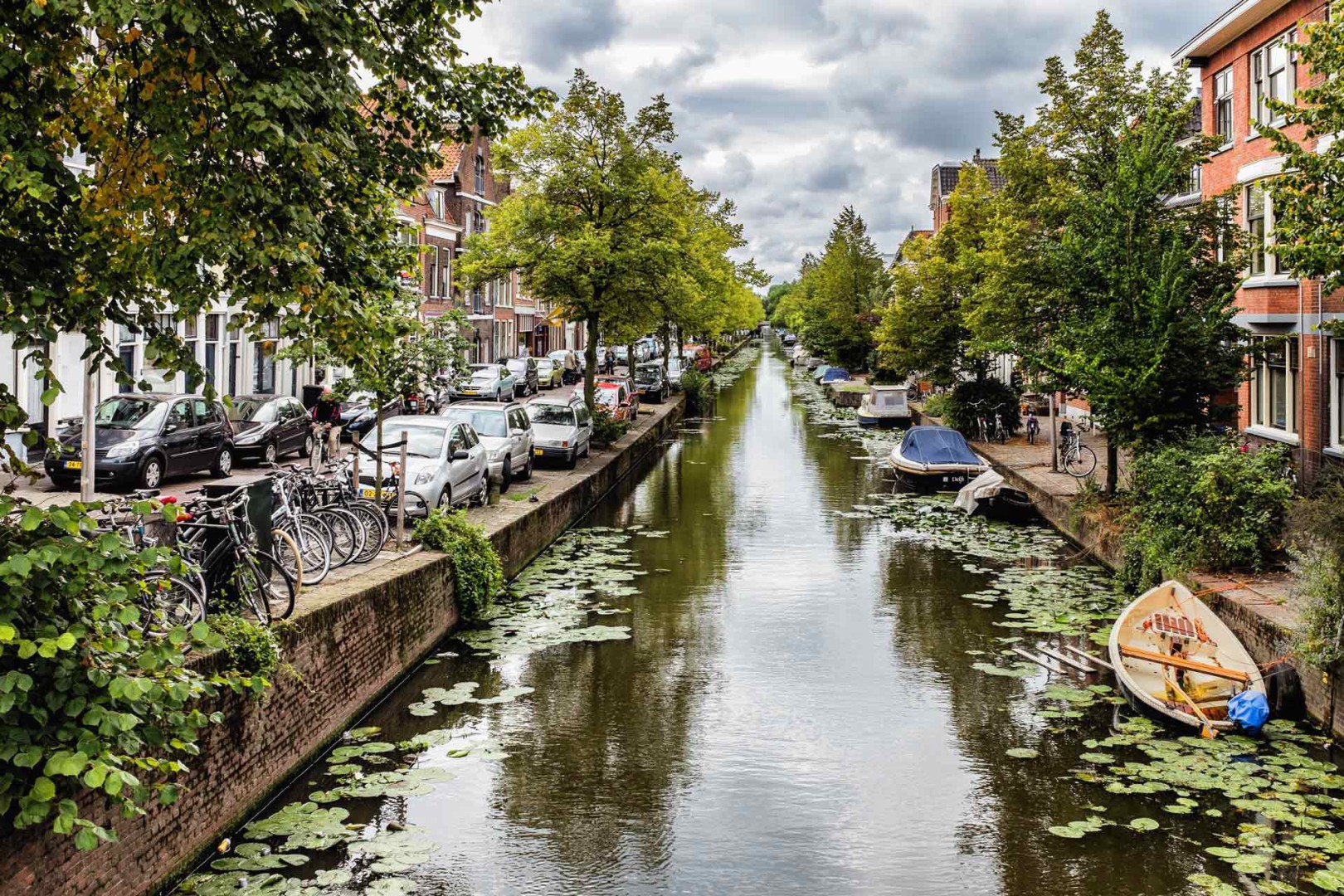 Here is my first view of Markt.
To say this time that I was overwhelmed again is a complete understatement because the architecture was breathtaking. I think I'm becoming a huge crybaby. Here is the opposite end of the plaza.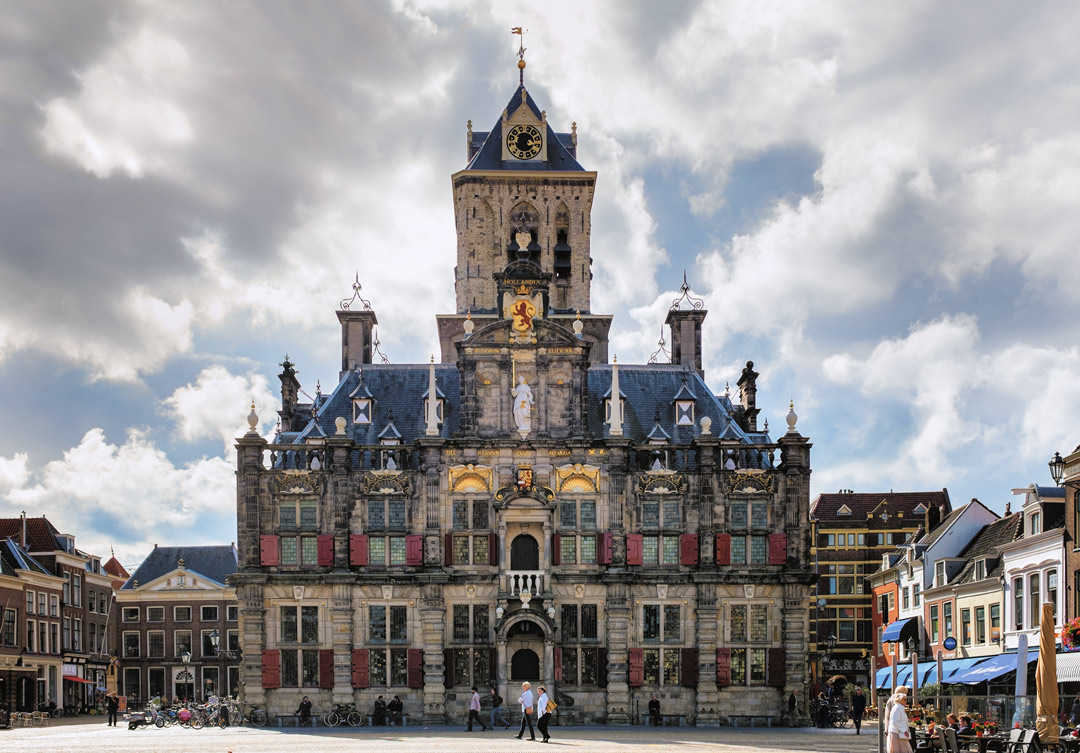 I ate lunch outdoors to the right of a woman who refused to move, knowing that I was trying to take the photo above. We both won that standoff; she stood her ground, and I edited her out of my image when I returned home.
My lunch was a wonderful warm salmon salad and a glass of Chardonnay for lunch.
After lunch, I headed to The New Church, dating back to the 15th century.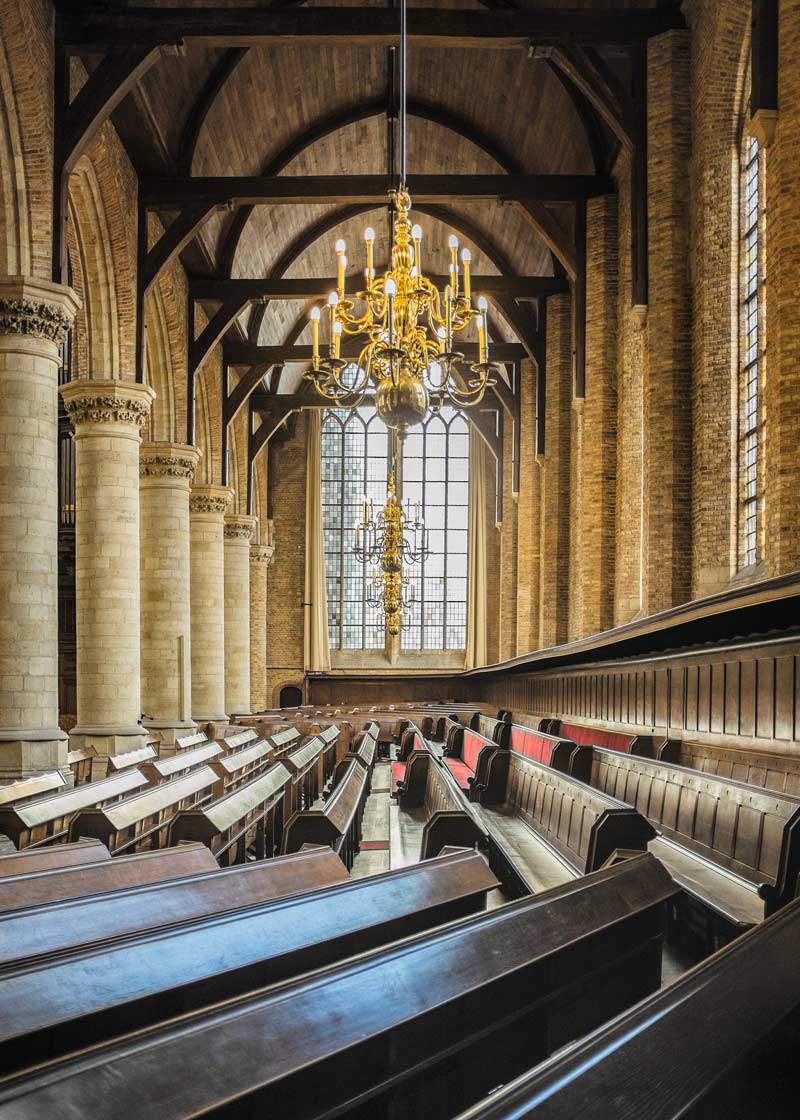 Its benches were simple, yet beautifully crafted.
I decided to pay for the option of climbing the church tower. What the heck was I thinking? It was pretty grueling because the spiral staircase treads are exceptionally narrow, even at its widest point. Check out these stairs, one person wide, photographed from above. I climbed HUNDREDS of them, and I only bumped my head HARD one time on a low cross beam and, of course, I bumped it right in front of a man who was attempting to descend the stairs.
Once at the top of the tower, the climb was most definitely worth it because the view from the top was spectacular.
I wanted to make sure that I was maximizing my time up on the tower so I photographed from practically every angle.  Delft is a lovely little city.
Afterward, I walked over to The Old Church (two churches for the price of one. I can't pass up a bargain!
How can you look at this and not be moved by the history of this city???
Besides my constantly getting lost, the rest of my day consisted of meandering through the many shops in town,
photographing yet more canals,
getting hungry…
"Now try our delicious hot dishes:
*chicken satay with prawn crackers (shrimp puffs), salad and French fries
*panga filet in paper served with salad and French fries
*a main course salad with or without bacon
Enjoy the weather and…eat tasty!"
LOVE.
I eventually found my way back at the Old Church. When viewed from certain angles, the tower is leaning heavily to the right…
…while the man's entire body, centered at the bottom of this photo, is leaning to the left. What the??? He obviously needed to get away…and fast! Talk about body language.
I ended my day back at Markt to enjoy an early dinner, consisting of a salad with goat cheese, [I forgot to tell the server to hold the many] red onions, strawberries, and Parma ham (I thought the menu said Parmesan!). Europeans apparently love their pork! And let's not forget my fine glass of Viognier. TWO glasses of wine in one day? Yes, indeedy, that's the beauty of traveling alone. ;)
I made it back to my host's home without getting lost….yippee!…and got back to Lara's home just before the next storm deluge. I immediately went upstairs to begin my blog. I must have fallen asleep while editing every photo. I think that because my room was on the top floor, the sound of the rain hitting the skylight was very comforting. It was such a beautiful day, and I was so tired that I don't even remember putting my head on the pillow.
I discovered two things on this trip so far. (1) I'm going to be photographing a friggin' ton of canals and (2) for the first time in my life, I think, my hair is frizzy, and it's super thick as well…that's the beauty of having a ton of moisture in the air! I guess that's the benefit of my hair being on another continent! Could my hair also become curly? I suppose I shouldn't push my luck.