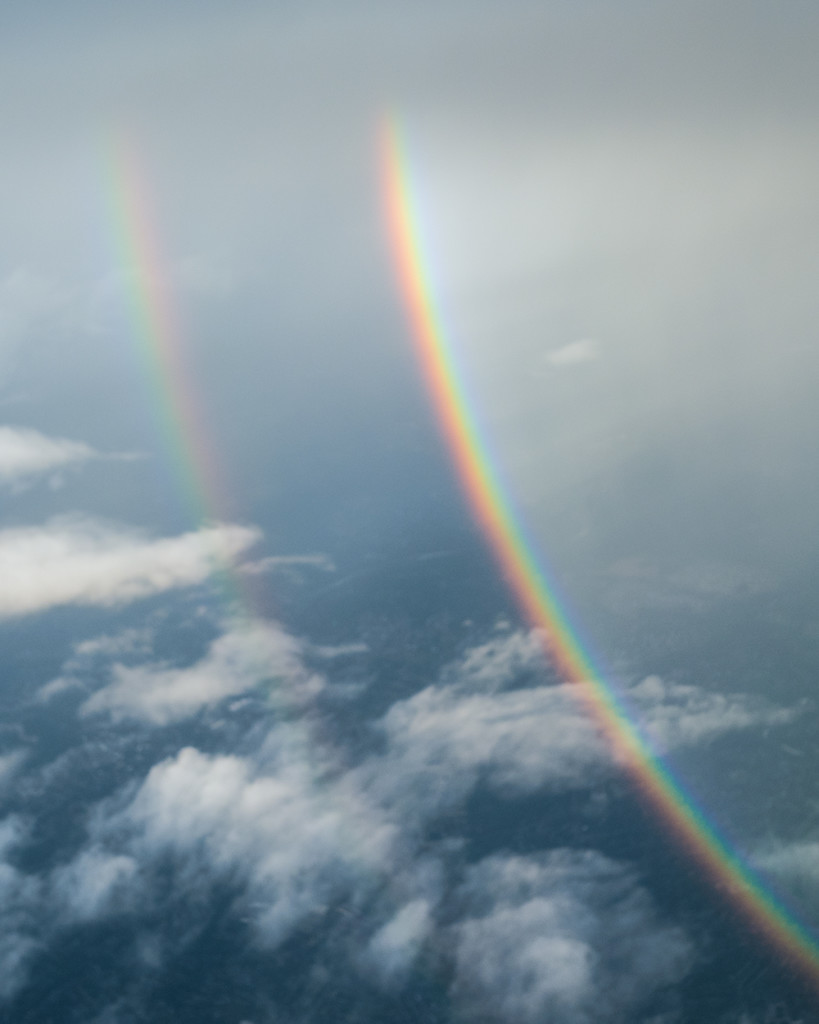 You know you're going to have a wonderful trip when you discover a double rainbow outside of your airplane window.
The flights from Los Angeles to Madrid were relatively uneventful, save for the thunder and lightning rainstorm at Dulles, which delayed our flight due to lightning strikes on the ramp. Soon after takeoff, I glanced out of the window and was thrilled to see the rainbows.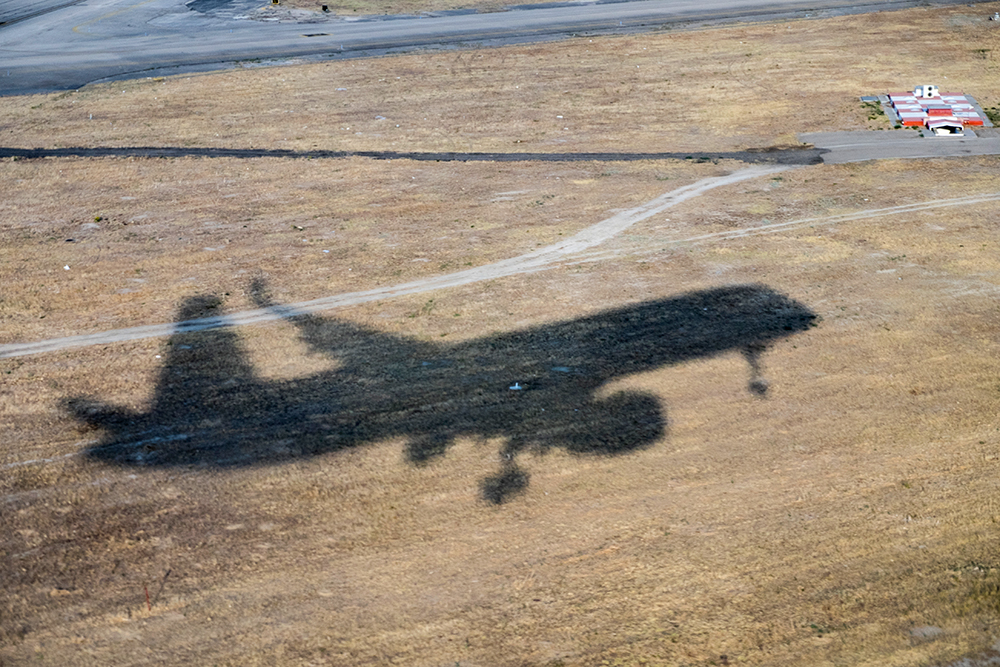 After landing safely, I discovered that Madrid's landscape looks very much like the hills in Calabasas, which is fifteen minutes from my home.
I was exhausted because of jet lag by the time I arrived at my hotel. I decided to take a quick nap before taking the metro to Madrid Centro for a 4:30 p.m. free walking tour. I set my alarm for 2:00 p.m. only to discover when I woke up that my tour was actually at 2:00! Oops. I booked another tour for the following morning and decided to stay close to my hotel for the rest of the evening. Doing so meant that I only had one full day to explore Madrid, so I knew I had to hustle…I had a lot of exploring to do!
Whenever I visit a new city, I find myself becoming apprehensive about navigating their public transportation. However, it was with great relief the following morning to see how quickly I maneuvered through the Tetuan metro station to the right platform. It was at that moment that I chose to stop allowing my fear from ruining my visit to Spain. Besides, look at the Tetuan metro platform! Could this be what I was apprehensive about? Enough already.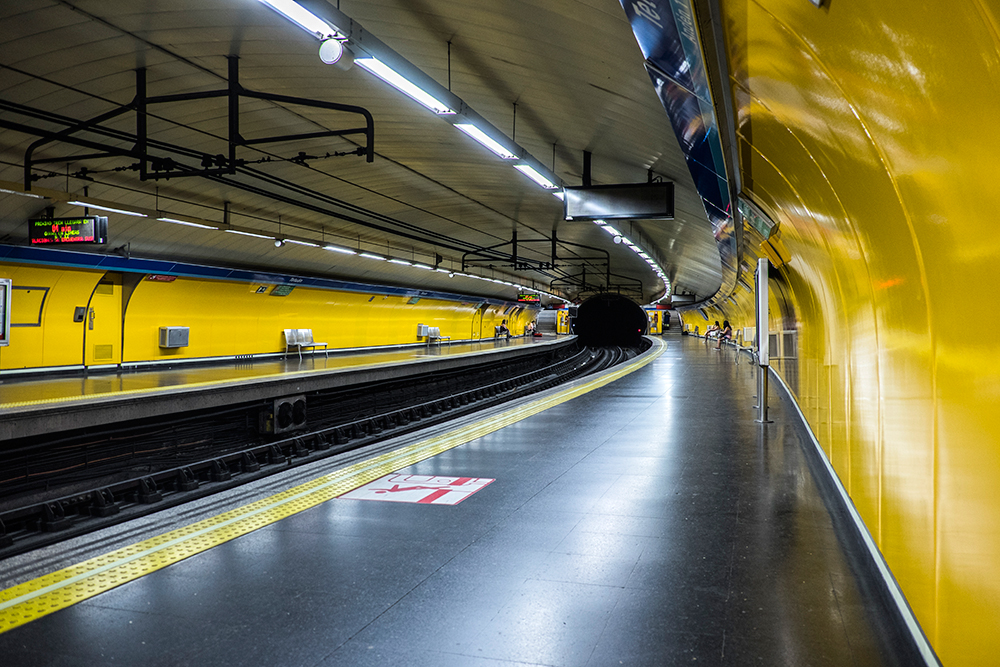 I arrived at my Vodafone Sol stop and, upon climbing to the street level; I incorrectly assumed that I was at Plaza Mayor when in fact I was at the Puerta del Sol square.
I had no idea where Plaza Mayor was in relationship to Puerta del Sol. When I asked for directions, a very kind Spanish woman walked me over to Calle de la Sal, which then led me directly to the Plaza.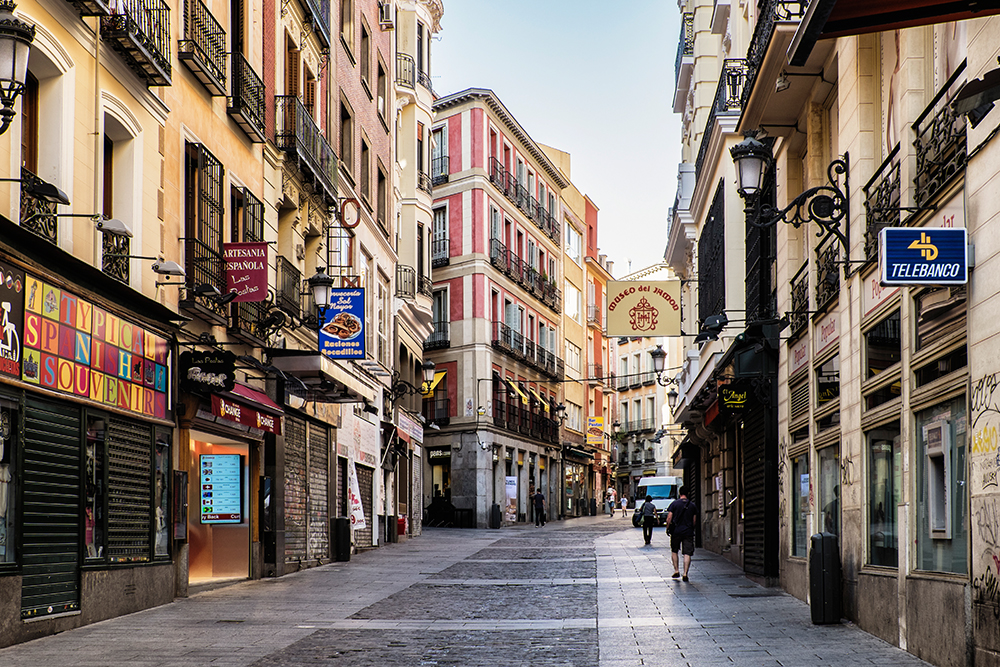 I arrived early at Plaza Major and enjoyed both a quiet morning in the Plaza…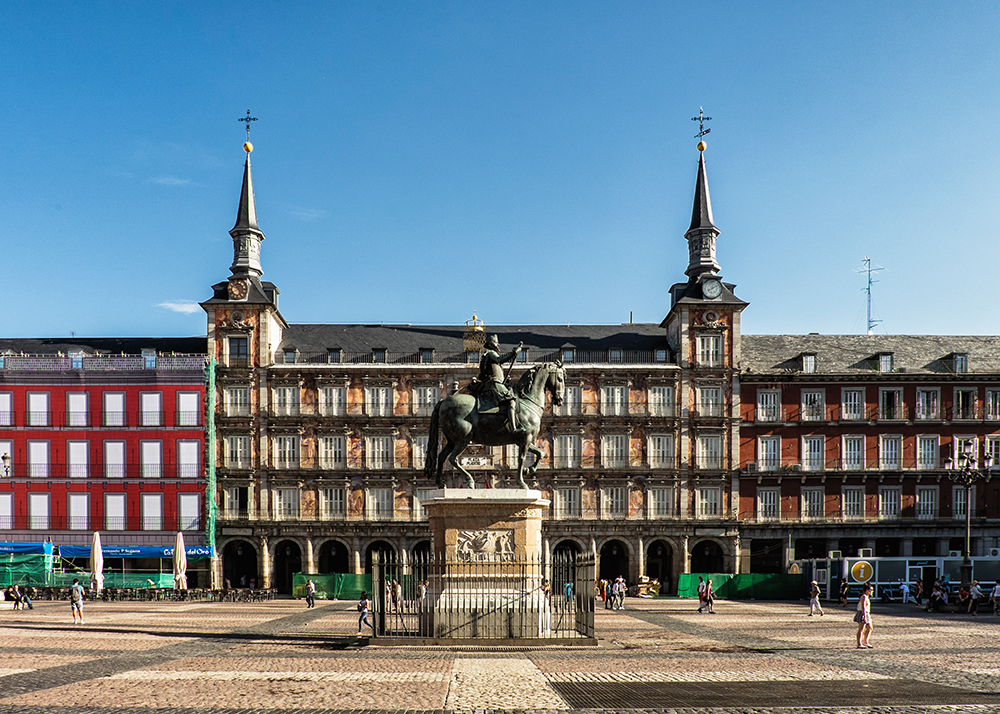 …and found a new photo op.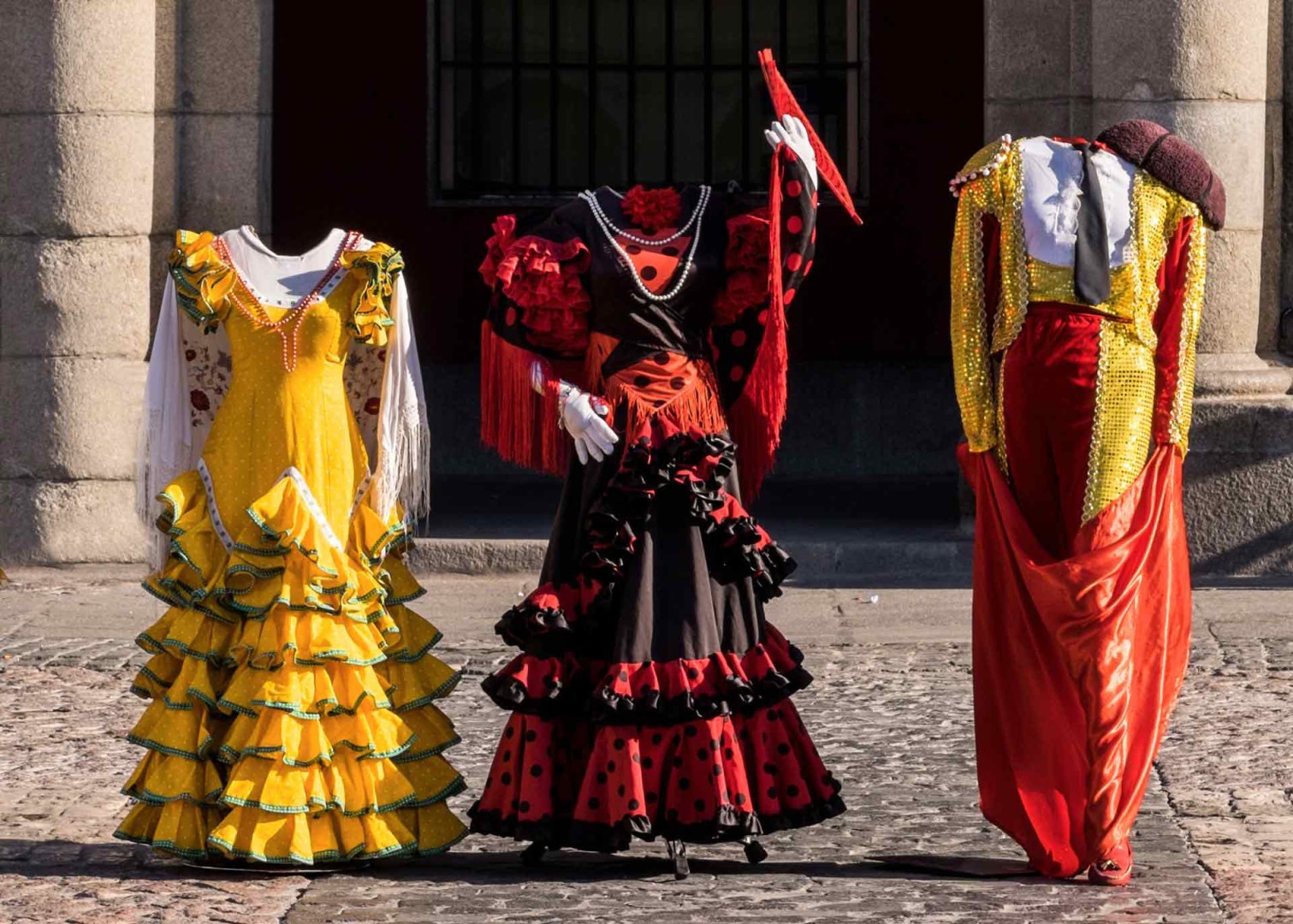 After completing the free 2-1/2 hour walking tour, the tour guide suggested that I dine at La Buha for lunch so that I could order a Spanish tortilla. Thank goodness for Google Maps! I easily found the restaurant and sat outside under a large canopy of umbrellas. When the waiter came to take my order, I was proud of myself for having ordered a Spanish tortilla and bottled water in Spanish. However, my elation and confidence were crushed when the waiter sternly told me, "No!!! Too much." What?!? The waiter said that the portion size was too large for one person and showed me which page to order from. I quickly selected an alternate entree from that page, although I had no idea what I had just ordered. All I knew was that I was embarrassed to have been denied a Spanish tortilla, that my entree would be served on bread, and that it cost 9.50€ (approximately $10.50).
The waiter brought my bottled water and my plate.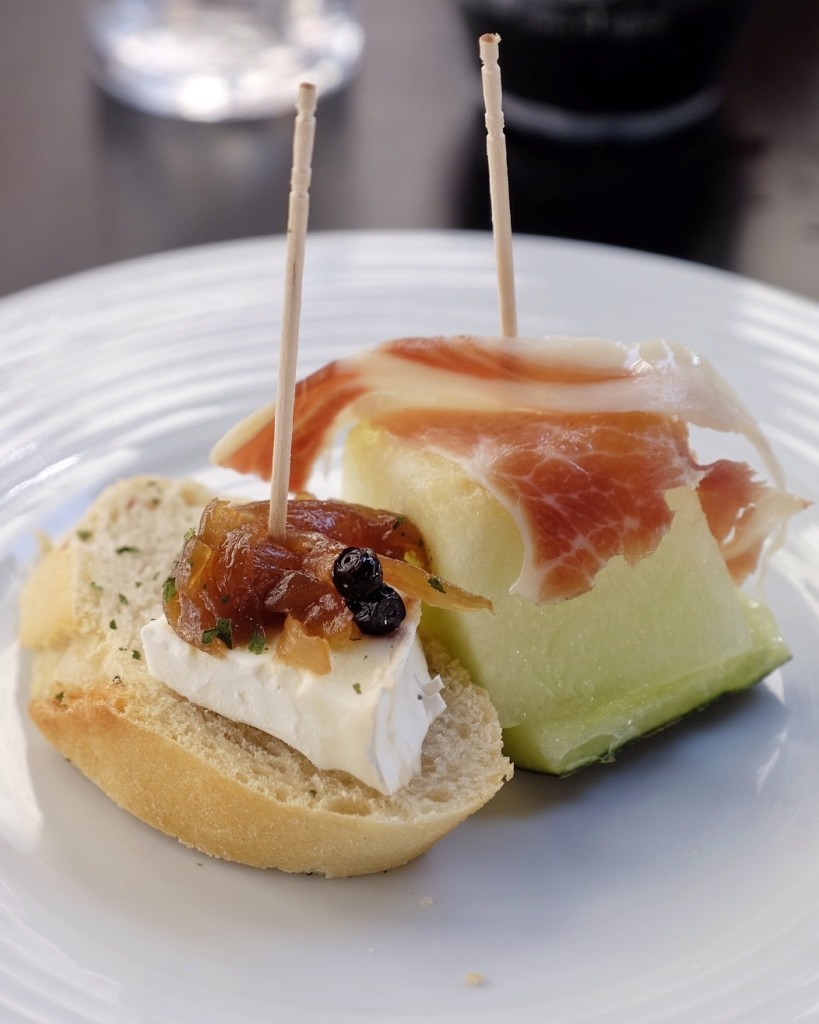 I don't know how the image above translates on your screen, but let me tell you, the plate was small! Each toothpicked piece could not have been more than 3″ long, and I'm pretty sure I am exaggerating the length! My first reaction was that of embarrassment. Why would the waiter think I should only eat something that light? I finished each piece in two bites! My second reaction was wondering how I could have been duped into paying 9.50€ for a meal that tiny. And I now had to find another restaurant to complete my lunch? A few minutes later, however, imagine my surprise when my waiter brought me my entree!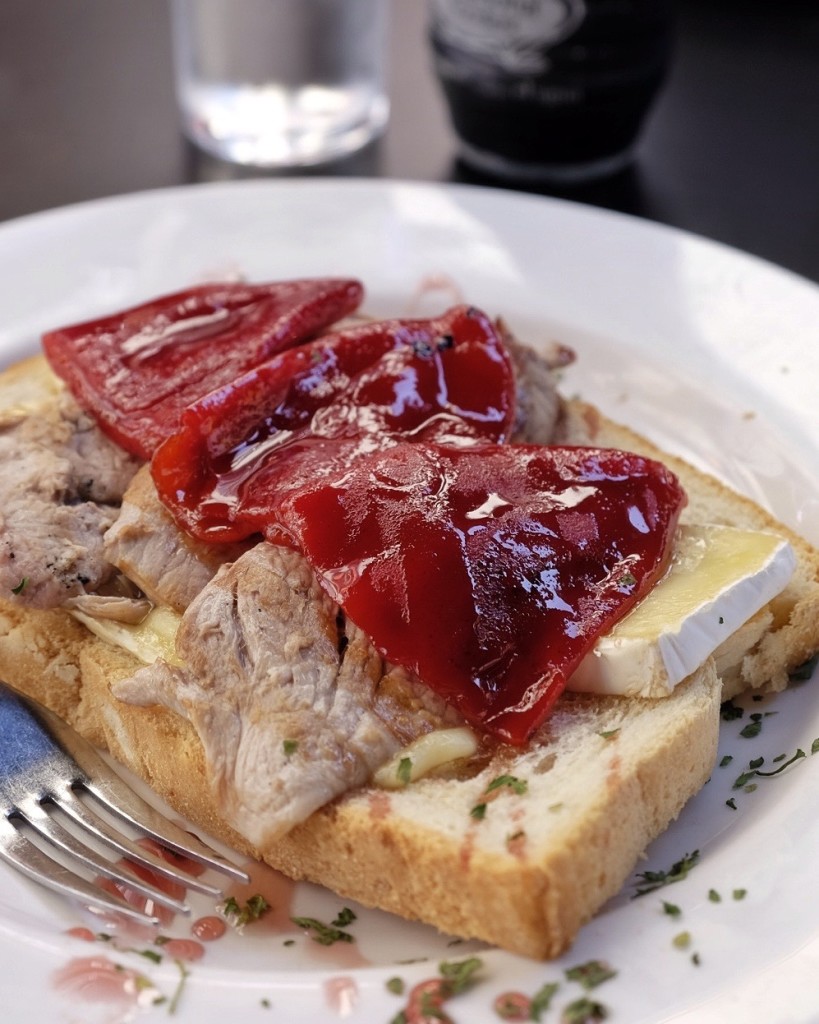 It was only then that I realized that I had been served a small tapas plate with my water which I later learned is served complimentary whenever a drink is ordered. I felt very foolish once I realized that, but I was thankful that I hadn't complained to the waiter about how small my meal was! It makes me laugh now just thinking about that, but I was completely baffled at the time.
It is evident to me that I have so much to learn about Spain and its culture, and I'm looking forward to every minute of it.