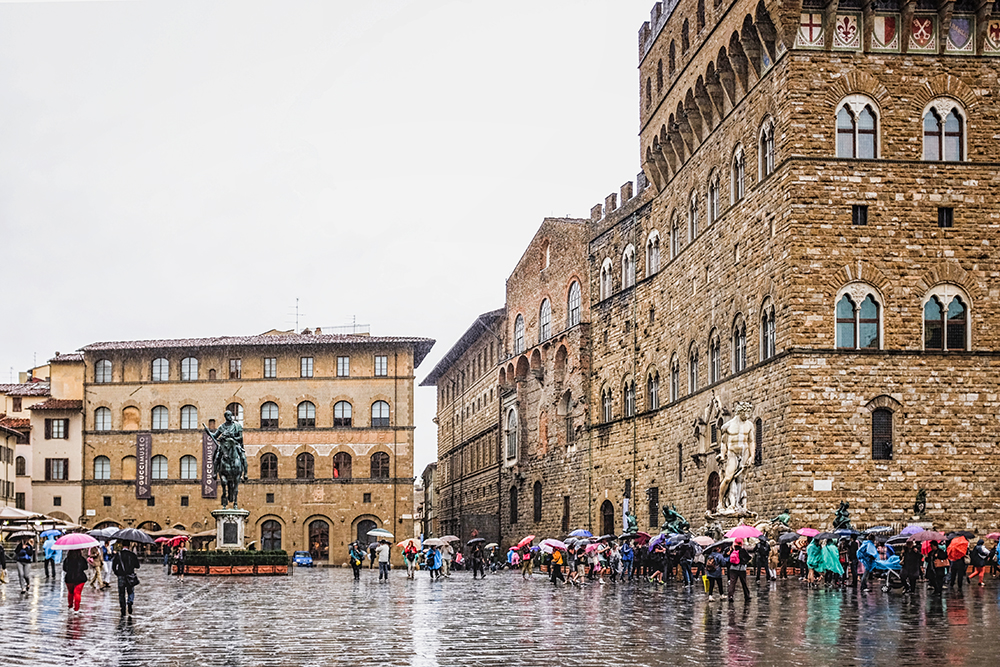 As I was packing my luggage for my train ride to Florence the following morning, I checked my train ticket, only to discover that my train wasn't leaving until 9:20 a.m.! I had told everyone that I wasn't going to see them for breakfast because I thought my train was leaving at 7:30 a.m. OOPS!
So when I went into the dining room for breakfast the next morning, everyone was surprised to see me. "What? We thought you were leaving early!" I felt like a fool because of my goof, but it was worth it because I was able to grab another round of goodbye hugs! ;) Hey, win, win!
My train ride to Florence was pretty darn cool. It was one of those high-speed trains, clocking over 150 mph. Boy, was I thrilled to see that it was raining outside! :( Yes, indeedy, my trip to Europe was indeed going full circle…it rained for an entire week when I first stepped foot onto Amsterdam soil, and it was going to rain during the last leg of my trip. How lucky was I?!? I was counting my blessings, however, considering that I WAS in Europe….no complaints there, rain or not.
Ah, Florence.
My heart didn't necessarily yearn for Rome while I was there nor when I was leaving, but from the very moment I stepped outside the Firenze Santa Maria Novella train station, I felt like I was home. I loved it immediately! The city seemed quiet and peaceful. Whether it was my imagination or not, there was a feeling that I had inside of me that I loved while I was there.
I took a taxi and arrived at my hosts' home in Florence. Marco opened the door and welcomed me warmly. He helped me to my room, showed me on a map how to find my way (he clearly had no idea how lost I would become the second I left the house to explore) and made me feel immediately welcome. Marco and his wife, Rosanna, have been hosting travelers for over a year, and one of the perks they offer is to dine with them for dinner due to Rosanna being an excellent chef. I jumped at the opportunity to do so because I wanted to enhance my experience in Florence. Marco and Rosanna were serving dinner at 8:00 p.m.!
Marco told me that the UCI Road World Championships was racing through the city center that day and so, because of that, the city had shut down the bus system. I had to walk fifteen minutes in order to reach the city center. Hey, after getting lost in Venice, fifteen minutes was nothing to me! I left their home quickly because I was eager to see the race through the town, if possible.
Marco had told me that there was a Sunday flea market. I couldn't get there fast enough!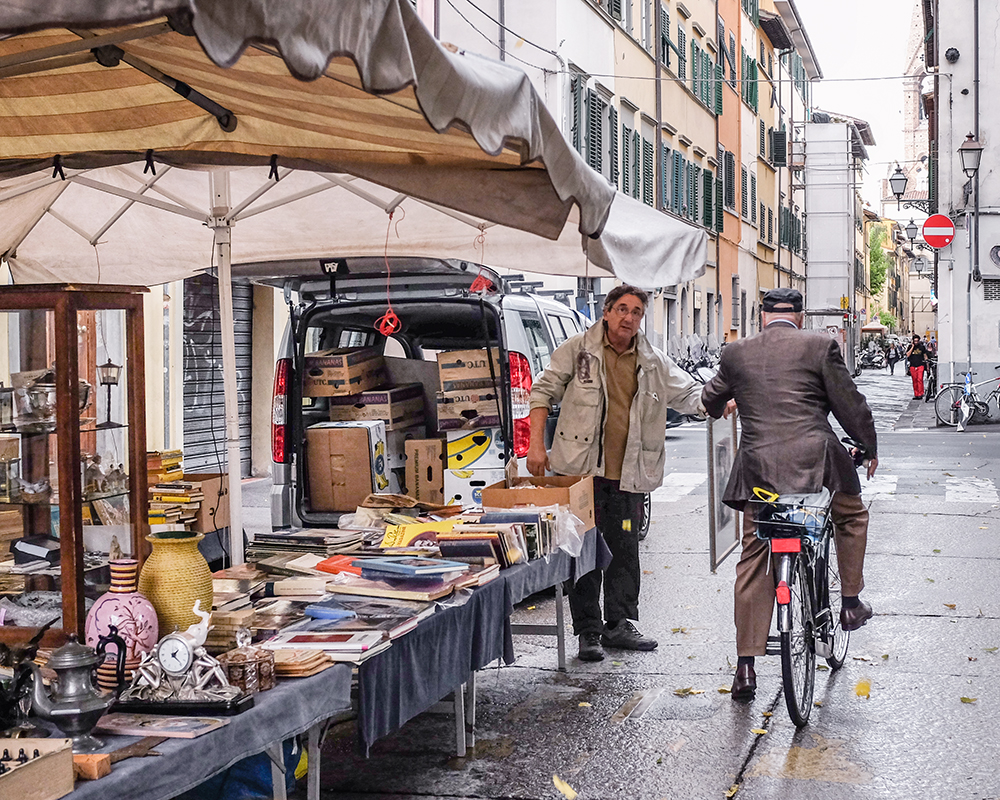 As I was walking through the town, I came upon some sidewalk barricades, and I knew that I had hit pay dirt! A nice man told me that the race was beginning in approximately five minutes. Crowds were lining both sides of the streets. All of a sudden, it began POURING down rain and then there was a thunderstorm as well….huge booming claps of thunder rang through the city. Everybody's umbrellas were up, and we were all trying to stay dry, although it wasn't easy….it was raining so hard!
All of a sudden, the crowd let out a big roar and the race was on!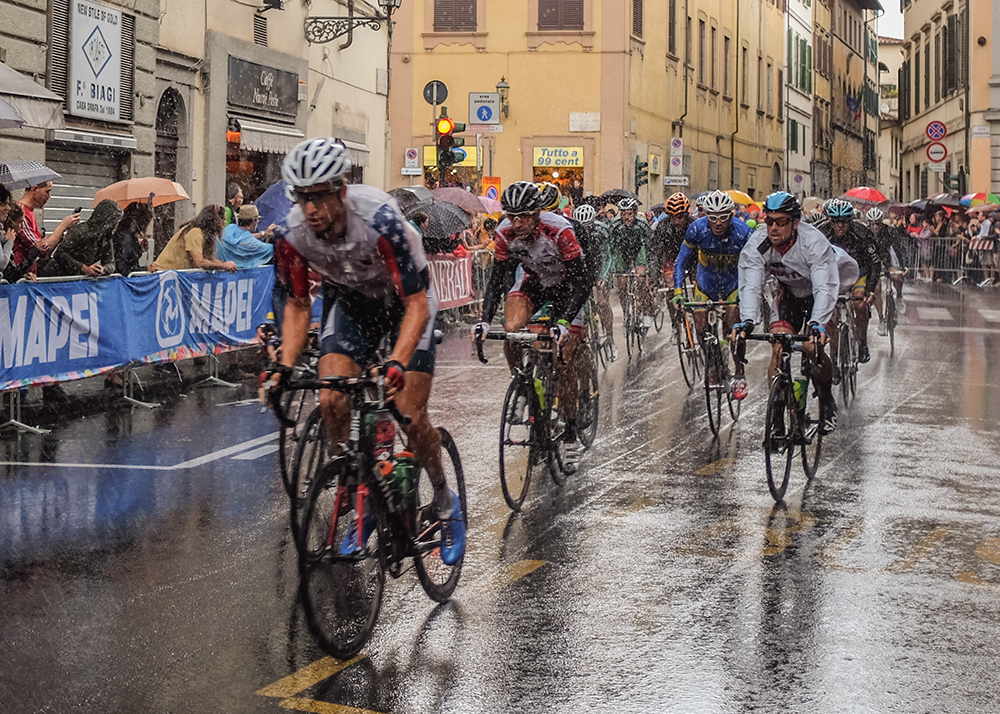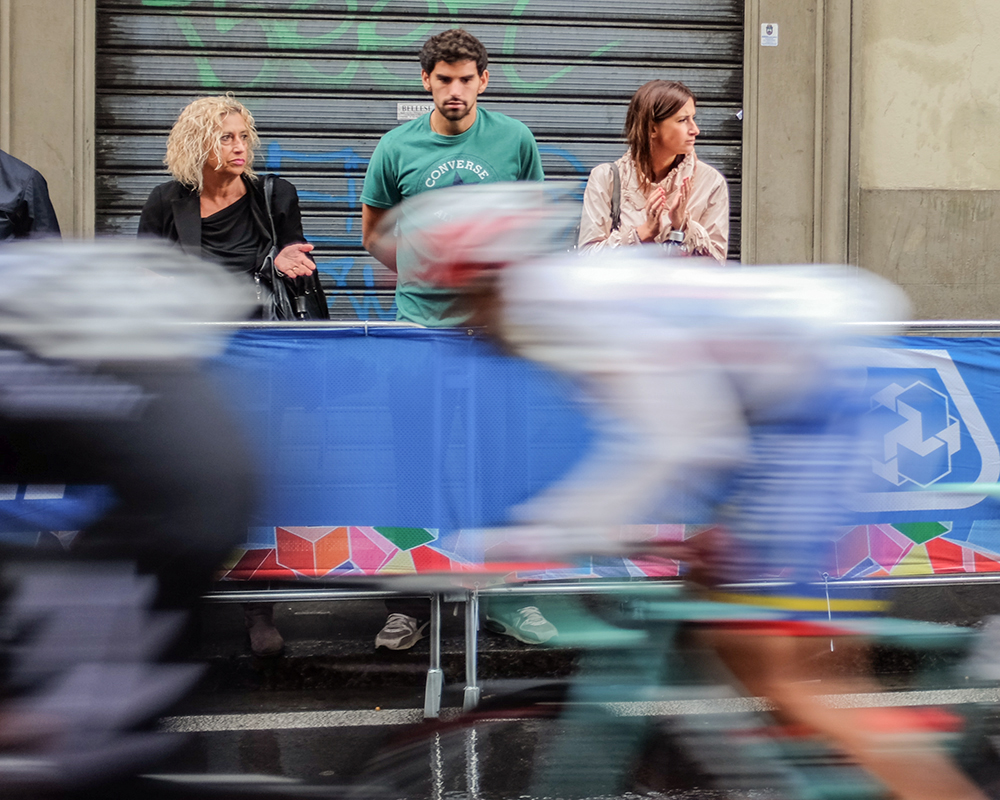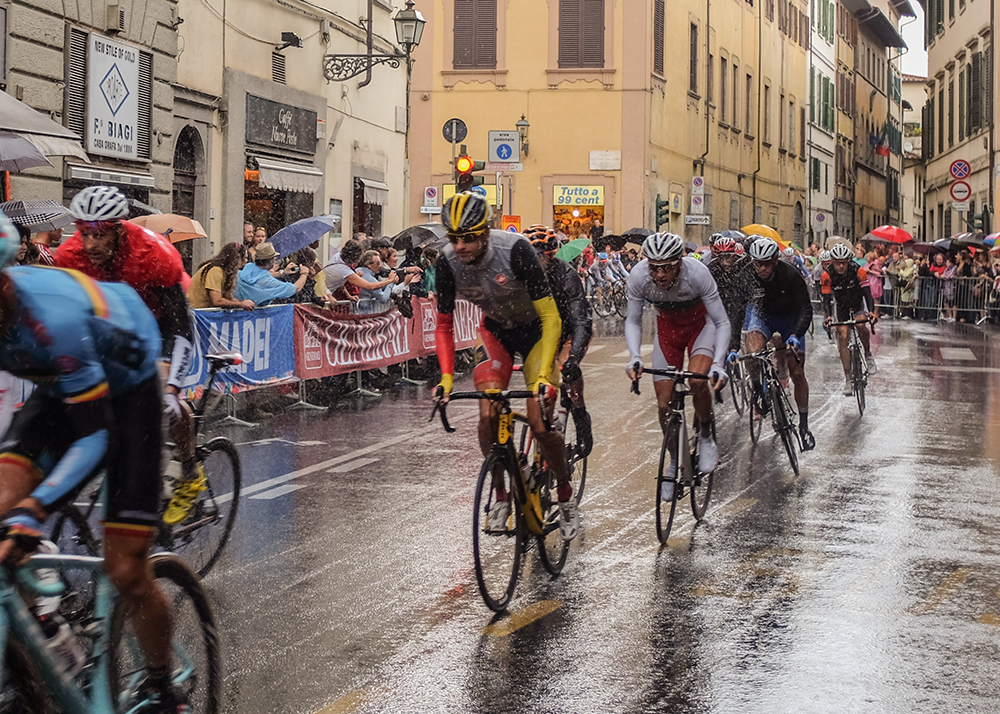 The crowds were cheering while the rain drenched both the cyclists and the crowds.
And then as quickly as the rain and race began, it was over within a flash. Seriously, my heart was racing. How lucky was I?!?
My now-beloved Fuji X100S was perfect for this photo shoot. I held my umbrella in my left hand, my X in my right, I had my focus point set where I thought the cyclists would be, and looking at the back of the LCD screen, I photographed one-handed. I. LOVED. IT.
It was the perfect day, right? Well…yes, and no.
Here was the problem. I was wearing a pair of Eileen Fisher knit black pants, which had been perfect for my three weeks in Europe. The challenge with them, however, is that because I was outside in a torrential downpour with only a travel umbrella keeping me dry, my pant legs began to get soaked. And as they started to get soaked, they began stretching in length. Now, I had worn them in the rain for an entire week starting from Amsterdam, then on to Delft, Bruges, Brussels, and Paris, all without a single problem. But, all of a sudden now in Florence, the pant legs were growing on me!!! I was pulling them higher at the waistband, but it wasn't helping.
I thought I would tour the Duomo to dry off.
I stood in line in the rain for a bit only to discover that tours wouldn't begin for a half an hour. What could I do to dry off? I decided to find a restaurant for a quiet lunch!
I found what appeared to be an unassuming restaurant called Paoli's, and I was thrilled to see that the interior was designed beautifully. They sat me near the entrance of the restaurant and across from me was the bar. There was a man whom I will forever pretend is Paoli, who had the most handsome Italian face. I watched him for a long time, filling wine glasses and refilling the bread baskets at the bar. I couldn't stand it any longer. I managed to get his attention and pointed to my camera. He nodded and posed, and I took one photo of him. I showed it to him, and he nodded his approval. He then walked over to my table with a bottle of wine, pointed to my wine glass and then to himself, indicating that this glass of wine was on him, and refilled my glass. No words were necessary. Love, love, love, love, LOVE.
After lunch, I walked around a bit, and it was still raining and thundering outside. Florence is a beautiful little city, with beautifully-designed store window displays.
OK, anybody who knows me knows that wedding bells are certainly not ringing in my head, but it would be worth the aggravation ;) just to have the opportunity to wear one of these two gorgeous dresses.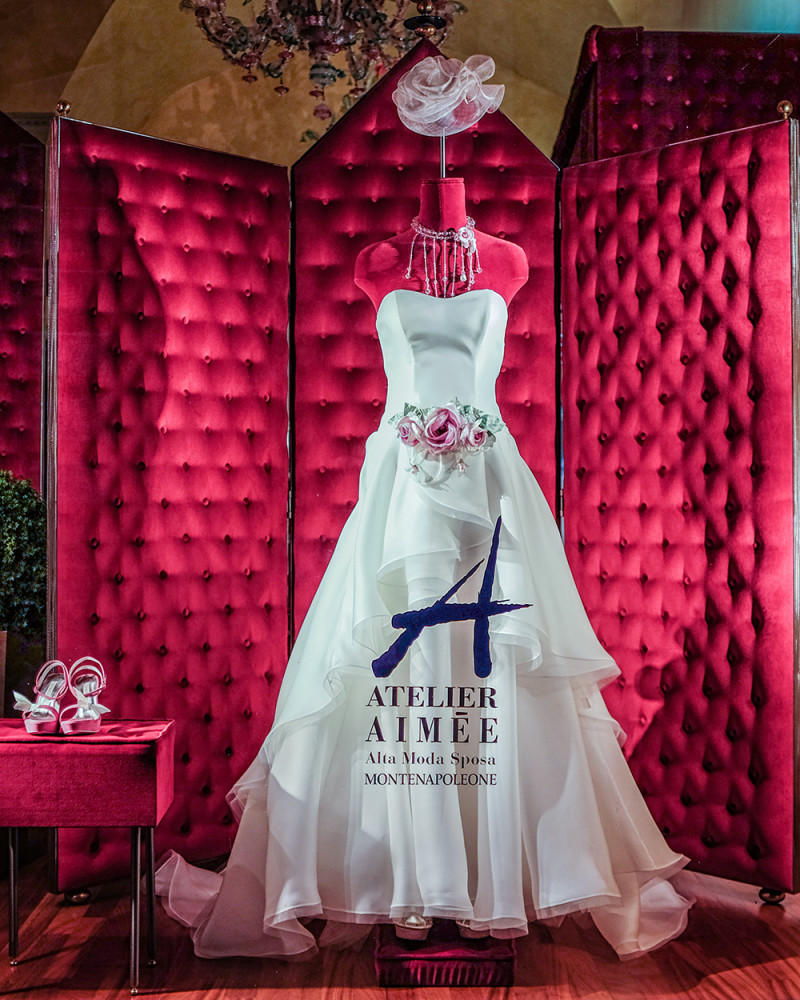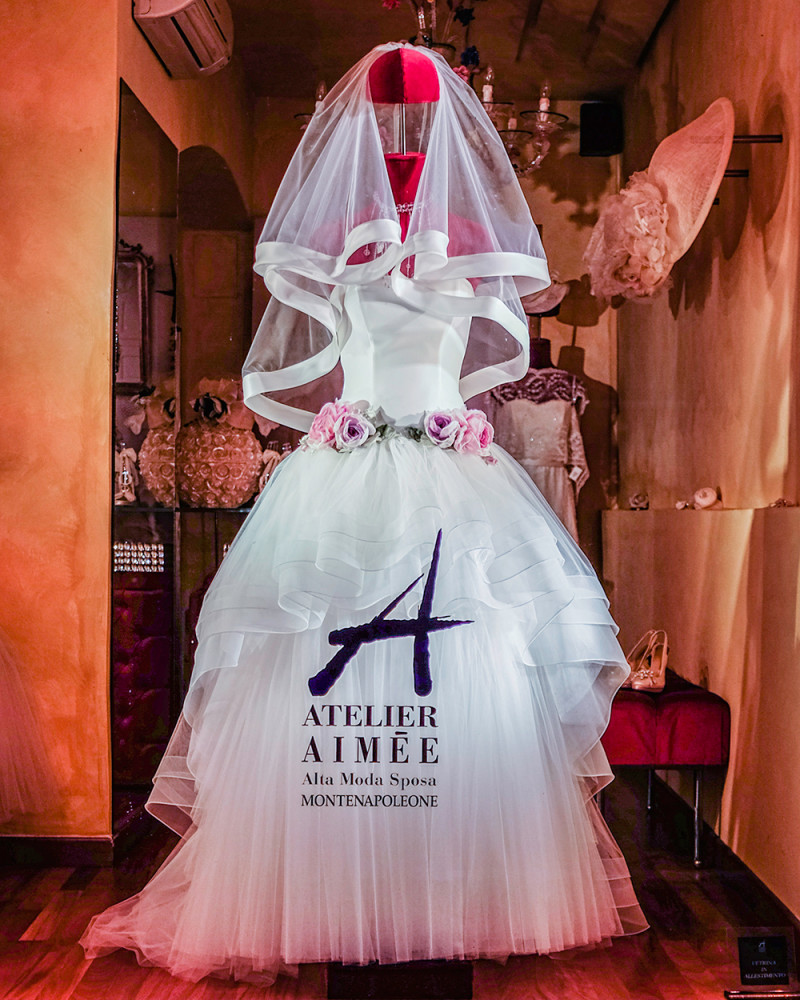 I doubt, however, that women who can fit in these dresses might be eating much of this. (Except for Margaret, the tour member who won the contest for eating the most gelato during our trip!)
I did find my way to the Piazza della Signoria and saw this sculpture of Neptune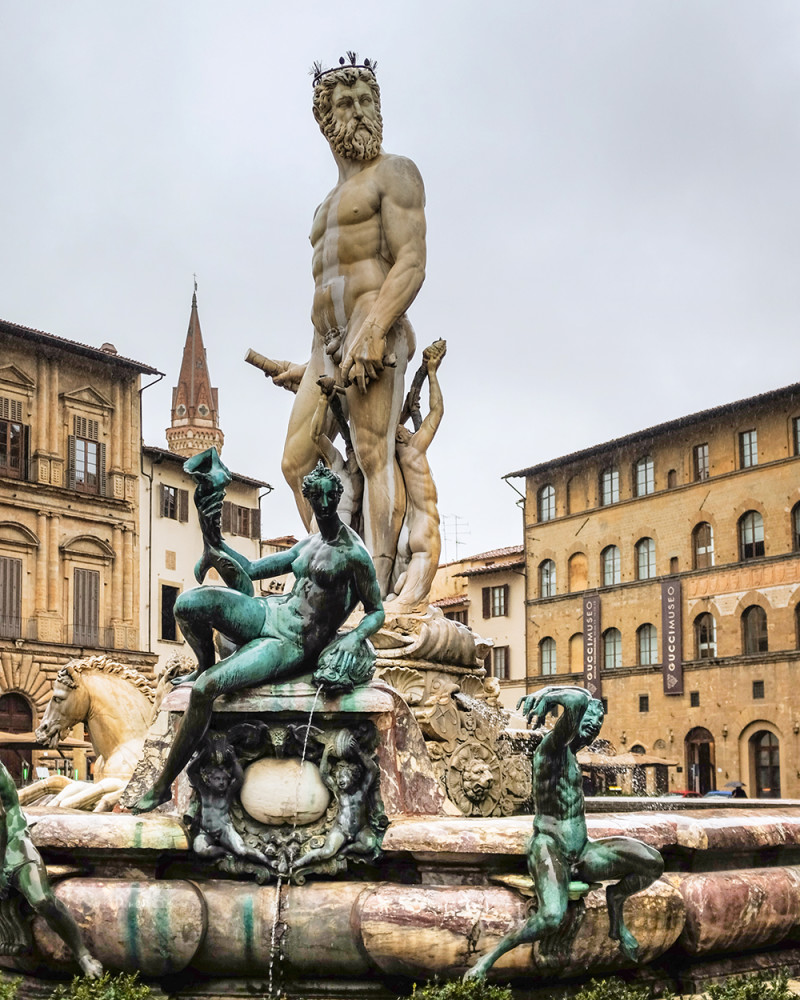 as well as this
but the downpour was relentless. I had to stop because, as ridiculous as it sounds, I was losing the battle with my pants. I had the waistband of my pants pulled almost up to my bra, and the hem of my pant legs was still dragging on the sidewalk!!! It was the craziest damn thing. I had to leave this beautiful city and return to Marco and Rosanna's home to change my pants! By the time I found my way back to their house…because, of course, I got lost again…it was too late to change my pants, race back to the city center, try to tour the city, and then be back by 8:00 p.m. for dinner at their home.
The result was that I realized that I was going to have to return some day to see this beautiful city. For those of you who have never been to Florence, please, please, please add it to your must-see cities list.
But I found consolation knowing that I was going to have a gastronomical experience that evening at Marco and Rosanna's home.