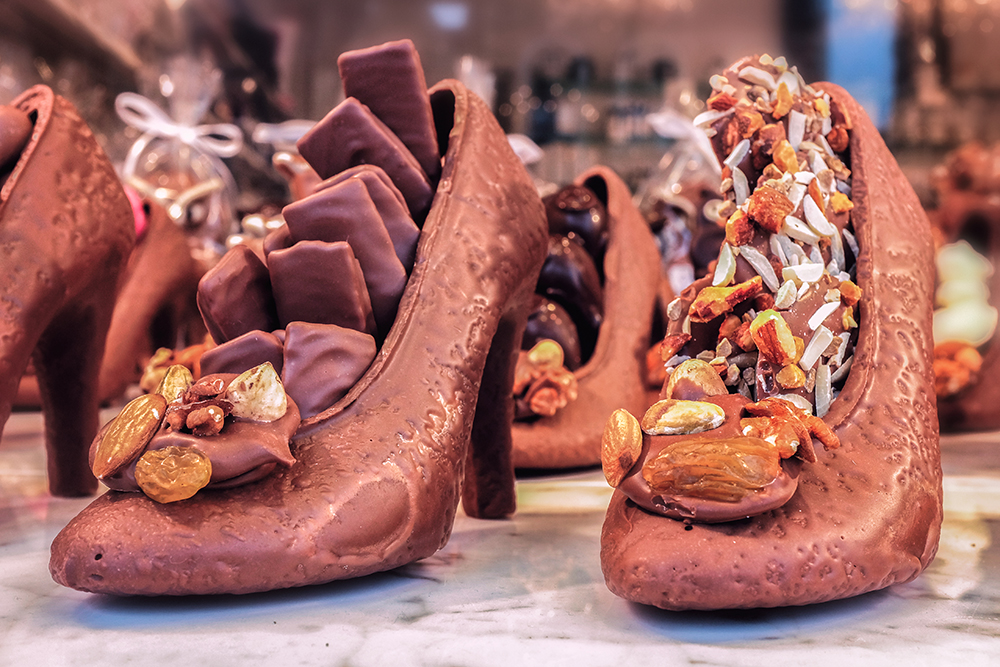 Can we please start this blog off properly by posting something so decadent that it might only be found in Belgium? And, no, I didn't, buy these, but only because there was no room in my luggage! ;) I should have checked the price of these, for curiosity sake only!
I'm getting so far behind in my posting! So much is happening here, all of it incredibly enjoyable, but I am so happily exhausted by the time I get back to my room that I fall asleep while I'm editing my photos! I thought I would write less and less, but the more I see, the more I want to share.
I spent most of my first day in Bruges as I have been doing in all of the cities I've been visiting, wandering the streets, looking at everything without actually settling on one thing….and getting lost EVERY SINGLE DAY. My host said that it is the best way to see a city. While that is true, I will be majorly screwed because it's my lifeline if my iPhone gets snatched from me.
Here is the courtyard of my beautiful B&B that I stayed at for two evenings.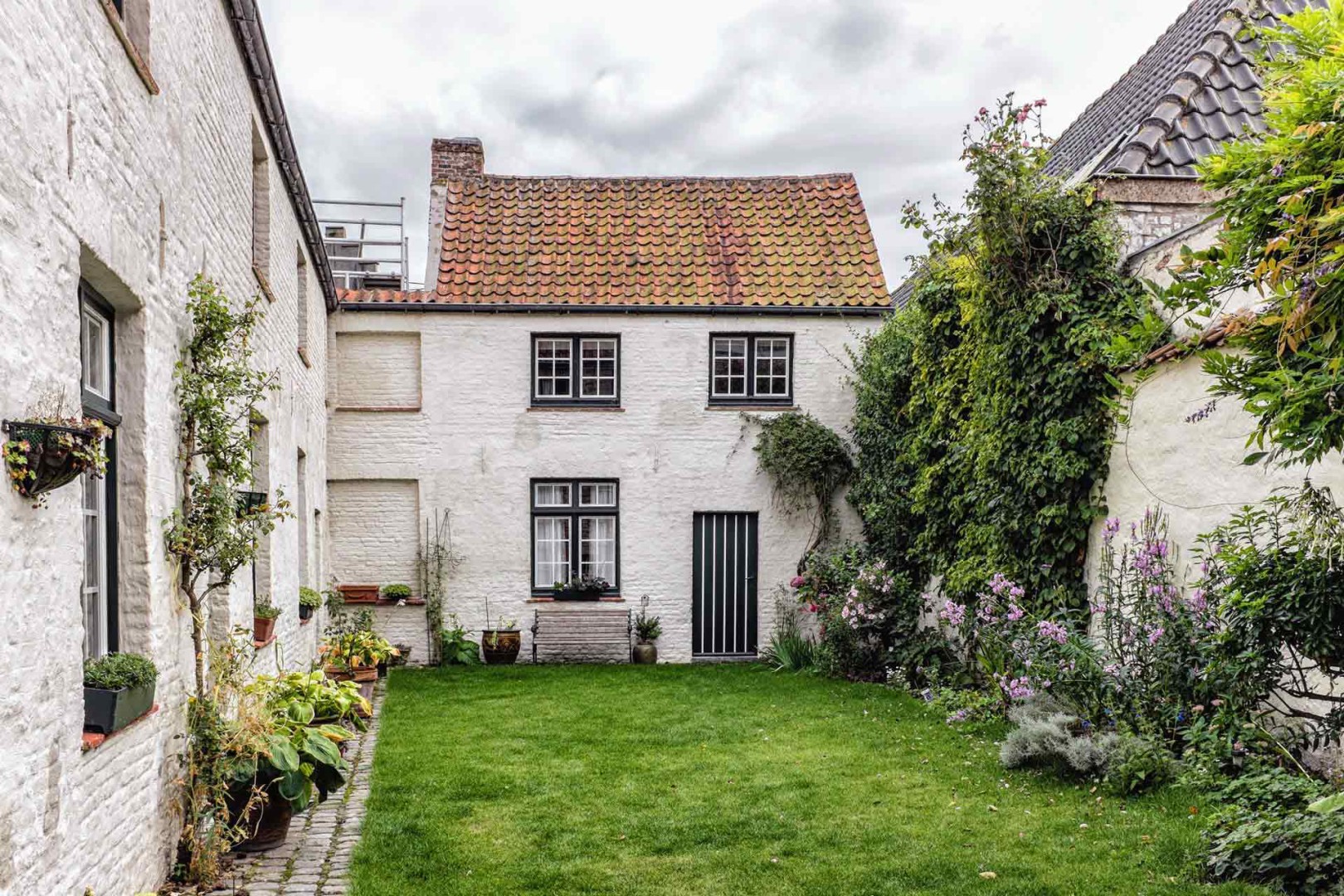 And my bedroom for two nights.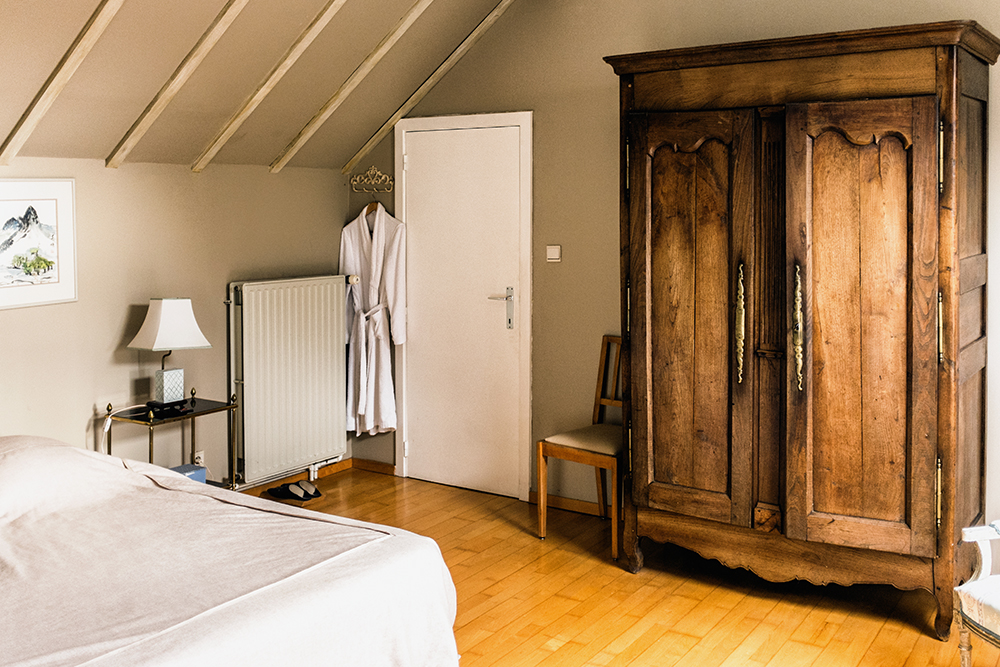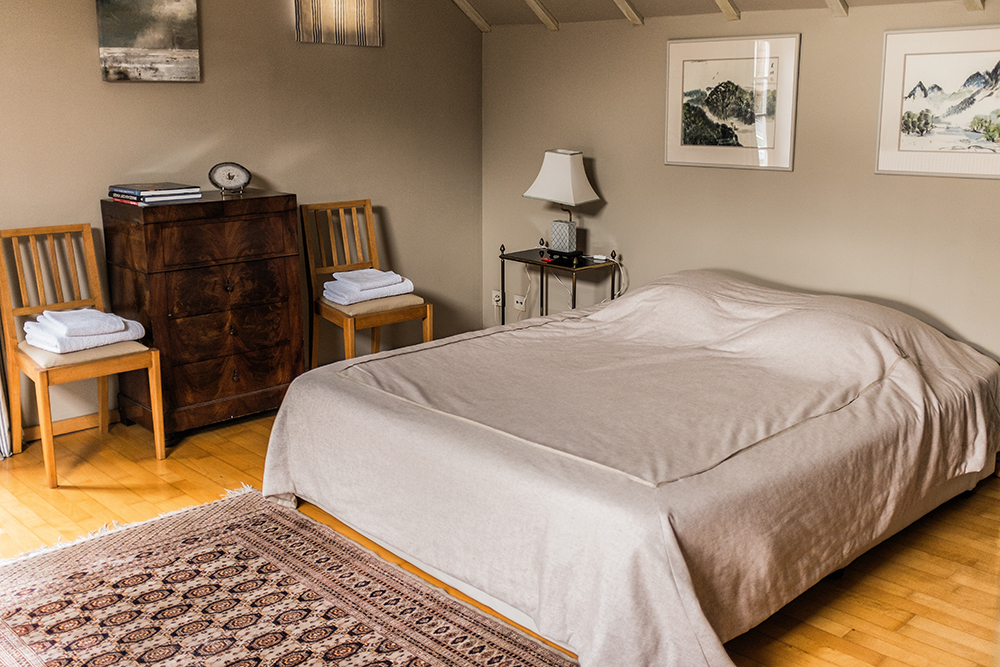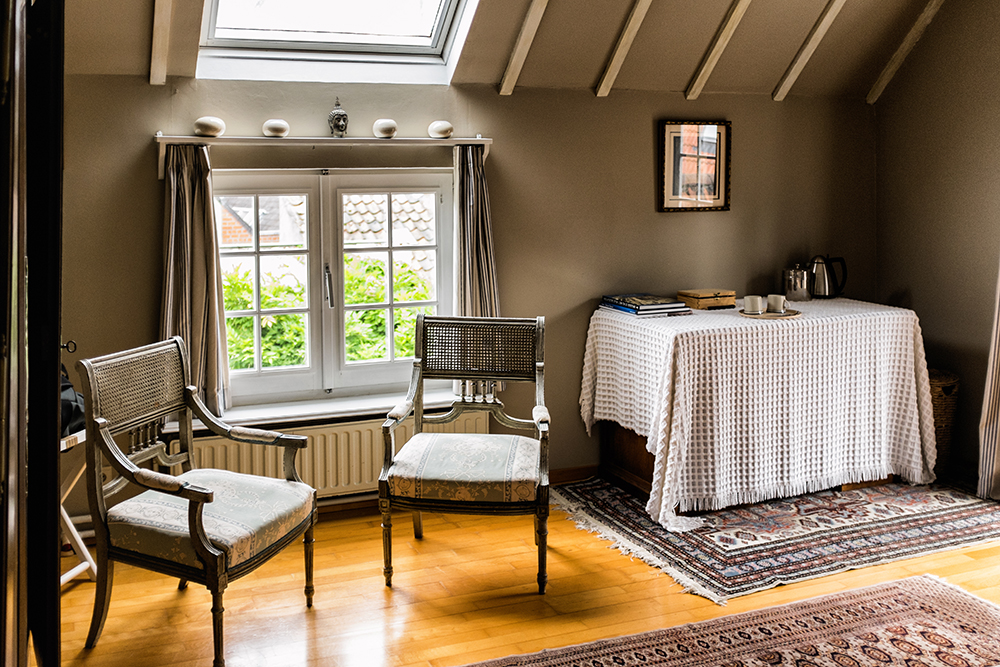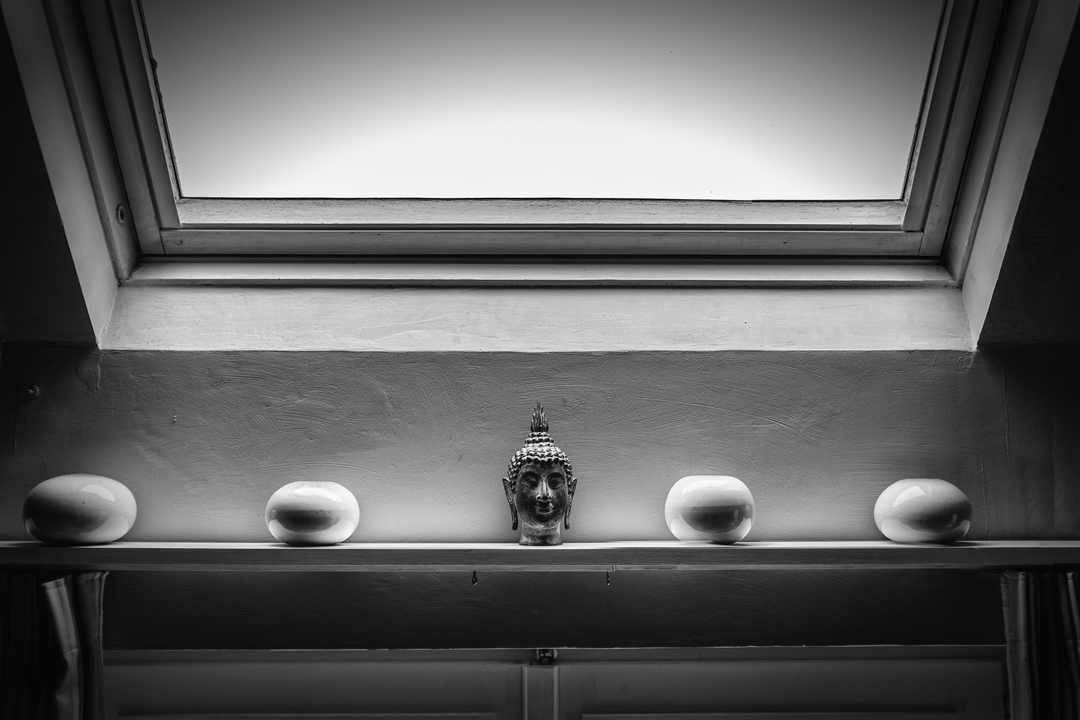 Back to wandering the streets…here are some views of Bruges.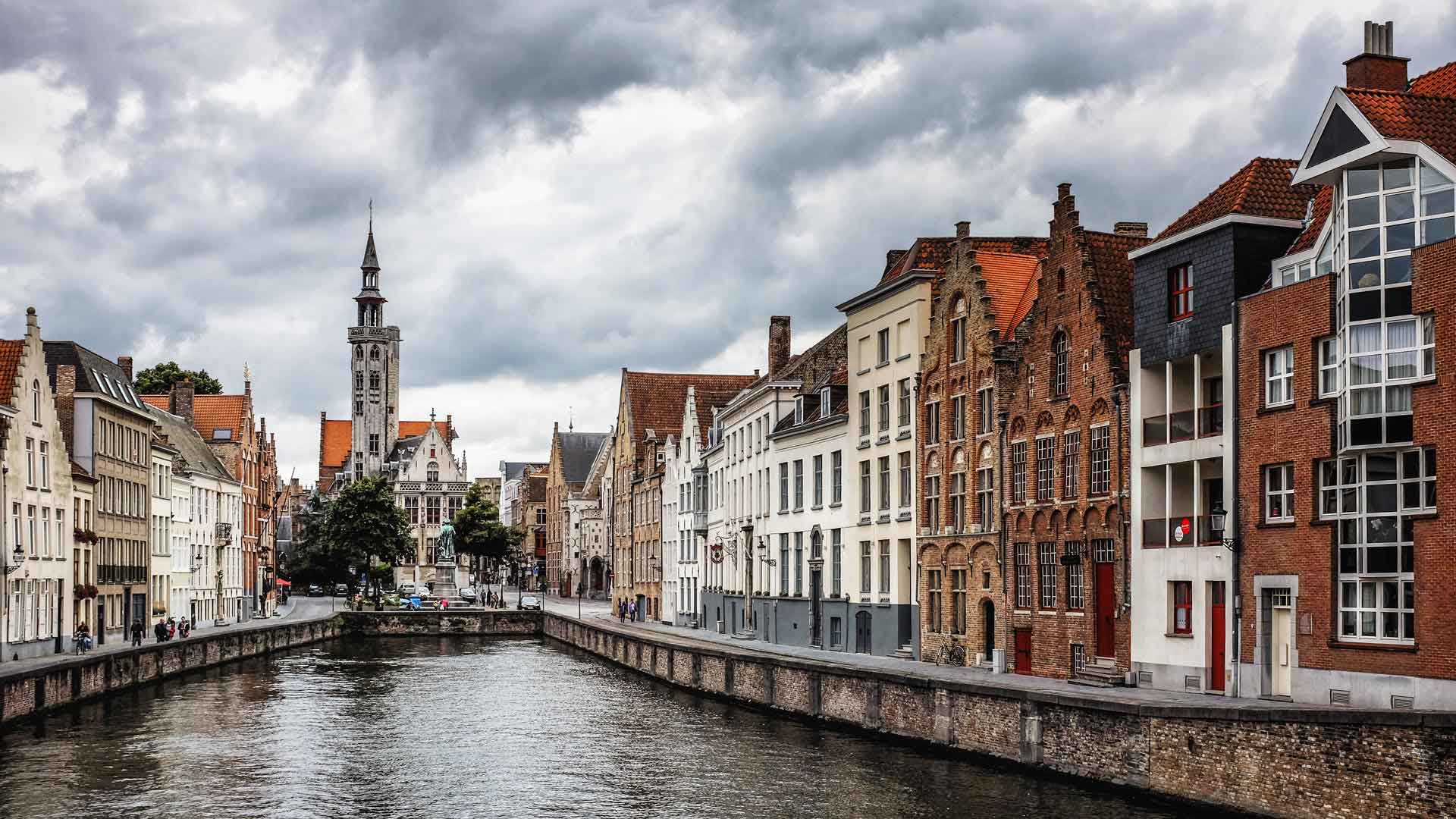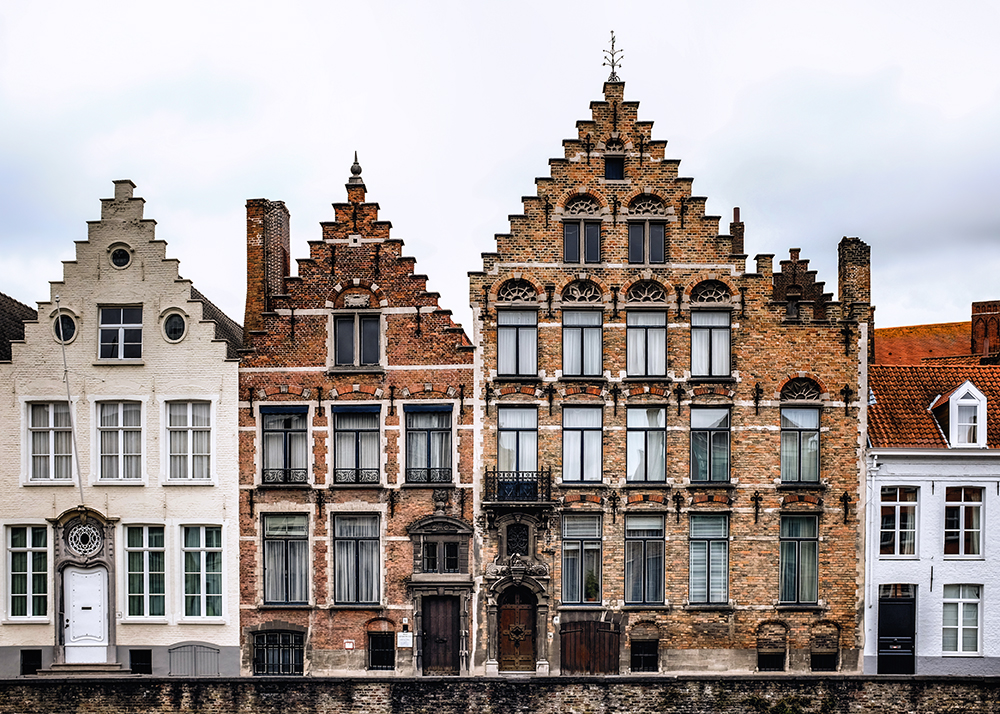 A taxi driver told me that the rooflines were stepped so that the chimney sweeps could climb from one chimney to the next.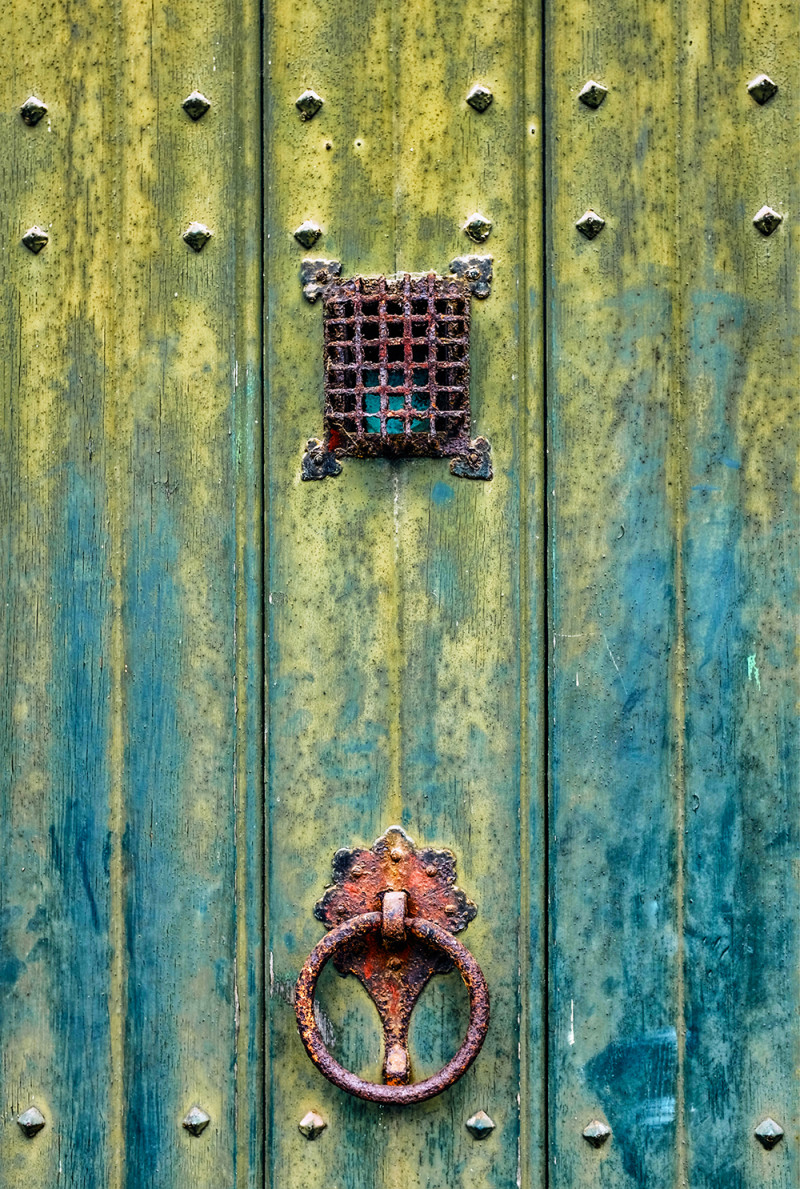 Elegant. Yes. That is exactly how I would describe this city. Everything was impeccable, from the way they prepare and serve food, to the architecture, to the smallest design details in homes and windows; all of the detailing is created with impeccable taste.
I am going to cut here to describe what happened during my first evening. (I will even skip over my meal until my next blog to hurry on to this!) It was already dark when I began walking home after dinner (don't worry, Steve, Bruges is incredibly safe), and, as usual, I kept getting lost. (For your info, Apple Maps is the absolute WORST map around to guide while walking; Google Maps is outstanding.) I turned onto one street and came upon a large building with its doors open, lights on inside, and the most beautiful Baroque music was emanating out onto the street.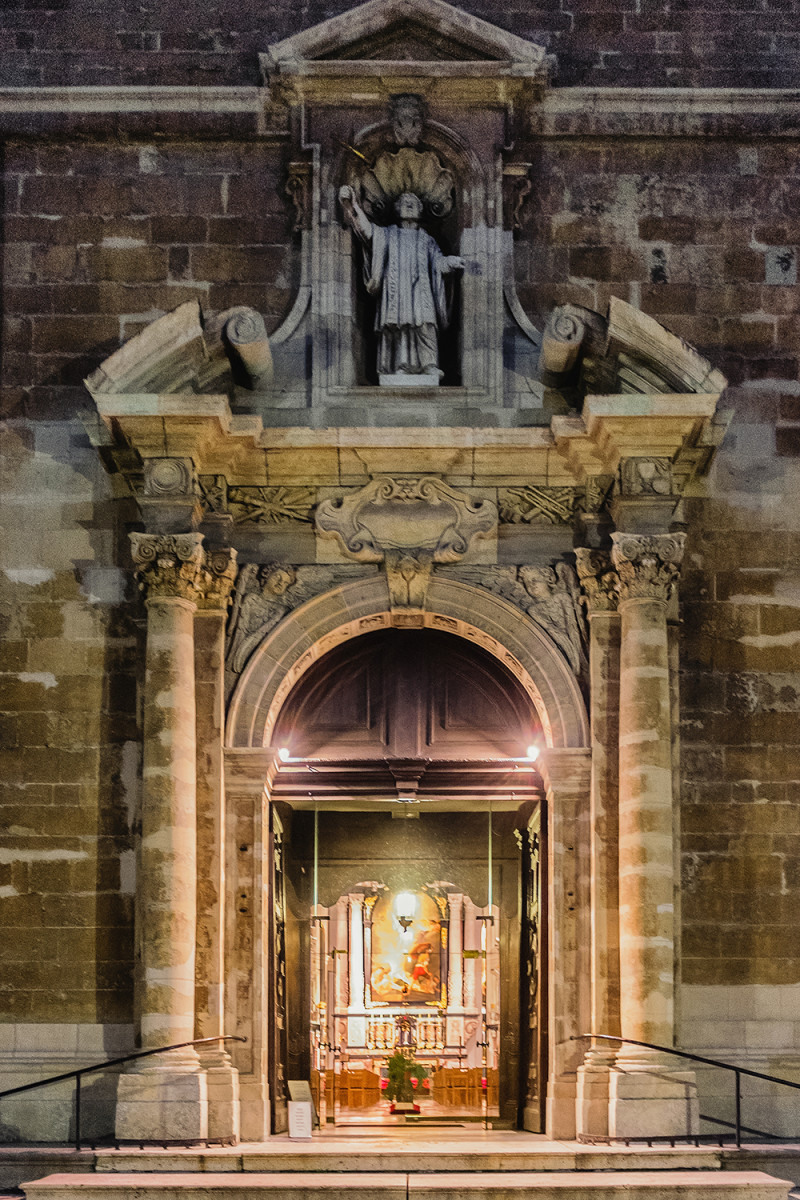 As soon as I peeked inside, the caretaker approached and welcomed me in. I asked if I could wander around and he was very pleased that I wanted to. I think it took me all of one minute to be completely overwhelmed by the majesty of this church.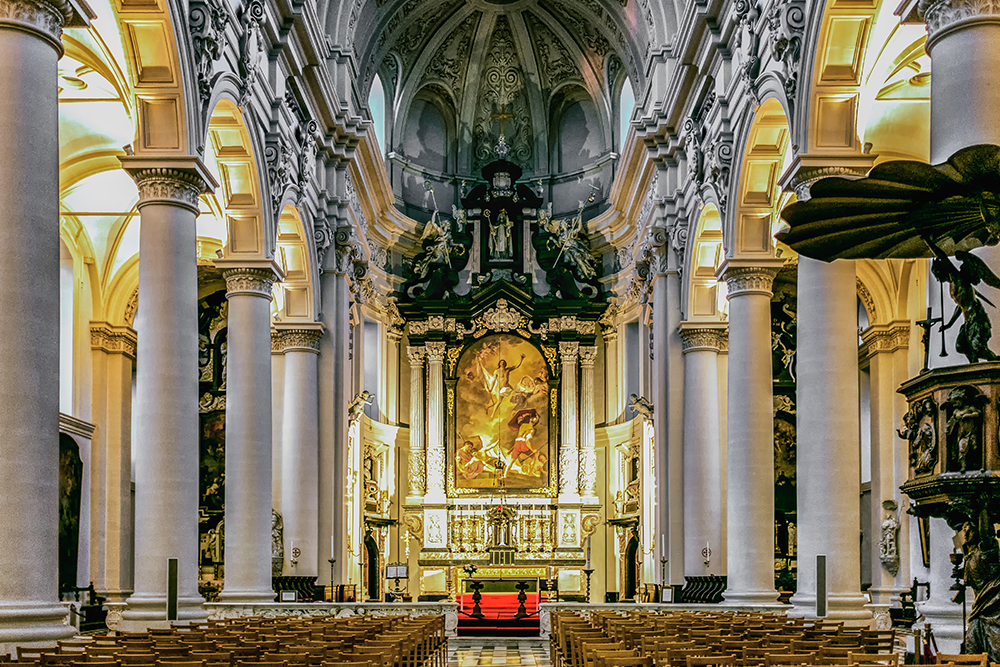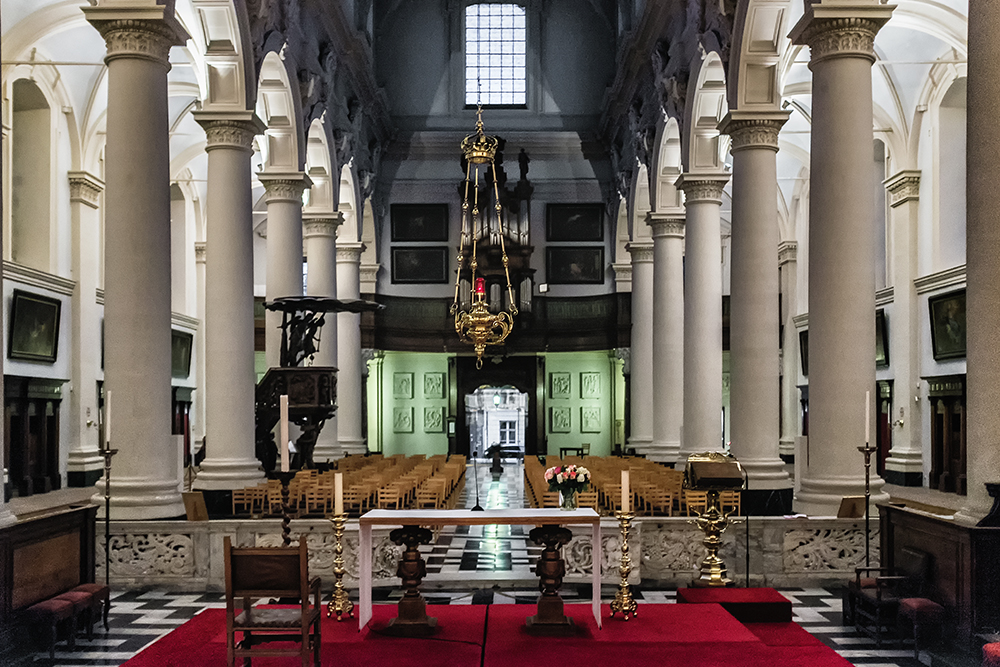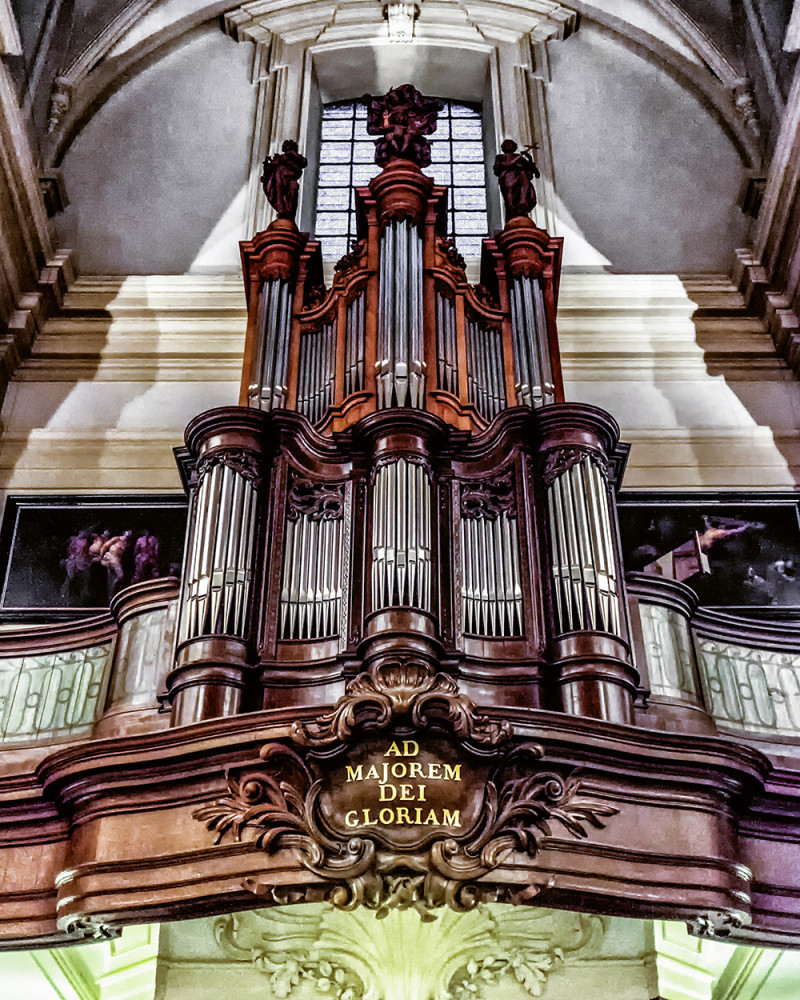 To say that I was in tears is an understatement. I don't know why, but I simply could not stop crying. I was a little embarrassed because the caretaker, whose name I found out is Ludo (picture a present-day shorter-in-height/longer-haired Gérard Depardieu), told me afterwards that seeing me cry almost made him cry. Ludo was very kind and told me that this church was built around 1630 and that, at one point, the French took over the church and converted the confessionals into horse stalls. The name of this Jesuit church is St. Walburgha. Mass is not held here any longer but is reserved for funerals and baptisms.
Ludo was delighted that I had walked in. He said that he never receives any visitors at night, but he enjoys playing Vivaldi music because of how beautifully it resonates through the church. (It was amazing.) I told him that my mother will be delighted that I was photographing a church, so he said, "Come with me. Please don't be frightened. This is for your mother" and we walked up to the altar. He removed the velvet rope and said that I could step into the altar to take whatever photos I wanted.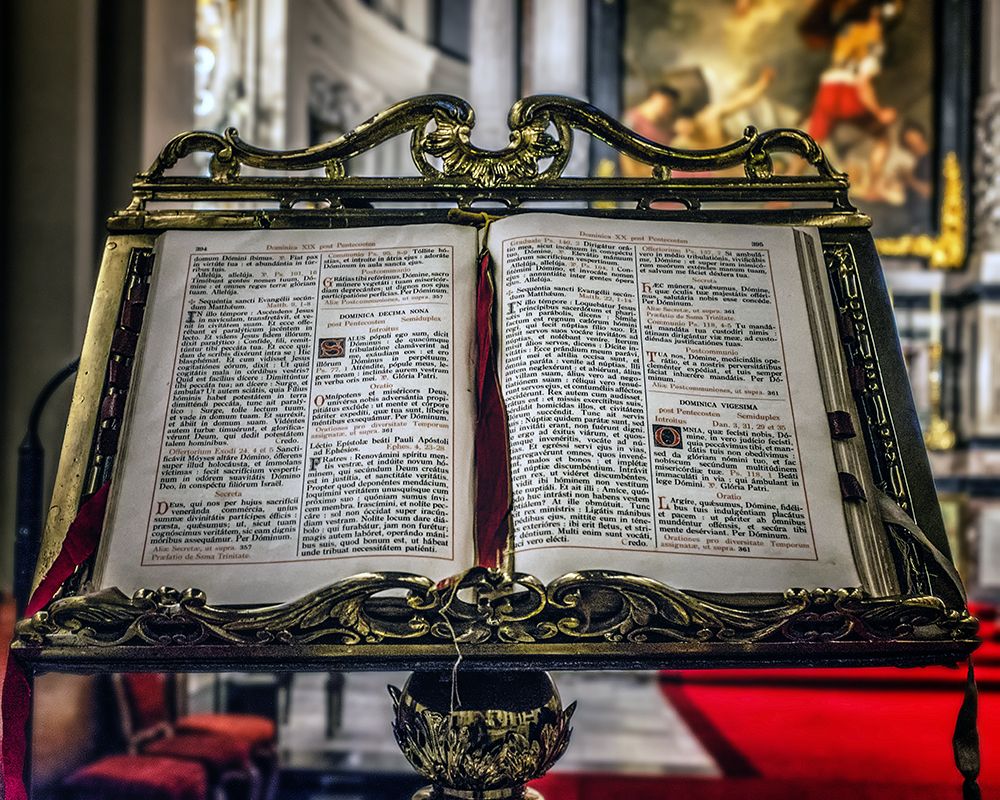 Ludo took me over to the front side of the church to show me this statue.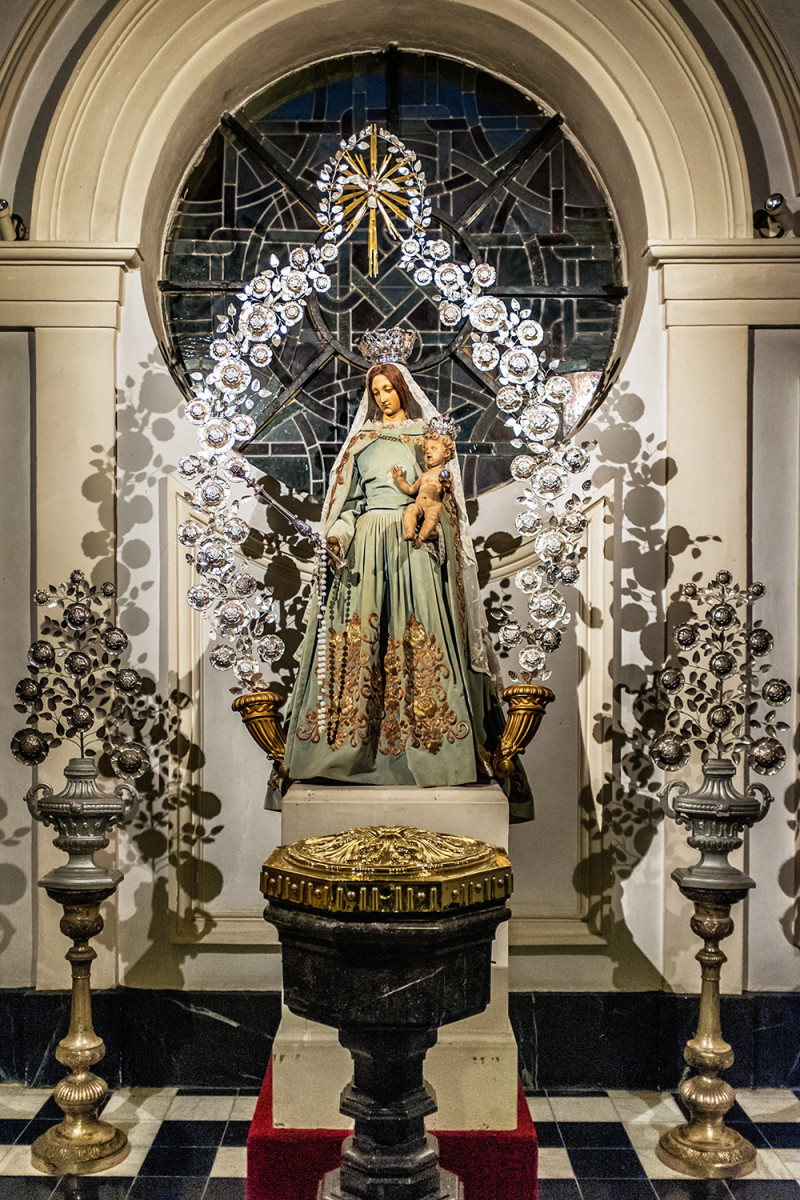 Ludo told me that this wooden statue is carried out onto the streets of Bruges for processions. He didn't believe that anyone had been allowed to photograph it this closely.
Across the small room was this beautiful gold crucifix.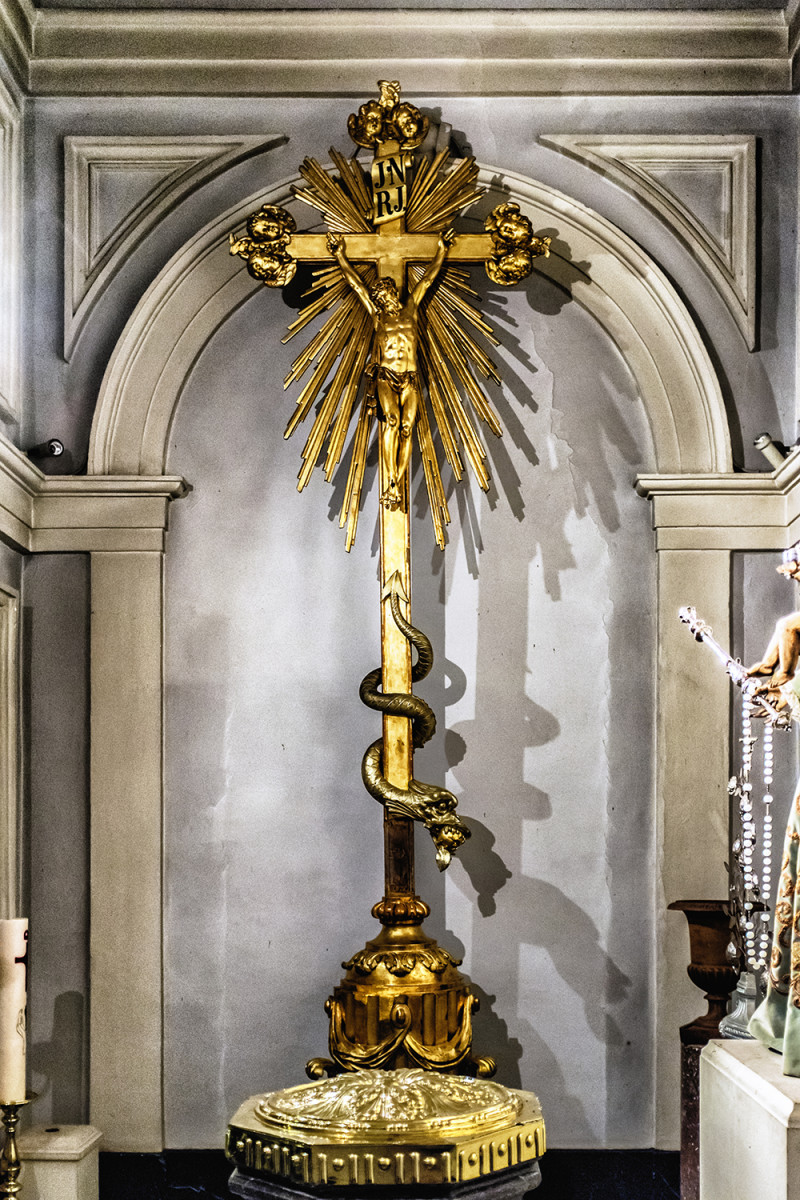 It was such a special evening. I hugged Ludo goodbye and thanked him for his kindness. On my way out, he said, "I do hope your mother will be pleased with your photographs!"
Dare I add one last image that I saw after I left the church?
It was a perfect day.