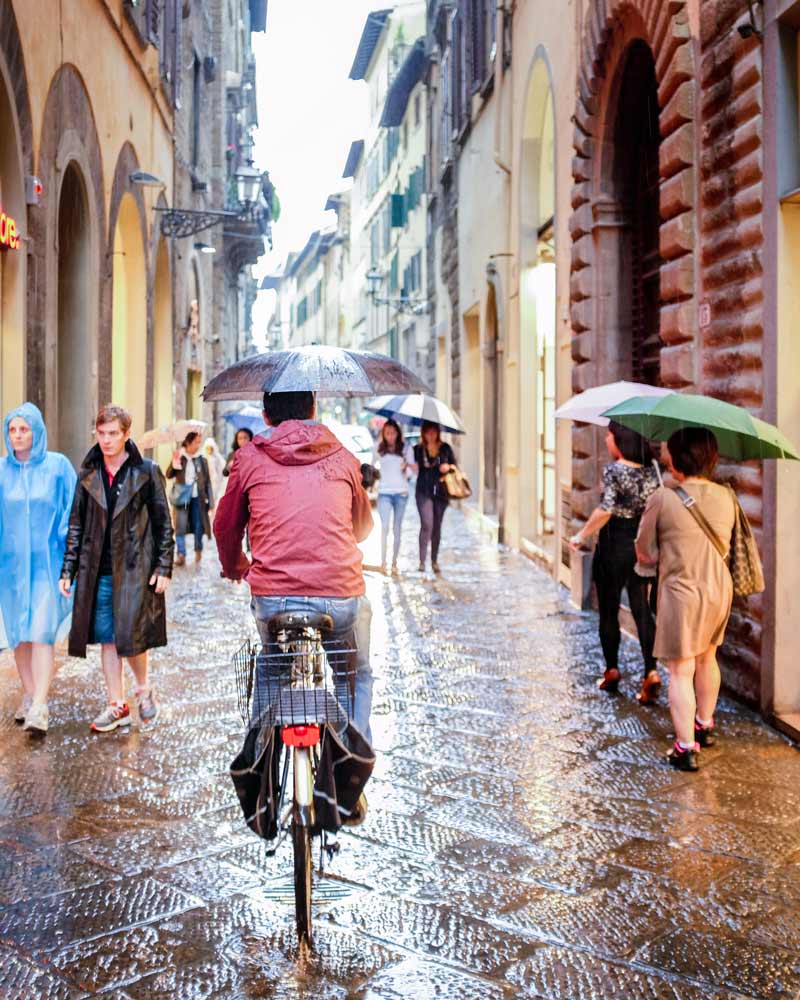 When I had arrived back at the house at approximately 4:00 or 5:00 p.m., I was expecting to find Rosanna preparing dinner like the guy I photographed from a restaurant kitchen window while I was heading back to Rosanna and Marco's home. I arrived to discover that the kitchen was dark, and no one seemed to be cooking! For a split second, I feared that perhaps they had forgotten about dinner!
Fortunately, Marco knocked on my door at 8:00 p.m. to tell me that, not only was dinner on the table, but that one of their sons and his girlfriend were joining us. What a pleasant surprise! I was happy to sit down with the family.
Marco's son, Giambattista, and his girlfriend, Daniela, had arrived from Austria for a visit. They are photographers and had recently lived on a farm in a small village for four months, learning the art of making cheese. I'm officially envious! They have been together for six years, having met in Vienna. Maybe it's just me being a Southern California gal, but that sounds incredibly romantic!
Once again, I neglected to ask if I could take the family's photo. My loss! But I am thankful to the family for kindly providing me with their portraits…how lucky am I?!?
Giambattista is a splitting image of Robert Downey, Jr. It was a little disconcerting trying to remember that he wasn't an actor! Daniela was adorable, with a short haircut that framed her beautiful face perfectly.
I have to tell you that I loved Rosanna. She didn't speak a word of English, but that added to her charm. She was very expressive with her facial expressions and hand gestures, and I felt at home feeling comfortable using my hands while speaking. Marco is simply a gracious, wonderful man. I wanted to hug him all the time.
Now, let's get right to the menu. Marco was kind enough to type it out for me. Thank you, Marco!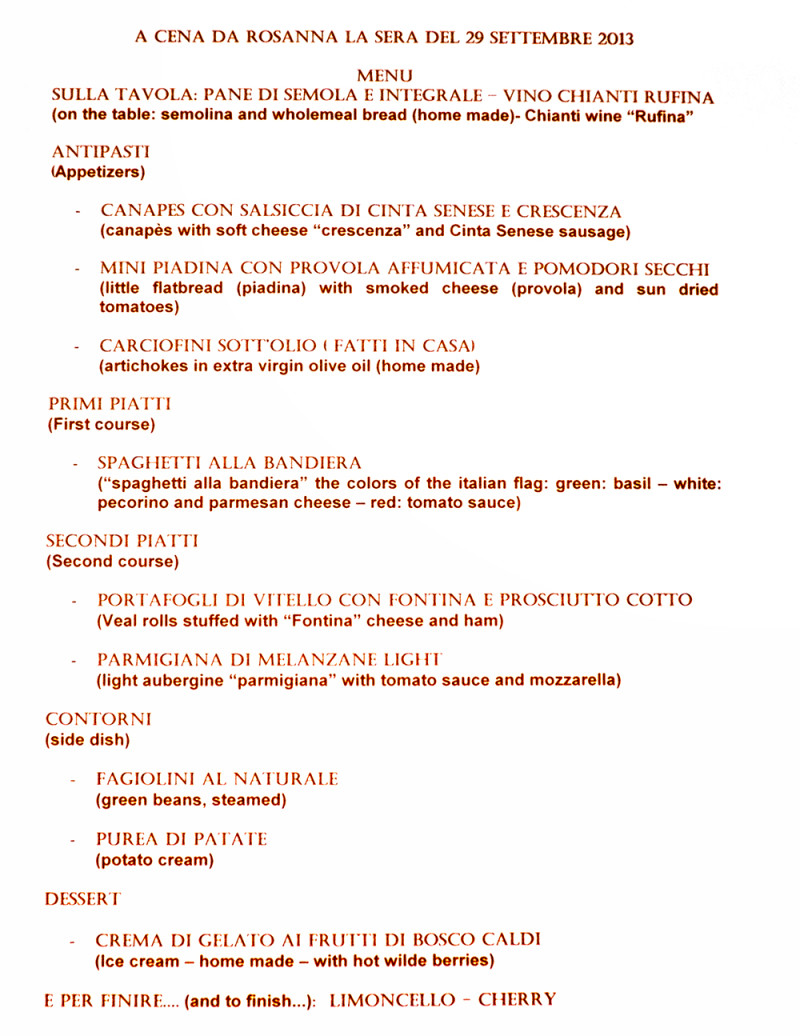 The family graciously invited me to sit at the head of the table. Appetizers were waiting for me to devour…so I obliged! :) There was a little bowl of marinated artichokes, super tiny and delicious. It wasn't until I read this menu that I realized that Rosanna had made them.
Marco proudly told me that he made the bread himself. It was delicious! Giambattista said that everybody in Italy, men, and women alike, cook. Uh, Steve, my dear, please make note of that! ;)
As many of you know, I am a vegan. I had made a choice that I would put that aside while I was in Europe because I wanted to experience EVERYTHING that Europe had to offer, including the food. I don't ever eat veal, but it was delicious and tender, stuffed with prosciutto and cheese.
Giambattista and Daniela are vegetarians, so Rosanna had prepared eggplant parmigiana for them. I was getting so full, but Giambattista told me that I really should taste it, so I accepted a piece, and it was the best eggplant parmigiana I had ever tasted.
But the potato cream…..oh my!!! It would be equivalent to American mashed potatoes, but that was clearly where the similarity ended. The potatoes were super creamy and smooth, without a single lump, and with cheese added. I asked Rosanna how she prepared it. Daniela warned me that Rosanna guards her recipes. She said that Rosanna shares her recipes, but she slyly leaves out some steps or ingredients! Trust me when I tell you that I'm still dreaming about those potatoes.
I was in heaven; the food was delicious, and I ate every bite of everything on my plate! I mentioned how surprised I was that so much food on the table because I couldn't tell that anything was being prepared, but Rosanna said that she is very organized.
I would say that I'm saving the best for last, but that would be a false statement. One dish was better than the other but in no particular order. But the ice cream…oh, the ice cream! Homemade, made with organic eggs that their son had brought from the farm! And with warm berries poured over the top?!? I haven't tasted any better.
I thought my dinner could not have been better than what I had just been served. I don't know if I had brought it up or not, but limoncello came up in conversation. Marco excused himself and returned with a crystal decanter of limoncello that he had made at home!!!!!
Every member of the tour that I had just ended will recall that limoncello was a huge part of our celebrations as we traveled through Italy. But none of it comes close to what I tasted this evening. The lemon essence in the liquor was very pure and outstanding, the alcohol content….WOWEEEEEEE….35-40% alcohol!!!…was amazing! Unfortunately, I don't remember the exact lemon variety, but I was told that they are large and that the peels of three ripe and three unripe lemons sit in 100 proof alcohol for three months. (Was I drunk? UGH…I don't remember!…darn it!) before adding sugar, etc., to complete the limoncello. It was perfection and commercially bottled limoncello will never be able to compete.
Beyond the excellent meal, however, sitting with the family was my favorite part of the meal, listening to them converse in Italian and then interpreting for me in English, watching their hand gestures, understanding that a meal such as this is typically prepared on Sundays, during special occasions, and when receiving guests. Simply spending time with this wonderful family was one of the highlights of my trip.
Sharing a meal with Marco, Rosanna, Giambattista, and Daniela was a very special night to remember. I was very grateful for their hospitality and kindness. A heartfelt thank you to the family.