Do you know how both nervous and excited I was to meet my tour buddies for the first time? You never really know if you are going to mesh with the group but I have to tell you, we all hit it off immediately from the moment we said our first hellos. I was thrilled! They were a very friendly gang, and the bonus was that I wasn't the only solo traveler…WOO HOO! I had hit pay dirt, trust me on this. OK, so how much better can this story be? Well, we found out that there were only going to be nine of us traveling through Bangkok. SCORE! With our tour guide Chai at the helm, off we went for a tour of the Bangkok markets and Wat Pho.
I knew that we were going to travel to the locations I had visited the night before on the tuk-tuk tour, but I was happy to do so to gain a different perspective of the city. I loved seeing the bustle and the colors of the city as seen when we rode by the Klong Toey Market where the locals buy their meat, seafood, and vegetables.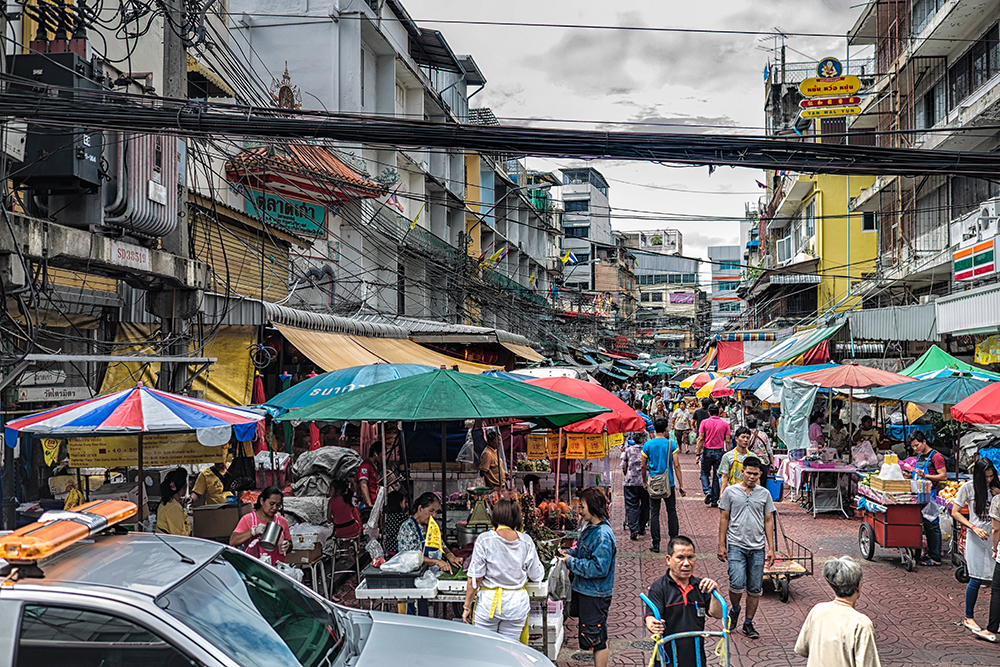 We stopped at the Pak Khlong Talat flower market. It was clear to me that this was not their busy time; it was relatively calm compared to the activity I had seen the night before.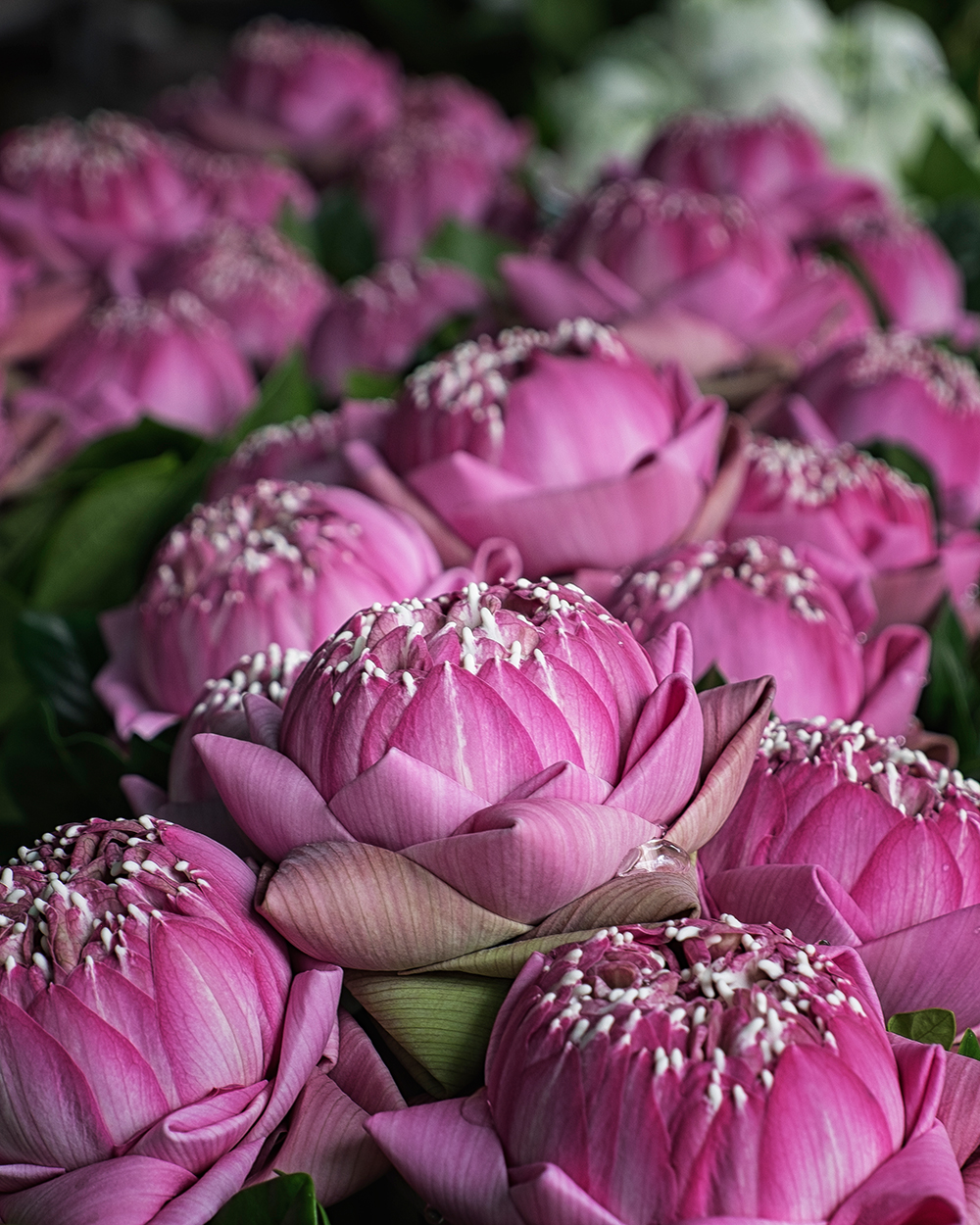 The site of the Pak Khlong Talat market originated as a floating market from 1782 until King Rama V's reign from 1868 to 1910 when it was converted to a fish market. The market later evolved into a produce market until the produce was moved to the Talat Thai market, located on the outskirts of Bangkok. The Pak Khlong Talat market is now considered to be Bangkok's largest and primary flower market with produce also still being sold, as shown below. I was to find out that our meals were soon to be fired up by these beauties!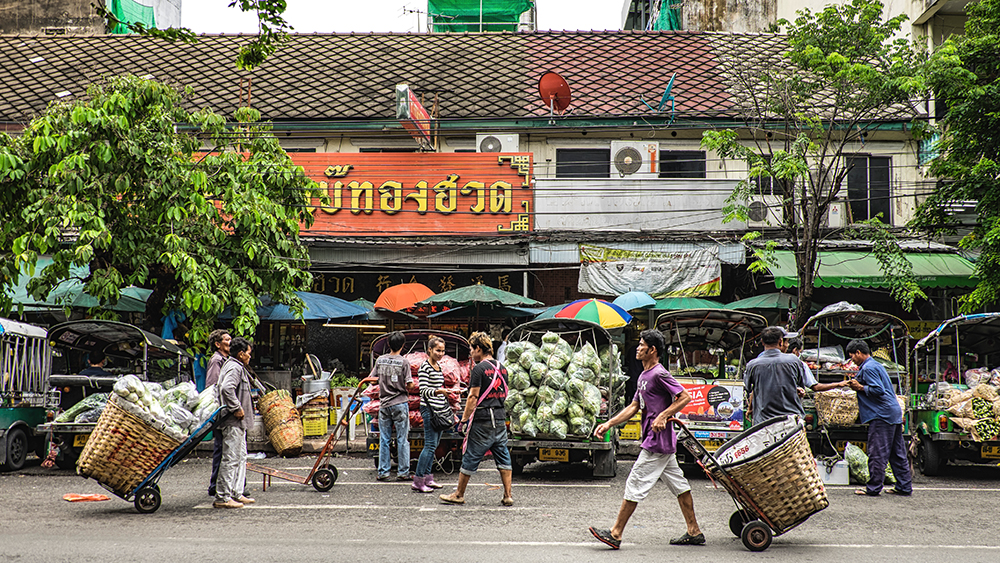 Old Bangkok was one of the areas of Bangkok I wanted to see; the streets, where vendors carried their purchases or goods to sell to and from the flower market, loading up or offloading their tuk tuks to begin their day.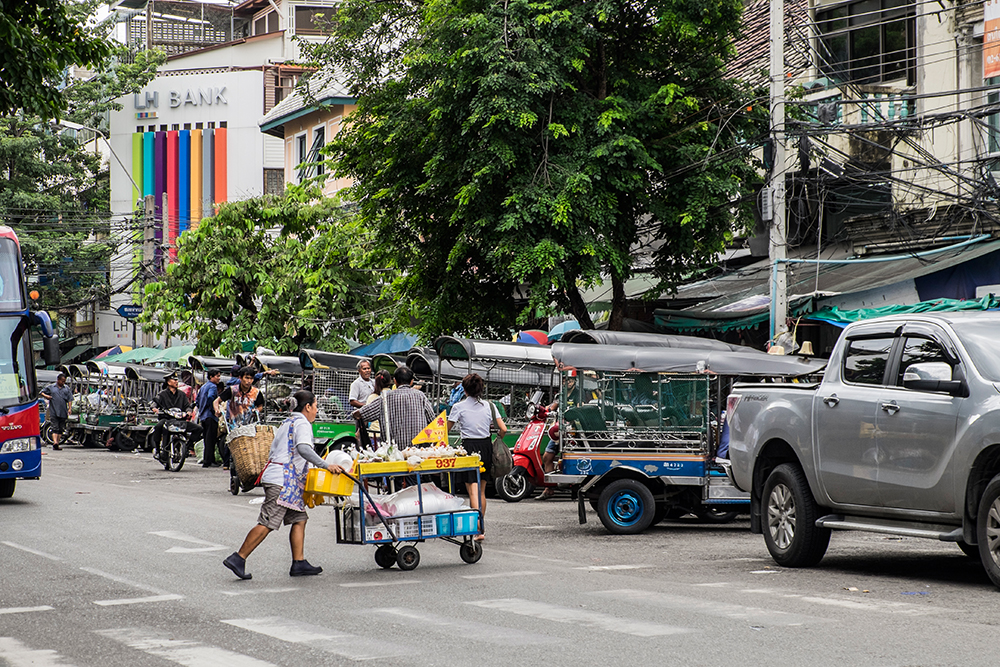 Next up? Wat Pho, as seen during the day. Wat Pho is a Buddhist temple complex located near the Grand Palace. This wat houses the Temple of the Reclining Buddha and is one of the oldest and largest temples in Bangkok.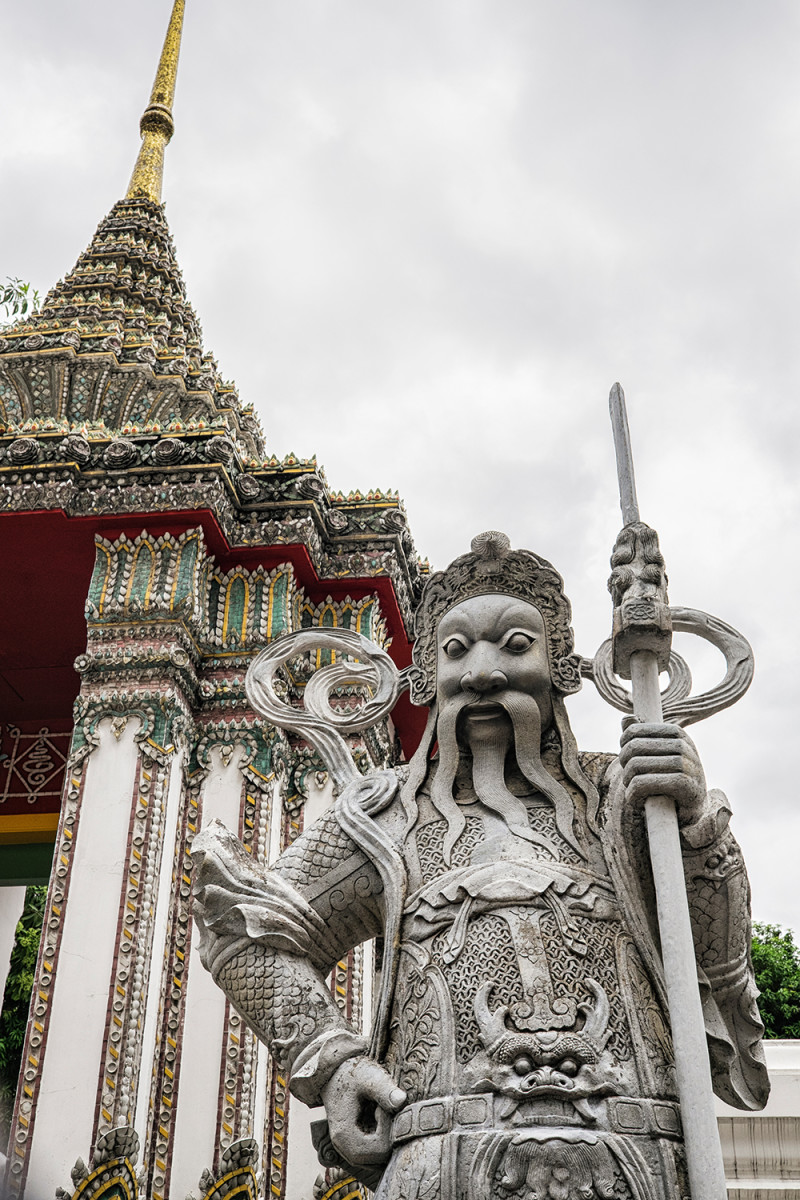 Forgive me, but I'm loading up this blog post with images of imposing Chinese ballasts (Chinese rock giants). Some of the statues, which were imported when ships were trading with China, depict Europeans (as shown below) and are situated throughout as guards of the compound. The craftsmanship and detail of these figures are outstanding. To give you an idea of the size of these statues, I was standing at full height while photographing them. They were magnificent.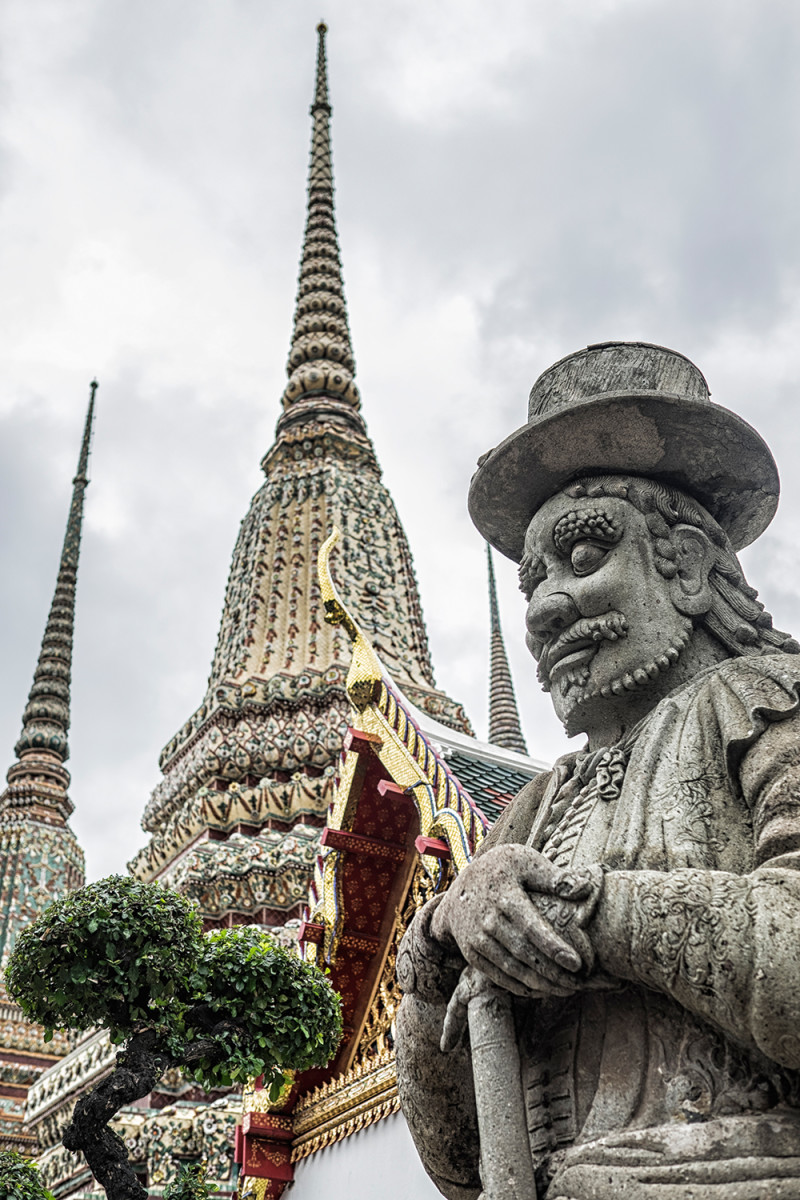 I was anxious to tour the temple which housed the Reclining Buddha. It was impressive at nearly 50 feet in height and over 150 feet in length. Unfortunately (only for visitors), the soles of the feet, which are almost 10 feet in height, were hidden from view while they were being repaired. I would love to return after completion because the soles are inlaid with mother-of-pearl depicting auspicious symbols of Buddha.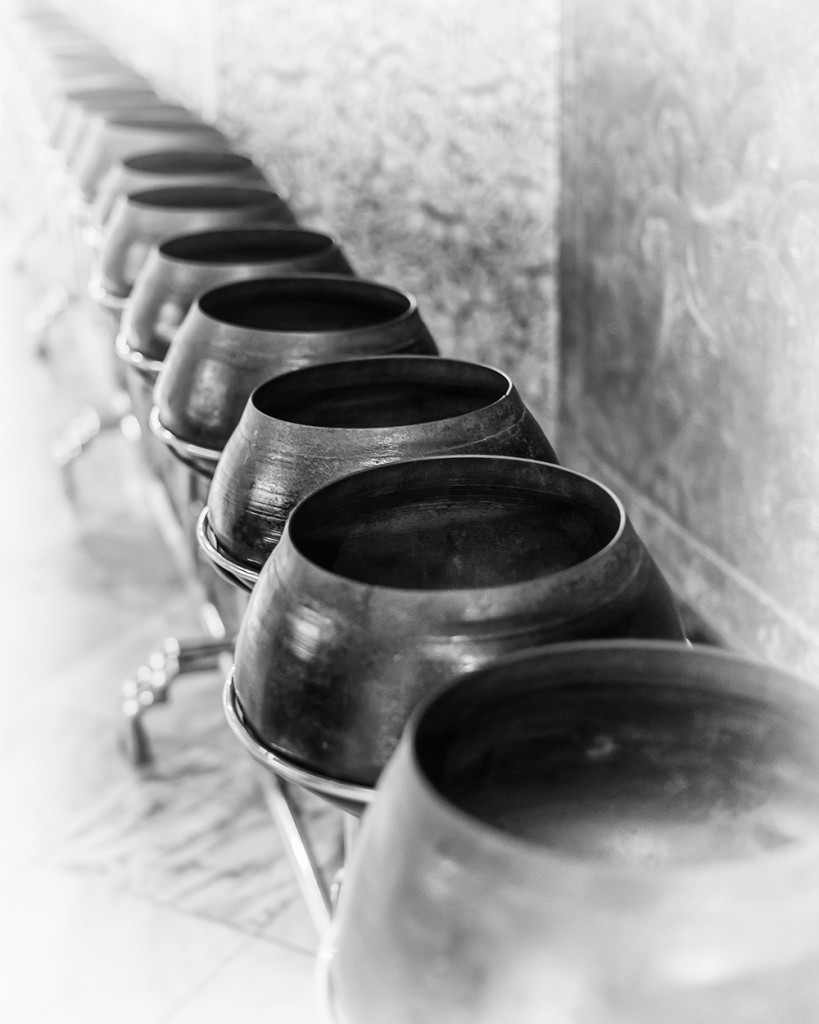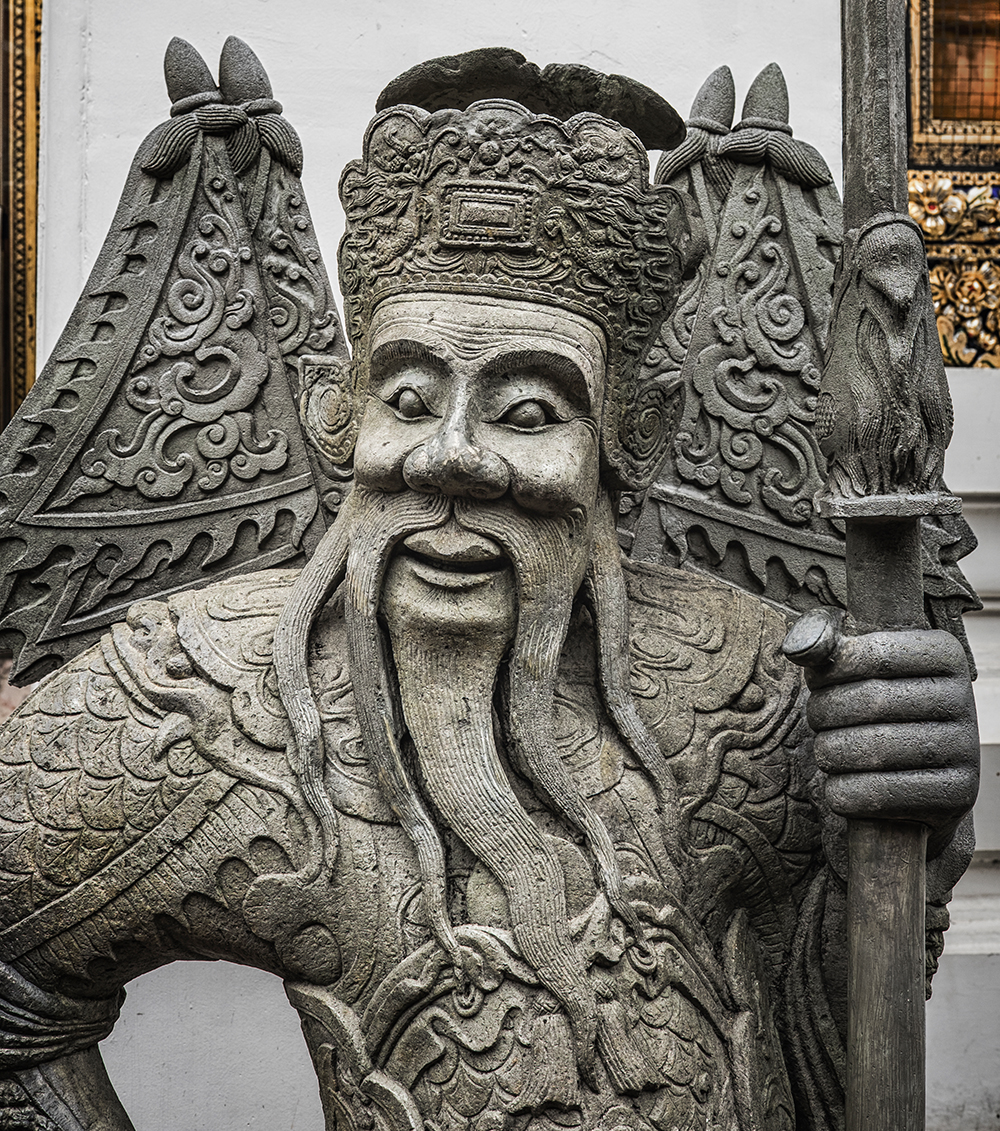 Wat Pho contains more than one thousand Buddha images within the complex.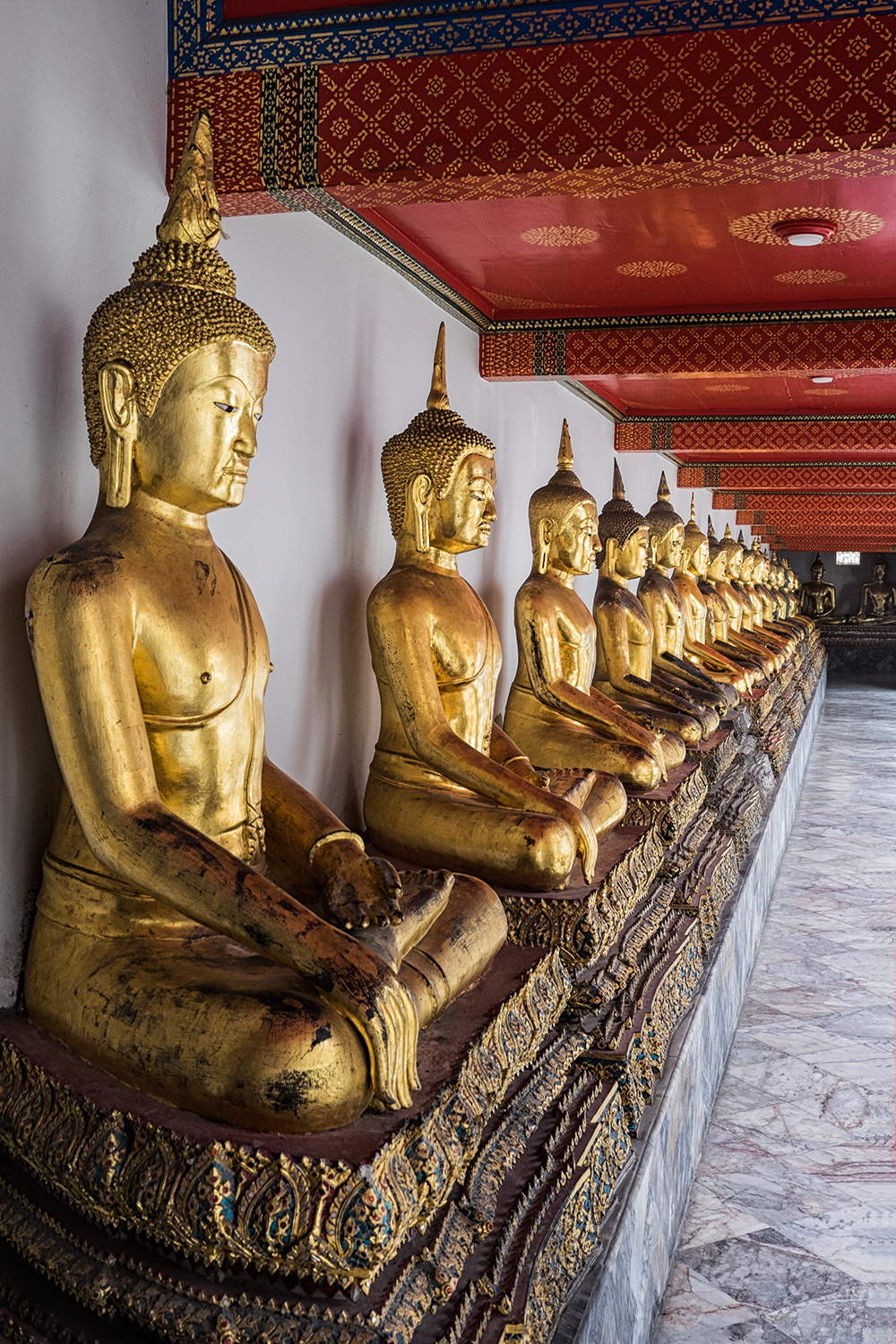 And for dog lovers everywhere…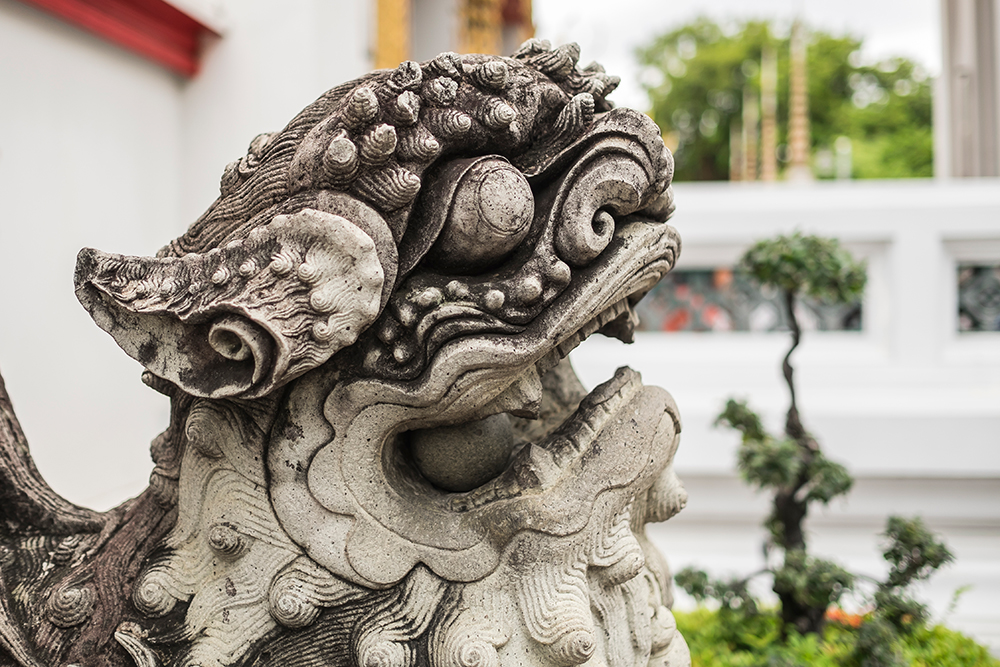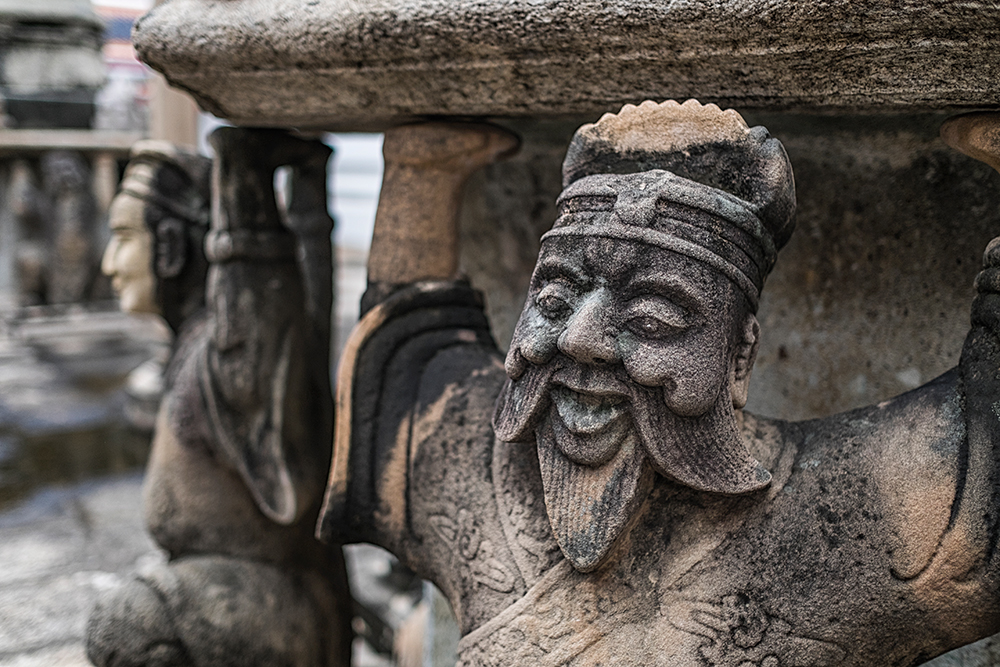 After our initial tour of Bangkok, we headed back to our hotel, and we were pretty hungry by the time we arrived. Two of my tour buds, Carolyn, and Efren joined me at MK Restaurant at Asiatique The Riverfront, which is a large open-air mall near our hotel. We shared a delicious platter of duck and pork, rice, and a large pot of vegetable soup which had cooked directly on our table.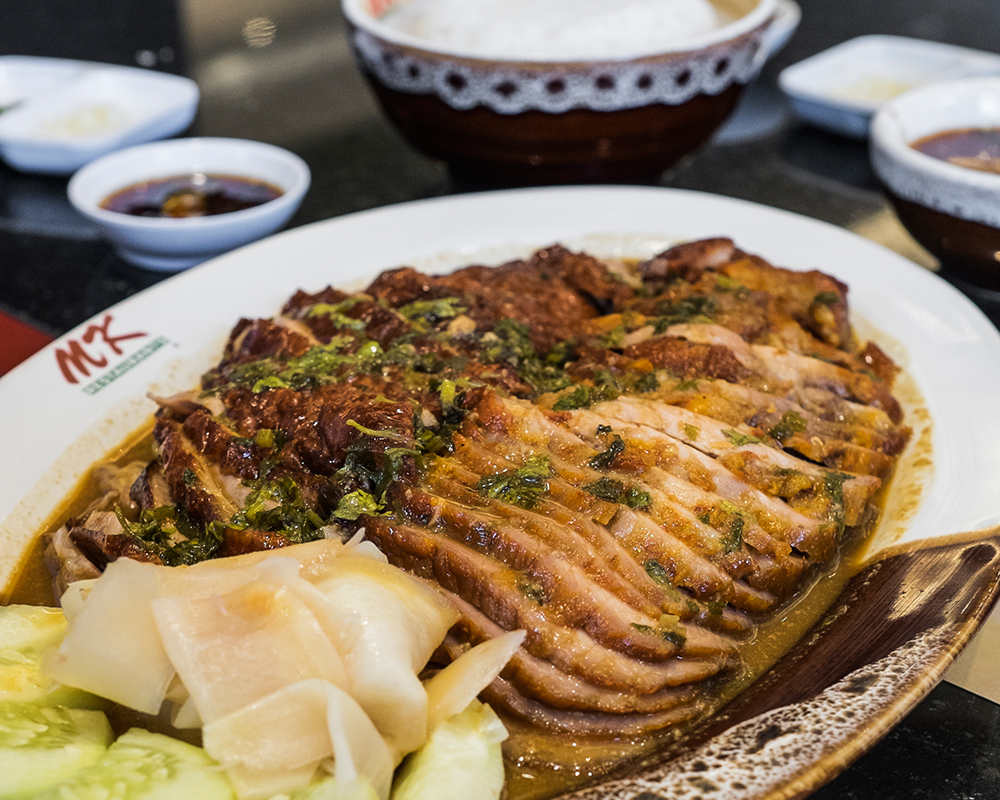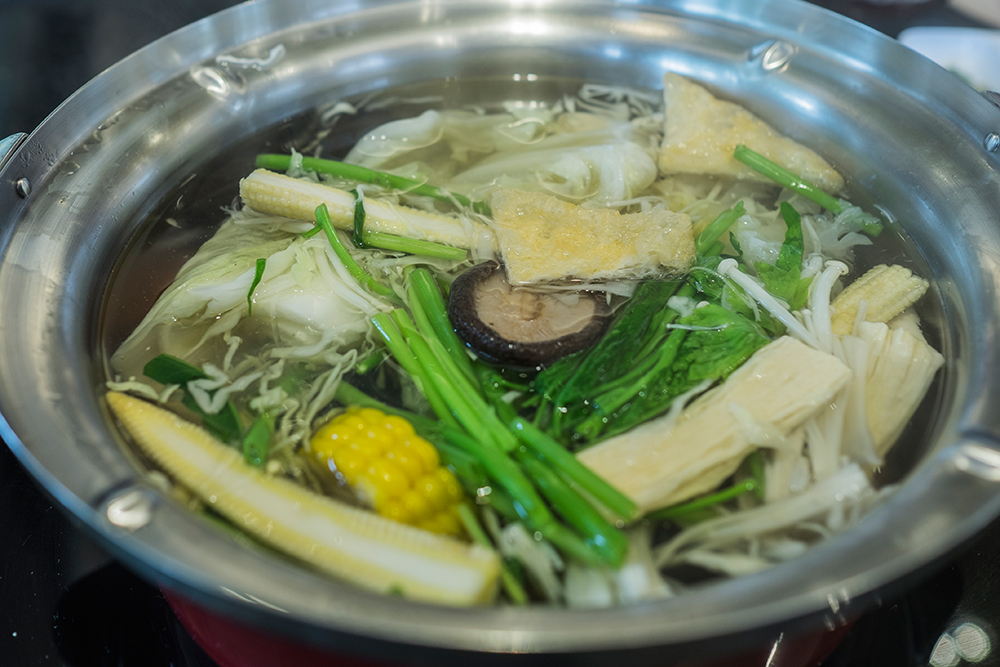 Do you see the napkins below? Depending upon where you dine, these little napkins, which have the consistency of toilet paper, are on the table. Thin and wispy, their purpose is for one use only, which means that you will be using a handful of them because they seem to disintegrate almost immediately upon impact with the food on your hands. Surprisingly, I found them to be another quirky example in Bangkok.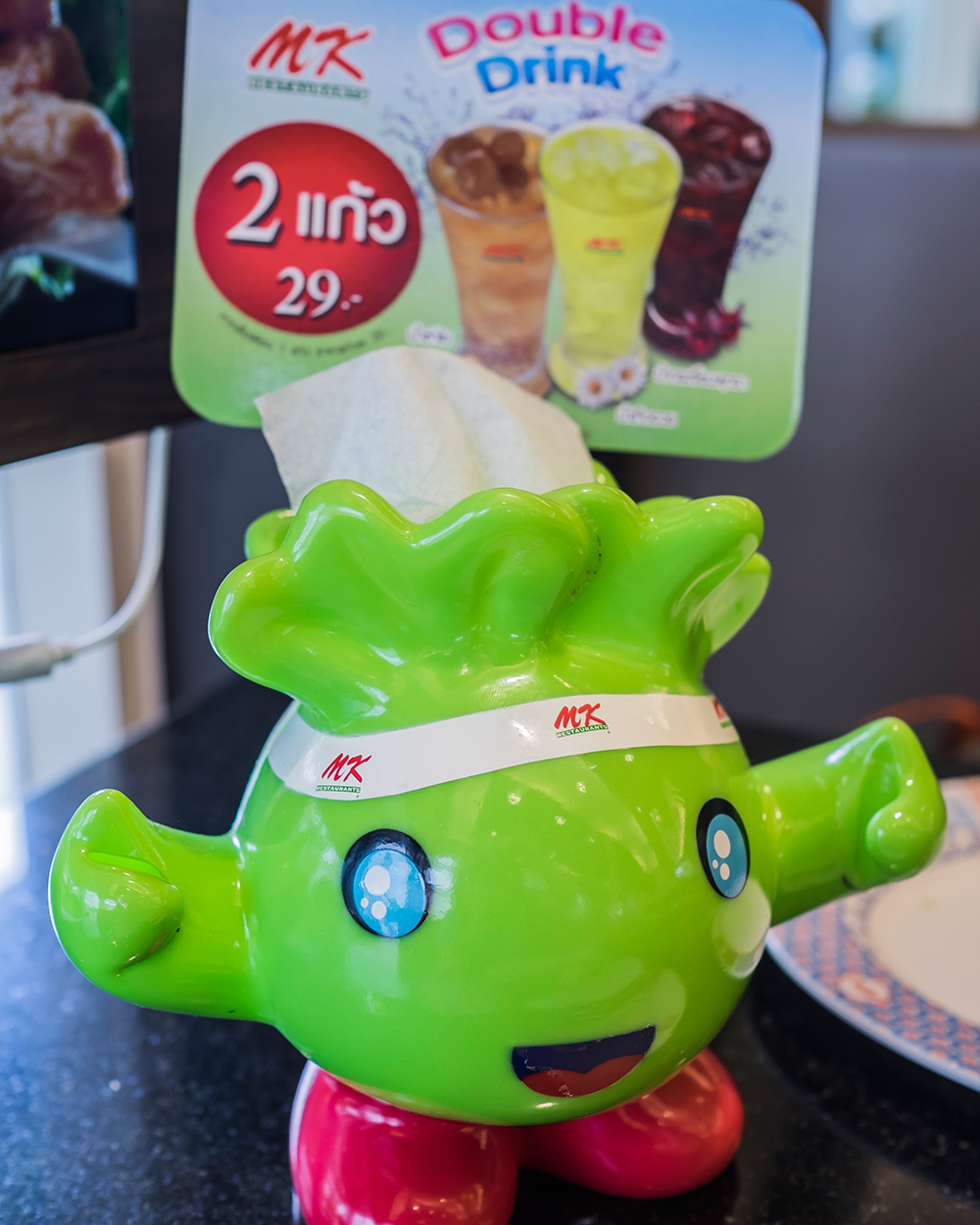 We returned to our hotel after lunch. I went up to my room and looked at the view of the river from my hotel room window. I could see the sun peeking out from behind the clouds. What was I doing in my room? I needed to be outside!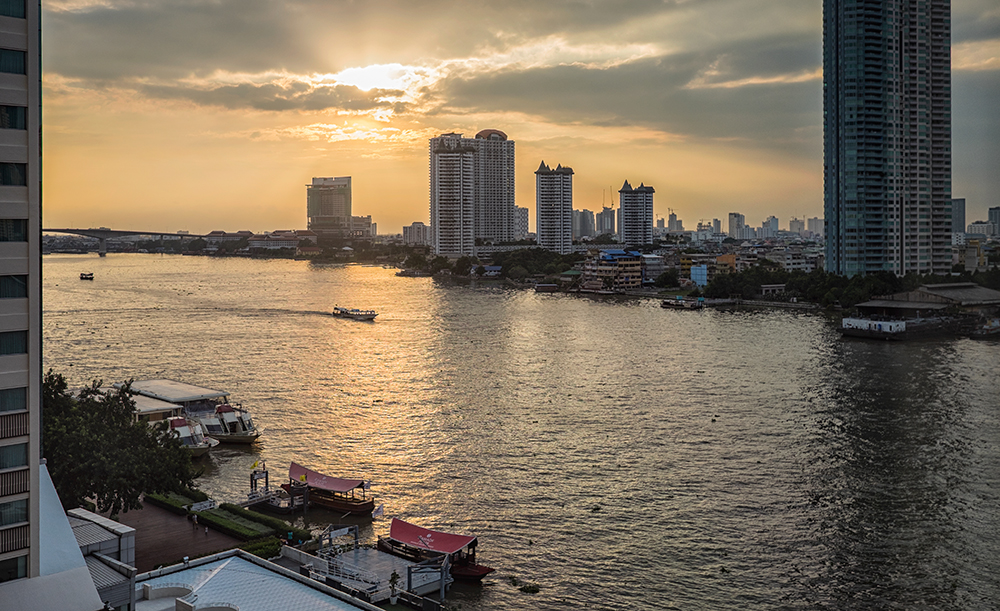 I hurried back down the elevator and walked outside to the river's edge. I almost had to pinch myself because I couldn't believe that my dreams of traveling to this part of the world were my reality. I stood there by myself until the sun set behind the buildings on the other side of the river, listening to the sounds of the boats passing by. I wrapped my mind around that view as long as I could, reminding myself that I was almost halfway around the world from California watching the sunset while my family and friends back home were sleeping. I think that everyone back home was asleep except for my dad, who was most likely awake at he sat in his recliner in a corner of my parents' bedroom. I know that he was worried about his independent daughter who was determined to see the world, even if it meant that she traveled by herself in order to make that happen.
I returned to the hotel's restaurant to have a quiet dinner with my tour buddies. I was very excited about beginning my day the following morning because I was going on an adventure with Carolyn and Efren. We were going on a private tour through one of Bangkok's floating markets and wandering through Old Bangkok! I could hardly wait.