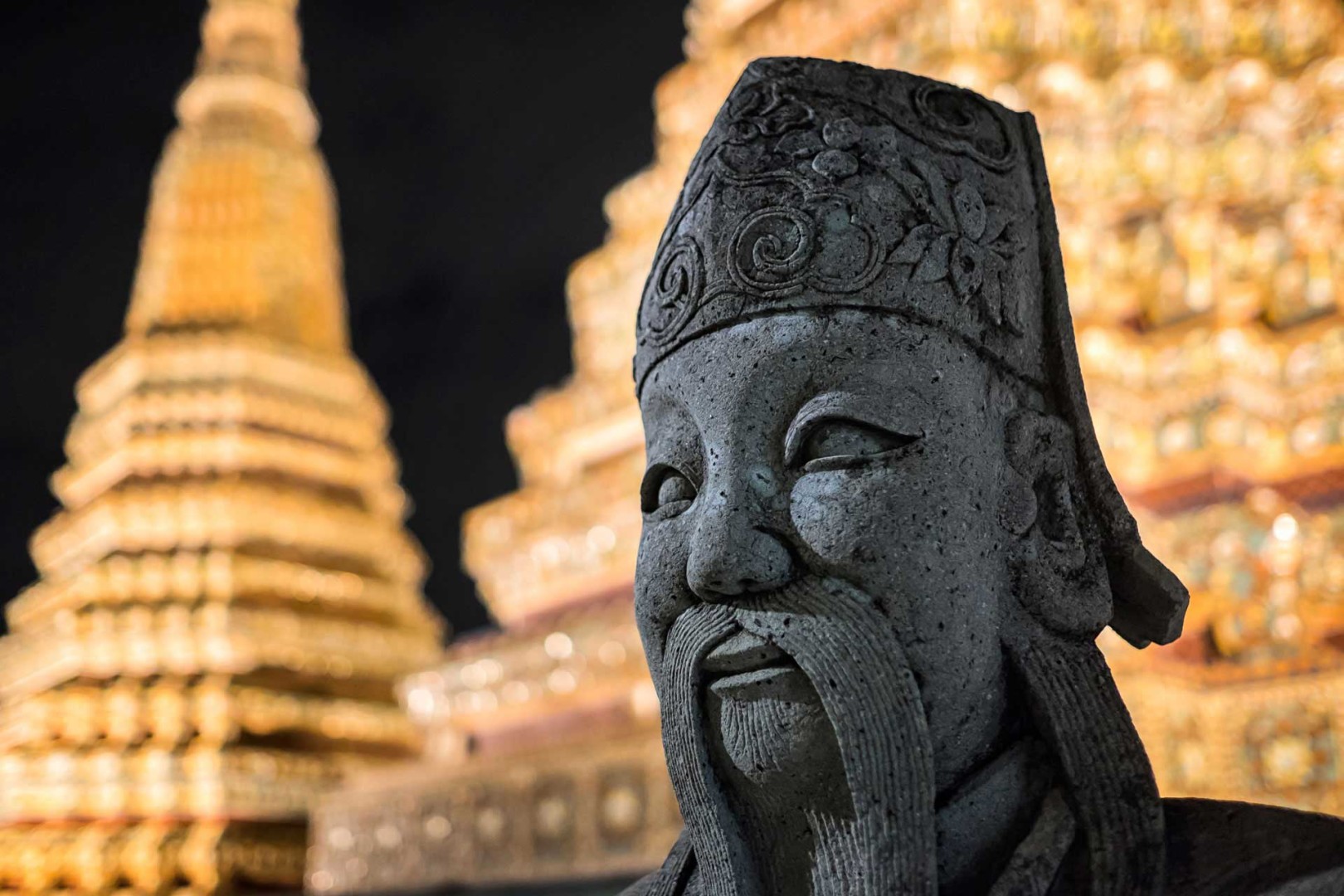 I arrived at Bangkok's Suvarnabhumi Airport early in the morning. I was thankful to be wide awake after an 18-hour flight because I wanted to explore Bangkok during the day and I had paid for a tour that evening. I wasn't thrilled, however, when I was approached by an airport official telling me that my luggage didn't make it onto the plane for Bangkok. Even though I don't like to shop…it's crazy, I know!…I decided to make the best of it. I made a plan to spend my free afternoon exploring the MBK Center, also known as Mahboonkrong, which is one of Bangkok's immense shopping malls.
My hotel, the Ramada Plaza Bangkok Menam Riverside, is located on the banks of the Chao Phraya River. The hotel offers free shuttle boat service to and from Bangkok's mass transit system known as the BTS Skytrain. I made my round-trip shuttle boat reservation and off I went for my short boat ride to the BTS.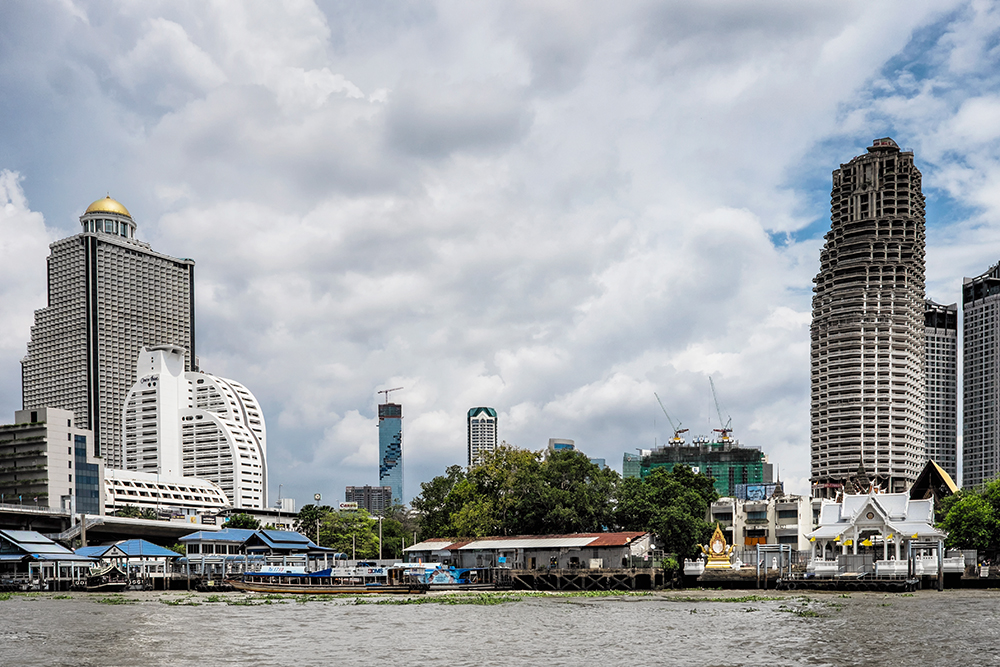 The gold dome structure on top of the high rise at the far left of the image above is the Sky Bar of Lebua at State Tower. The dome structure is the highest rooftop bar in the world and is where the bar scene from the movie "The Hangover, Part 2" was filmed. I just realized that it was very close to my hotel! Bummer. The view of the city is supposed to be phenomenal. It is now on my must-see list when I return to Bangkok.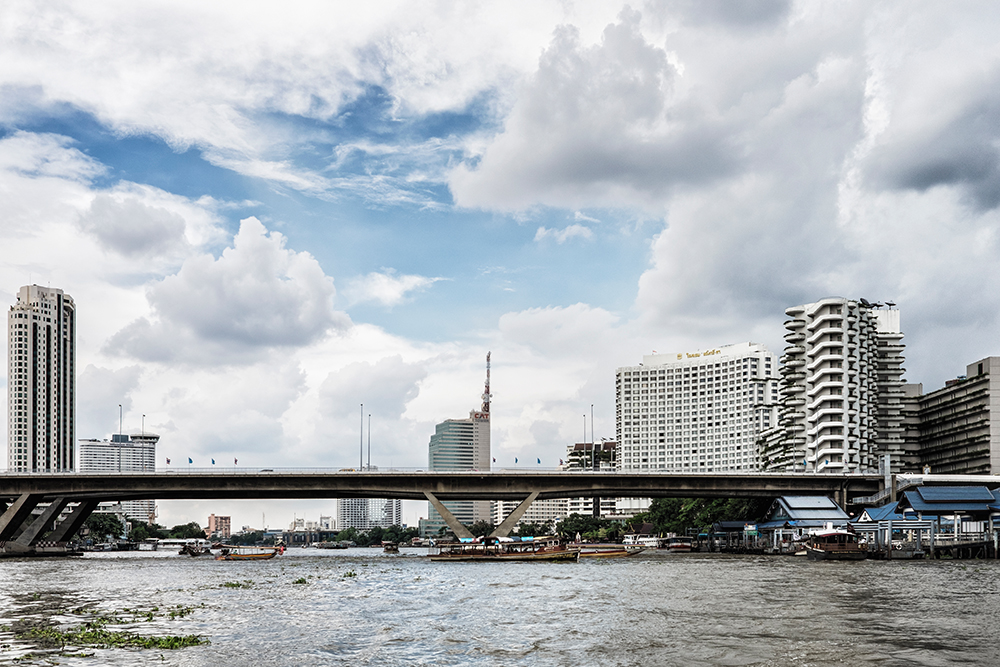 The Chao Phraya River serpentines through the city of Bangkok in a north-south direction and then flows into the Gulf of Thailand. The overpass in the image above is the rail line of the BTS. Most of the Bangkok's famous sights and attractions are located northeast of this overpass. The shuttle boat dropped me off at the dock where the blue roofs are; this is where you can catch the Saphan Taksin BTS Station, which takes you in many directions within the city. Easy enough, right? Wrong. I was immediately confused.
I made my way to the platform and asked a couple for directions. As luck would have it, they were charming and graciously helpful when they offered to ride with me on the BTS and walk with me to the MBK Center. YAY! I was very appreciative of their assistance. Peter and Margaret (ugh…please forgive me if I have the wrong name and please correct me if you're reading this!) were visiting from Australia and had traveled to Bangkok on many occasions. We quickly arrived at the MBK and Peter told me that they would take me to a section of the mall where the clothing was very inexpensive. The MBK is eight stories tall and has over 2,000 shops. I was bound to find something to wear!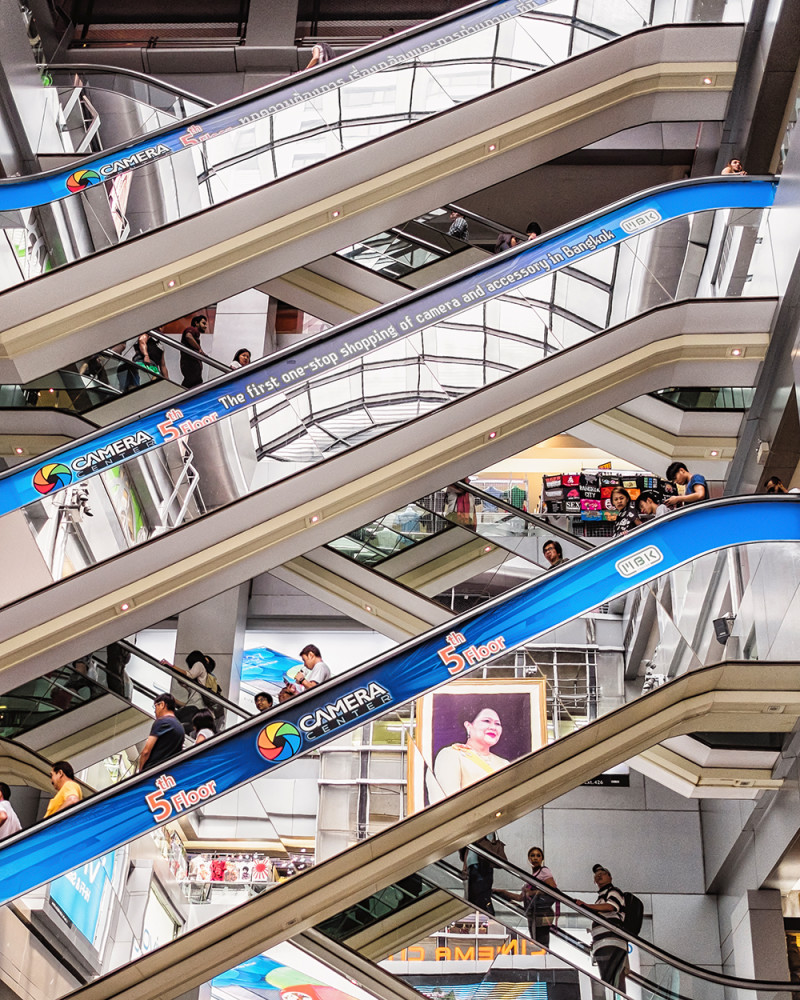 Please note that there is a photograph of Queen Sirikit in the middle of the image above. The Royal family is revered in Thailand. In honor of her birthday, her image was everywhere in Bangkok on huge billboards, street banners, and buildings. I was quickly informed, however, that the pictures of her had been taken a couple of decades ago. Who am I to judge? I'm sure I'll also be using old photographs of myself someday!

After giving my new friends big hugs goodbye for their generous spirits, I was off and running at the MBK. I quickly found what I needed and easily made my way back to the shuttle boat dock where the hotel boat picked me up and suddenly dropped me off at the hotel. Whew! No matter how small, every successful journey through a new city is a victory, as far as I'm concerned.
I met up with my new friend Jane at my hotel. We ventured out again on the shuttle boat up the Chao Phraya River and wandered through some busy Bangkok streets. I know this is an odd statement, but I found these tangled wires to be quite a hoot!
"Oh, what a tangled web we weave…"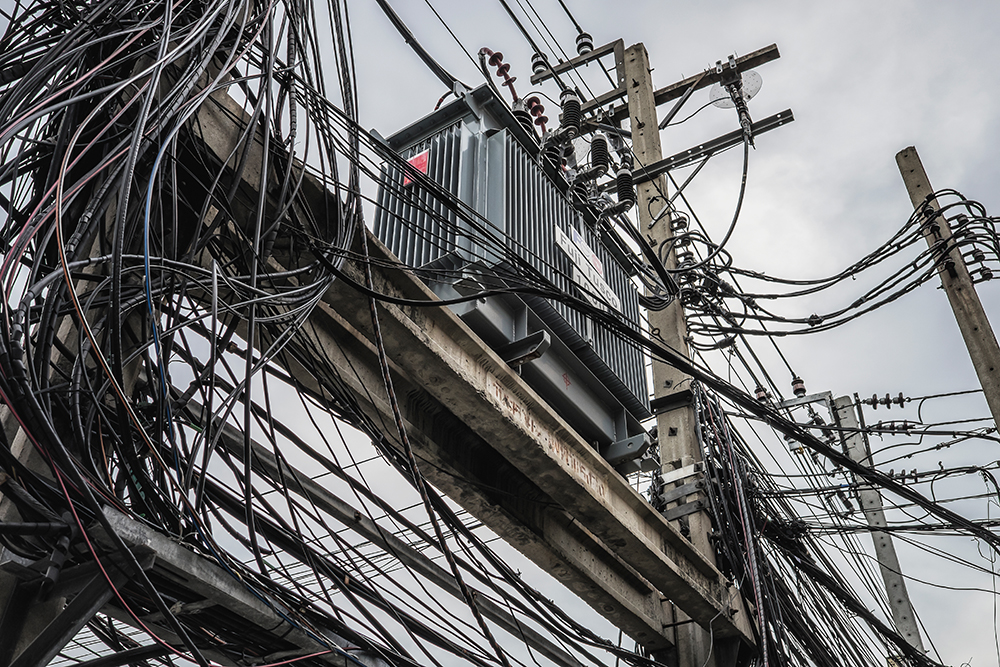 They seem to reflect Southeast Asia's organized chaos; the wires visually mirror the traffic on the roads in which cars and motorcycles go every which way on the same path, yet they all seem to move in unison.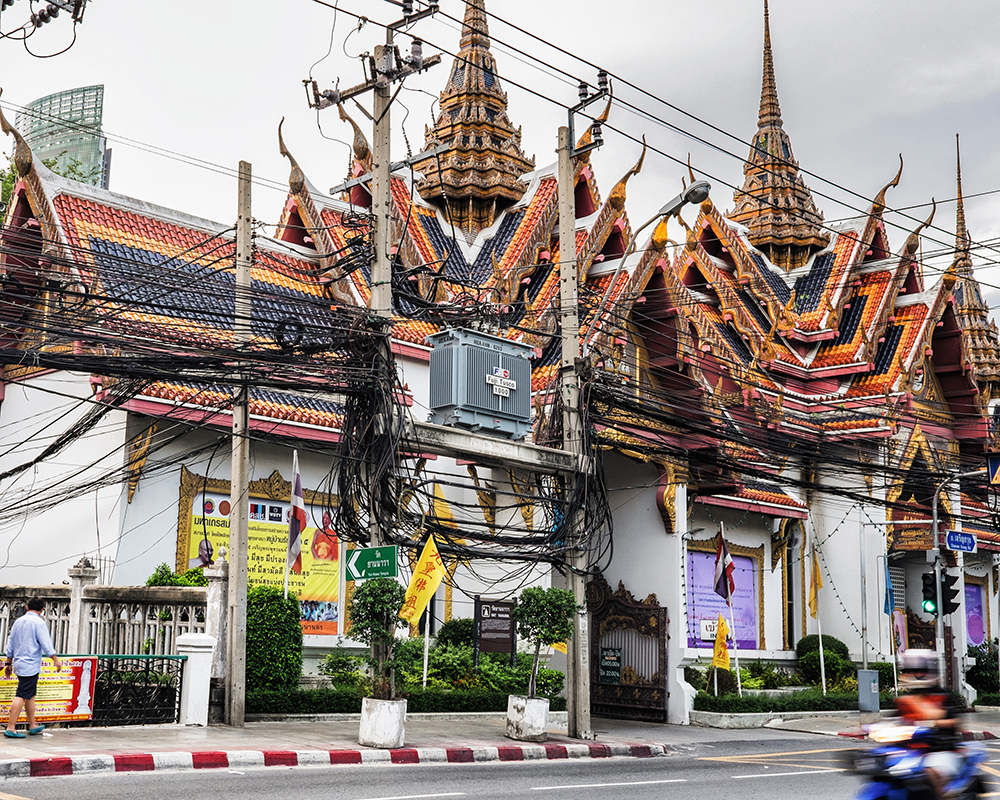 No amount of Photoshopping would successfully erase these utility lines from Wat Yannawa, an old Buddhist temple dating back to the Ayutthaya period. And why would you even try to do so? I'm sure that many would beg to differ with me, but I found these wires to be part of Bangkok's quirky charm. Bangkok was the first Asian city to have electrified trams and was among the first in the region to use telephones. The city has acknowledged the problem and made an attempt in 1999 to bury the wires, but all that is left of that unsuccessful attempt is a plethora of empty open tubes in the city streets that lead nowhere. And so this wiry practice continues. I read an article somewhere that said that some of the utility lines are so thick with messy wires that utility workers walk on them while doing repair work. I can't imagine being a utility worker in Southeast Asia…I can barely untangle my iPhone earbud cord!
It became apparent that my concept of shopping for food was going to be expanded upon in this part of the world, and I was felt so darn fortunate to be able to experience it.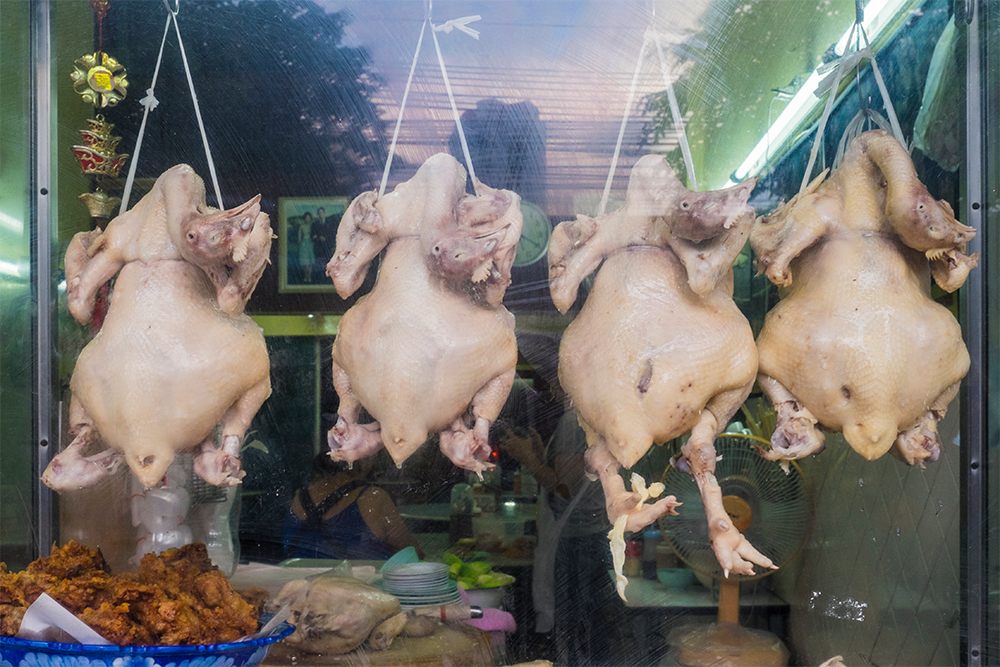 Jane and I had made reservations for an evening tuk-tuk (pronounced "took took") tour with Expique that evening. I want to put in a good word about this company. Simon is the co-founder of the company. I communicated with him from home because I had a few questions and inquiries, and he was always on task. Despite our 14-hour time difference, his email responses were always immediate, friendly, and very helpful. It was nice seeing him greet our small group when the tour began. He introduced our tour guide, Esso, and then excused himself to allow Esso to lead the tour from there. I'm happy to recommend this company.
We slid into our tuk-tuks with transparent roofs for easy viewing and off we went!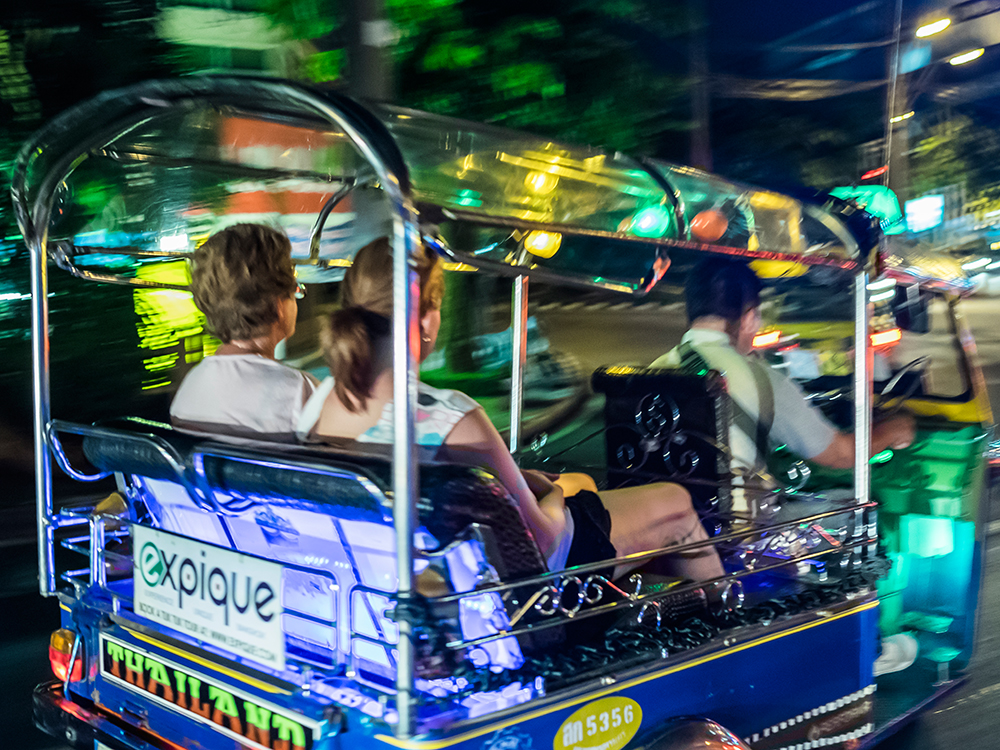 I don't want to divulge their tour route (primarily because I don't remember it!), but we saw many of the city's sights. We split our time between riding in the tuk-tuk (which may be touristy but it's still a kick!) and walking through the sites and streets of Bangkok. While eating snacks along the way and listening to Esso as he described Bangkok's history with us, we wandered through a night market where cooking was going on late at night.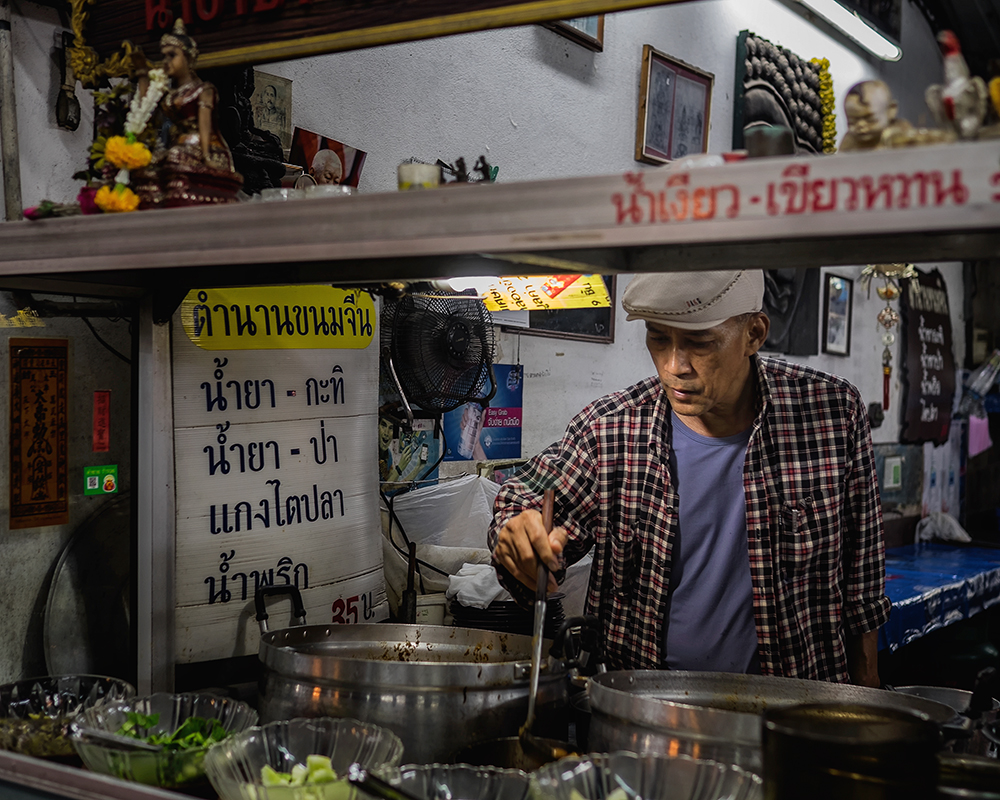 I only wish I had a few of their Thai recipes! I already know that their years of expertise in a kitchen would put me to shame.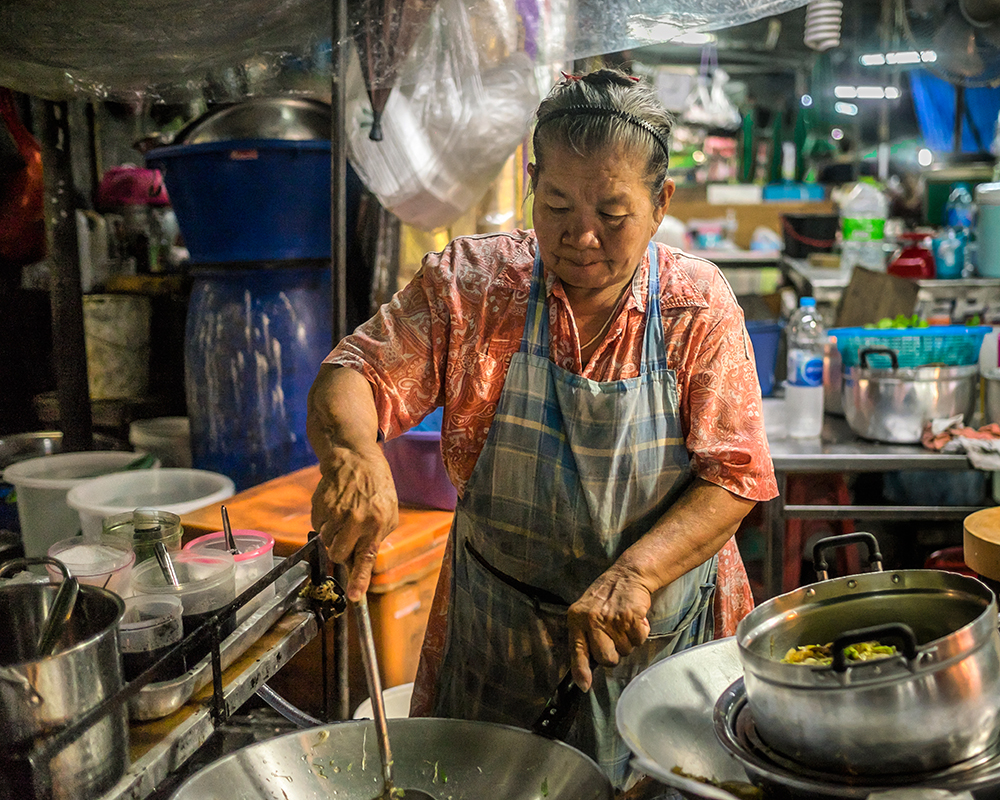 One of the highlights for me was visiting Wat Pho at night. We were the only visitors, save for a few other people wandering through on their own, but the Buddhist temple complex in the Rattanakosin district south of the Grand Palace was spectacular lit up at night. Although the temples are closed for the evening, the complex is a photographer's dream location (although a tripod sure would have come in handy…ugh!).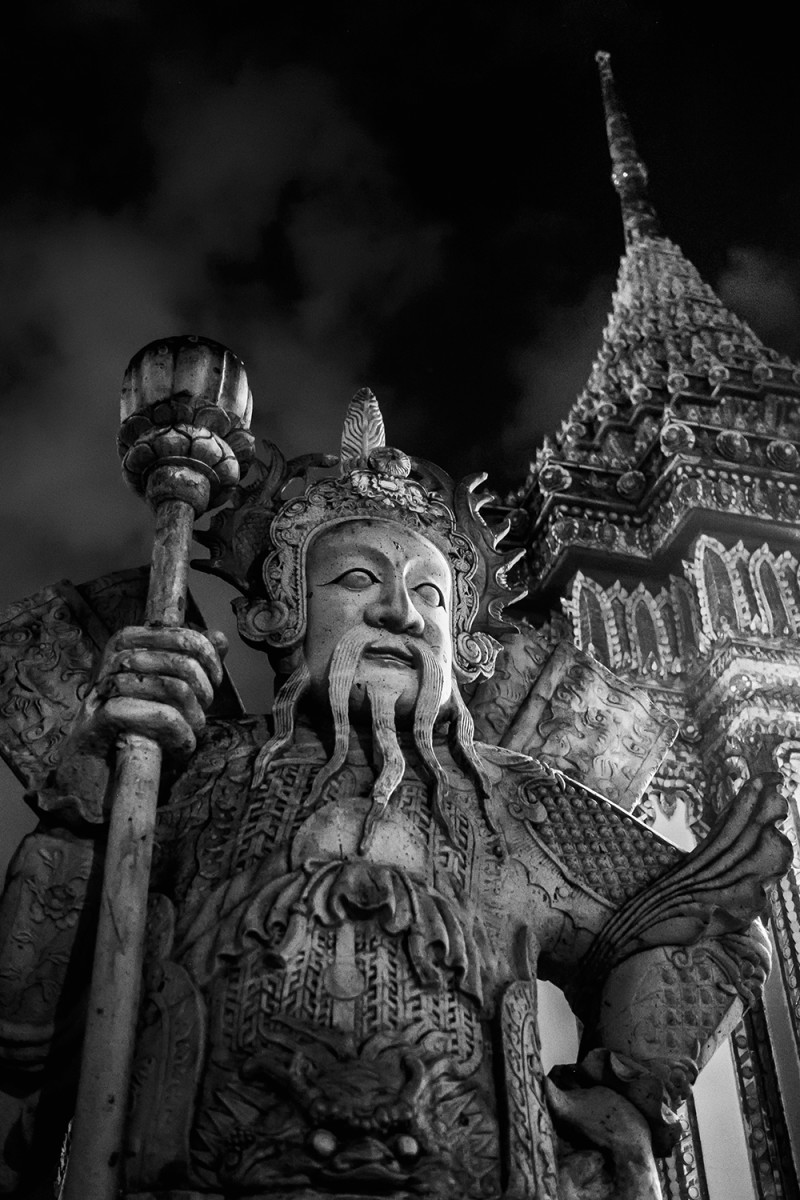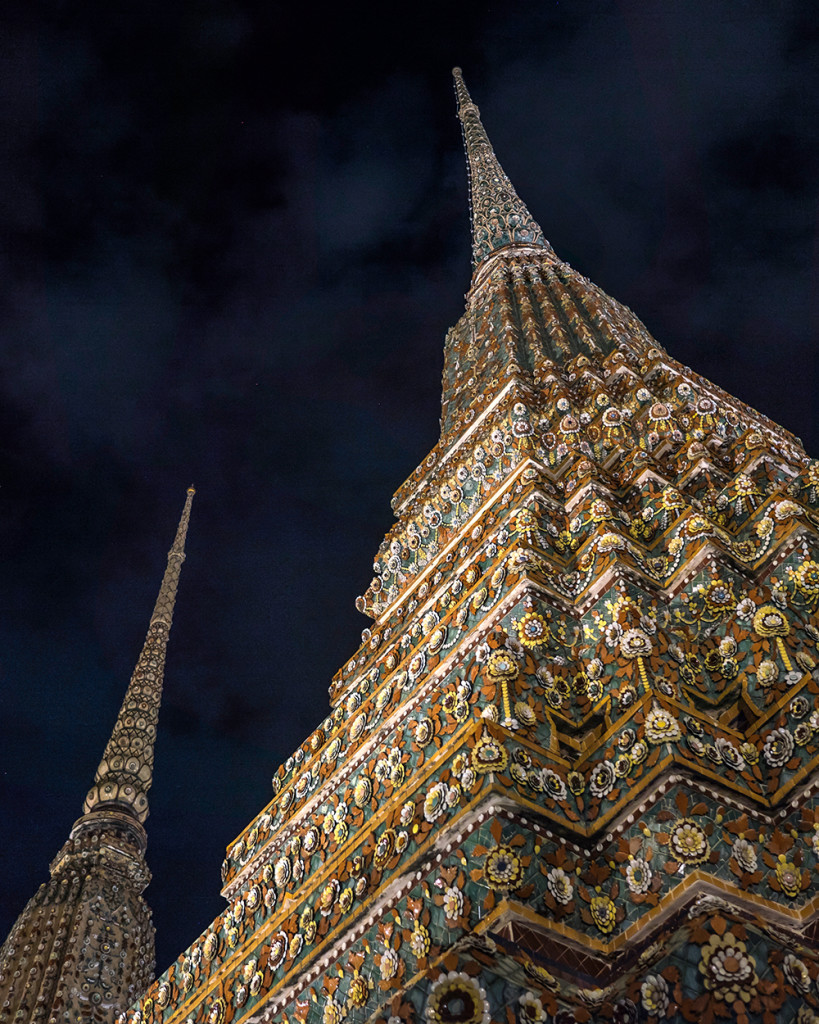 Although either two or three stupas are being shown in each of the images, there is a total of four, each separately holding the ashes of Rama I, II, III, and IV.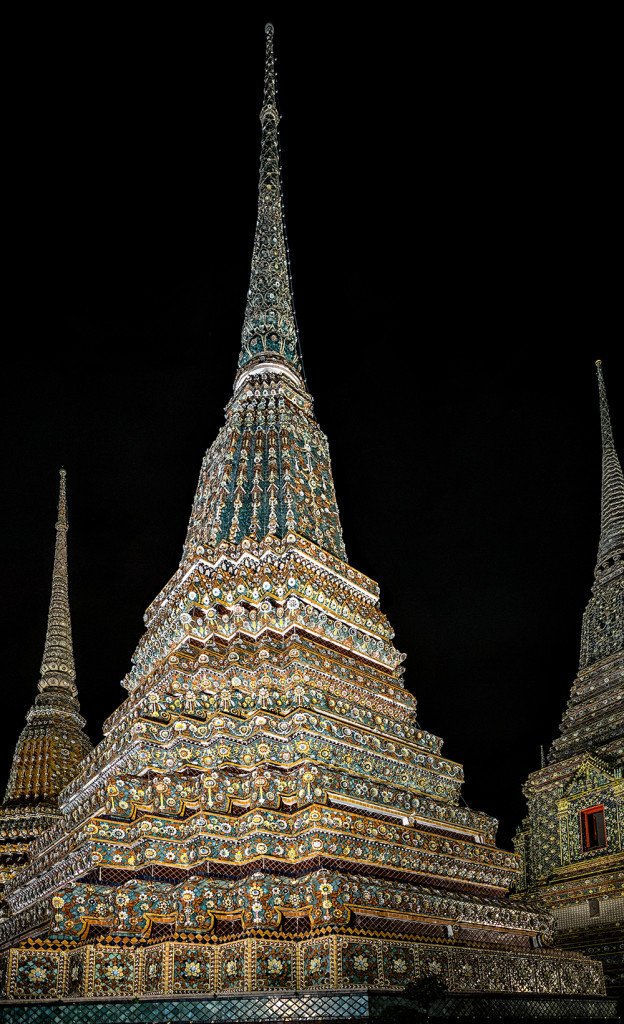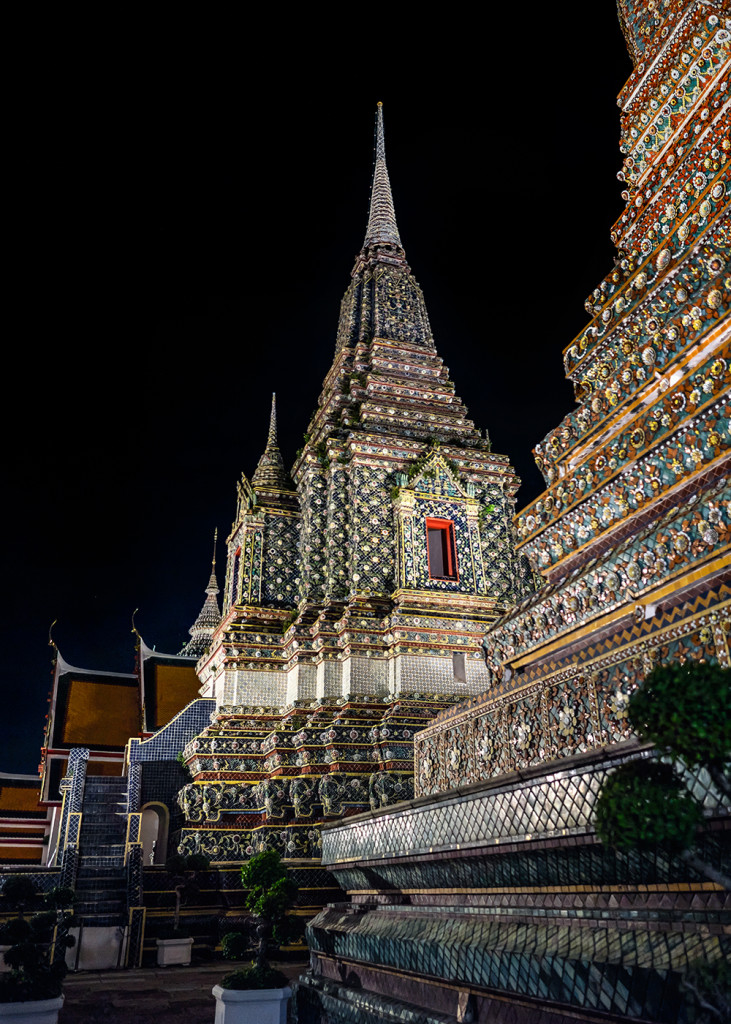 Sala Karn Parien, which dates from the Ayutthaya period, is used for teaching and meditation. I believe that the stupa above, with the band of white tiles in the middle of the image, is where King Rama IV is interred.
King Rama IV is the king that Yul Brenner portrayed in one of my favorite movies, the classic American musical, "The King and I." Two Thai guides told me that the film is banned in Thailand because the Thai government views this movie as being disrespectful of the monarchy, it is historically inaccurate, and it depicts the king as a barbarian when the facts are that he was extremely well-educated and deeply religious.
We then rode over to the Pak Khlong Talat flower market which was only beginning to become busy. This market dates back to the 18th century and is open 24 hours.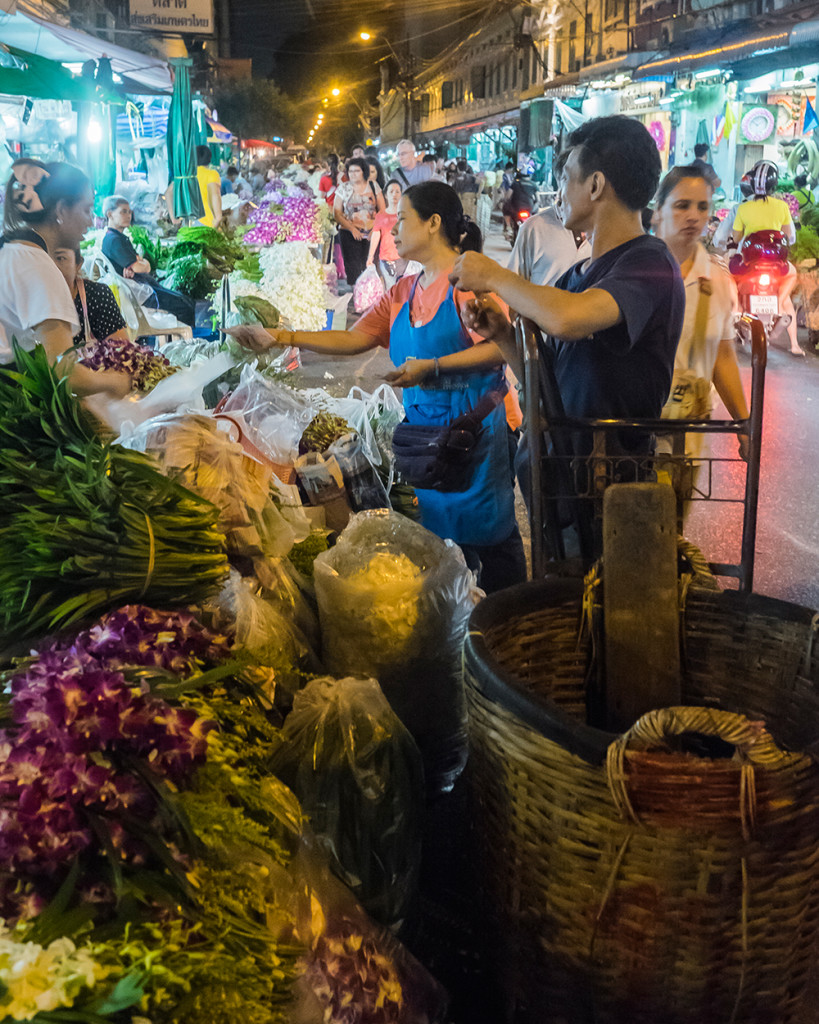 We noticed beautiful small wreaths being made from jasmine and orchids. We were told that they are used to decorate houses or given as gifts and Buddhist offerings. Throughout this trip, I noticed them inside temples and hanging from boats.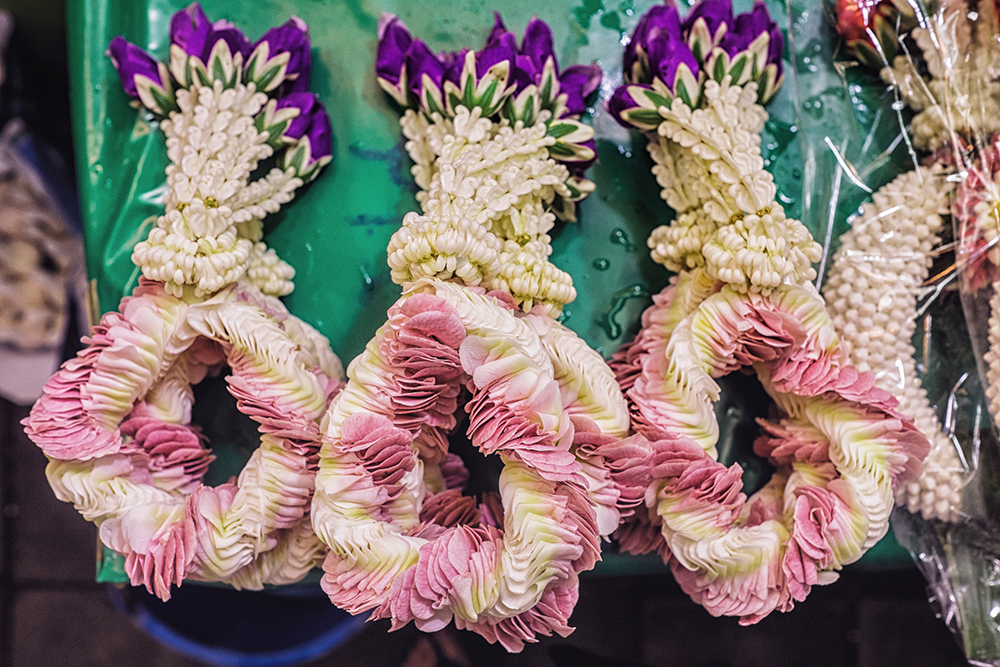 The flower market was enormous. There were countless stalls such as this.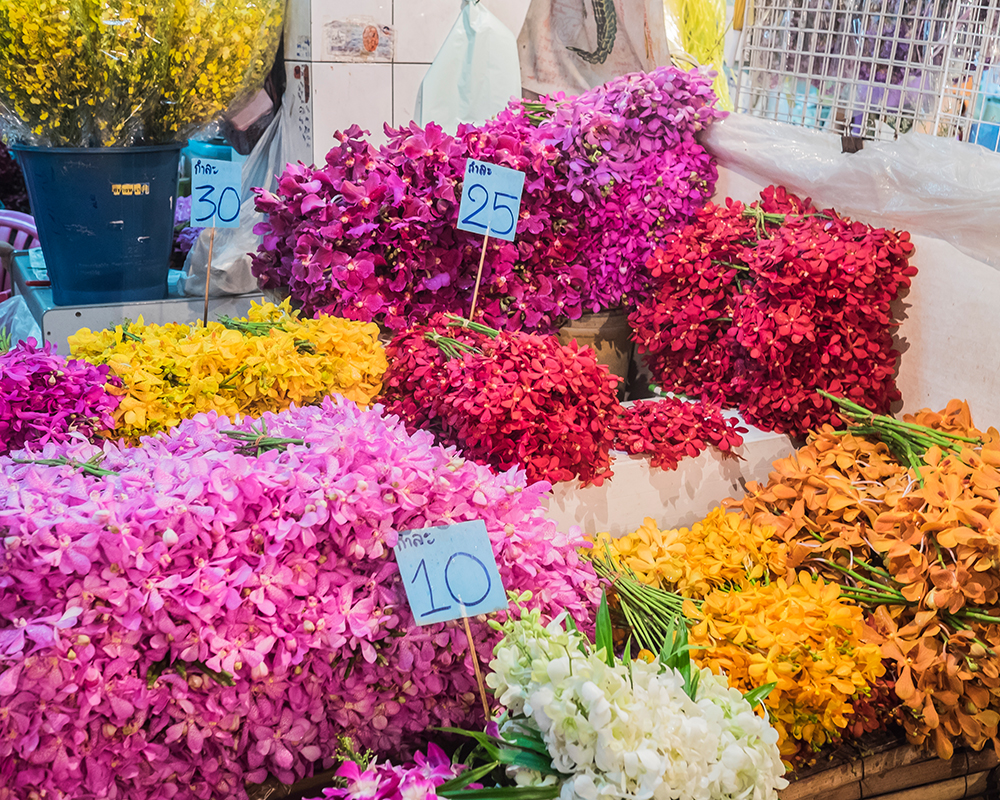 We left the flower market to have pad thai for dinner at Thip Samai Restaurant, located at 313 Mahachai Road, Phra Nakorn, in Bangkok. While there might be a debate as to whether this is the best pad thai in Bangkok or not, it was still delicious…and the restaurant was packed during that late hour which says a lot about their reputation and following. They prepare the food out on the sidewalk and put on quite a show.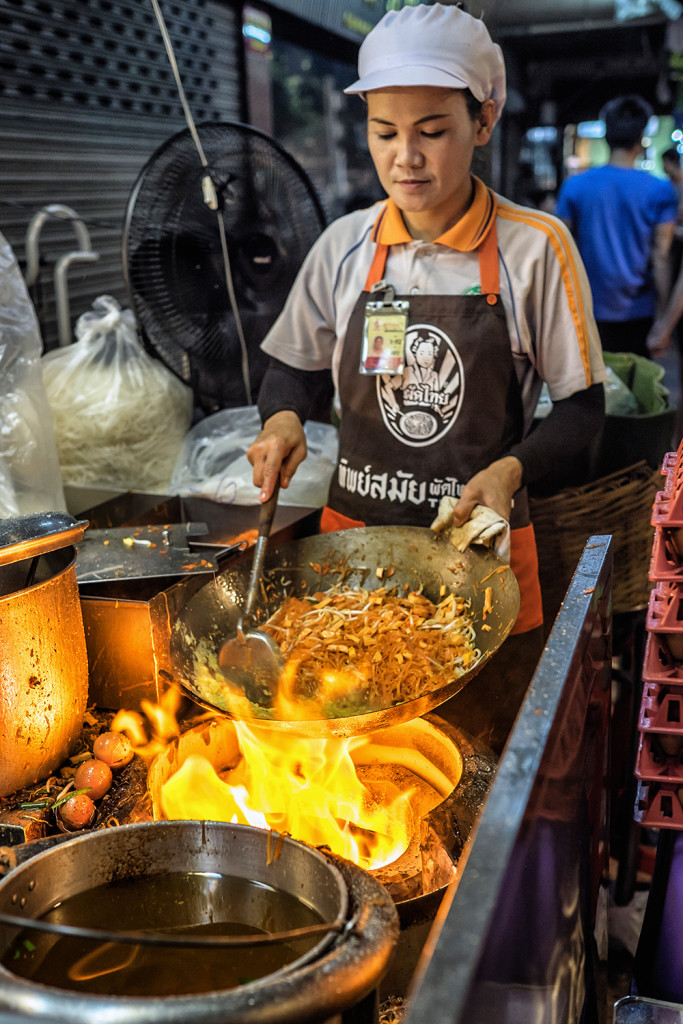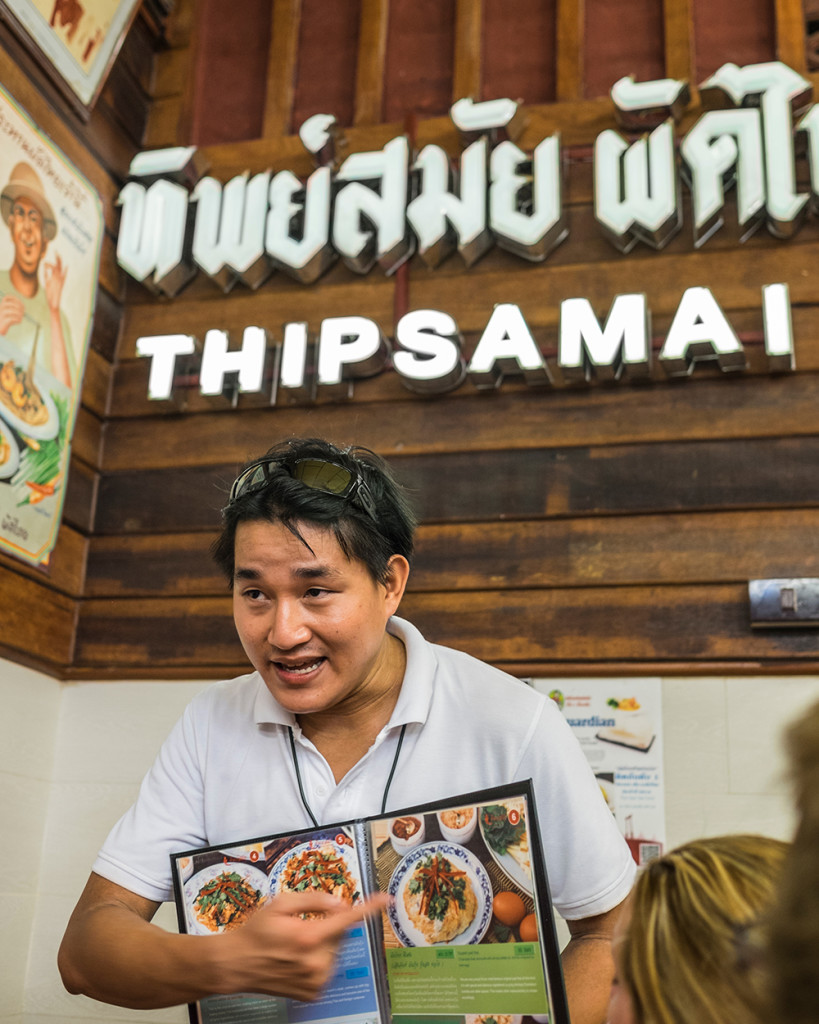 After our tour guide, Esso explained the many ways that pad thai can be ordered, I ordered the pad thai with an egg wrapped around the filling.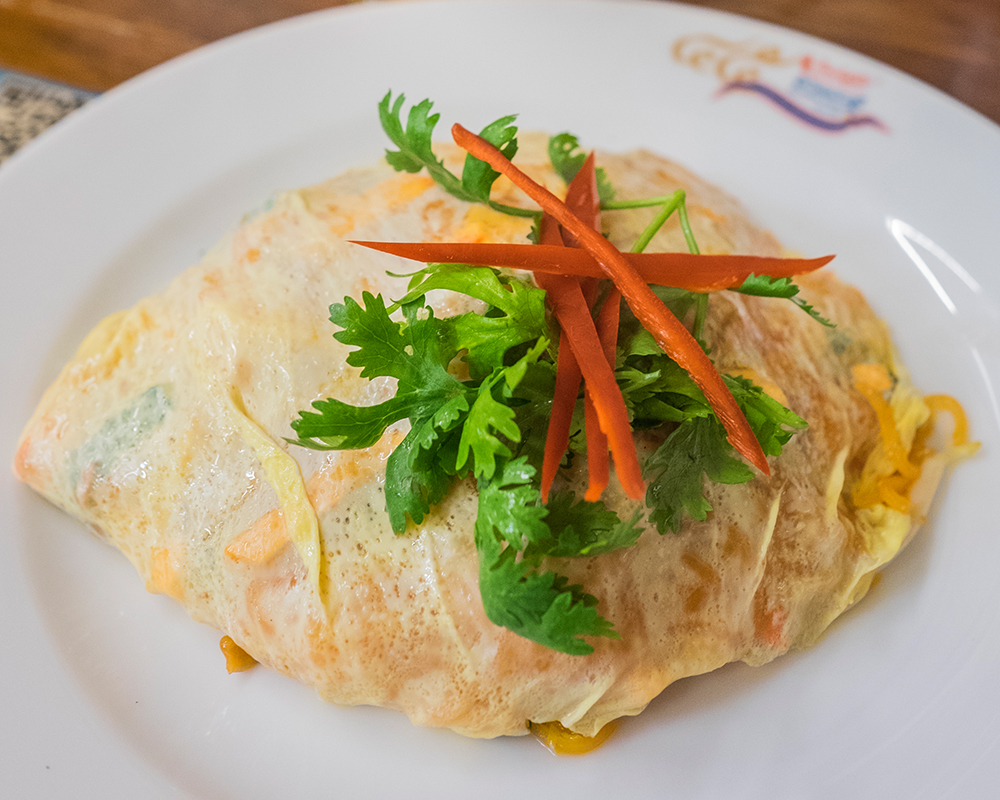 And here it is when I broke through the egg. YUM.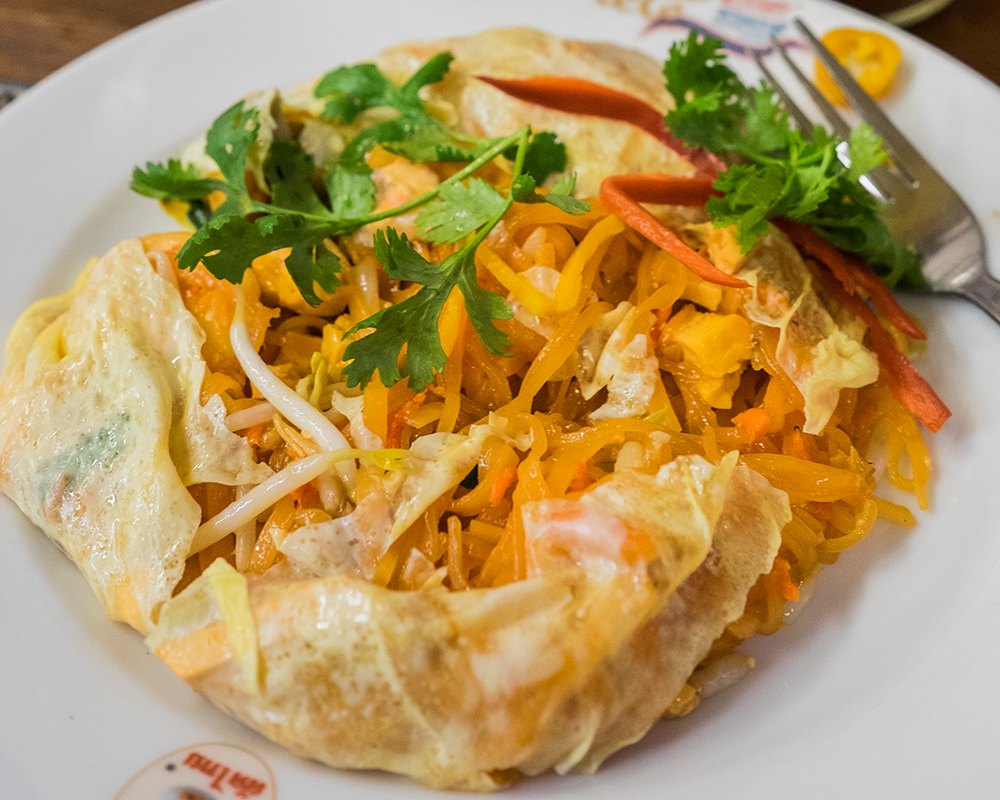 No wonder the pad thai was delicious. Look at how much oil he's pouring into the wok. Yikes! Not that it would have made a difference, but I'm glad I saw this AFTER I ate dinner!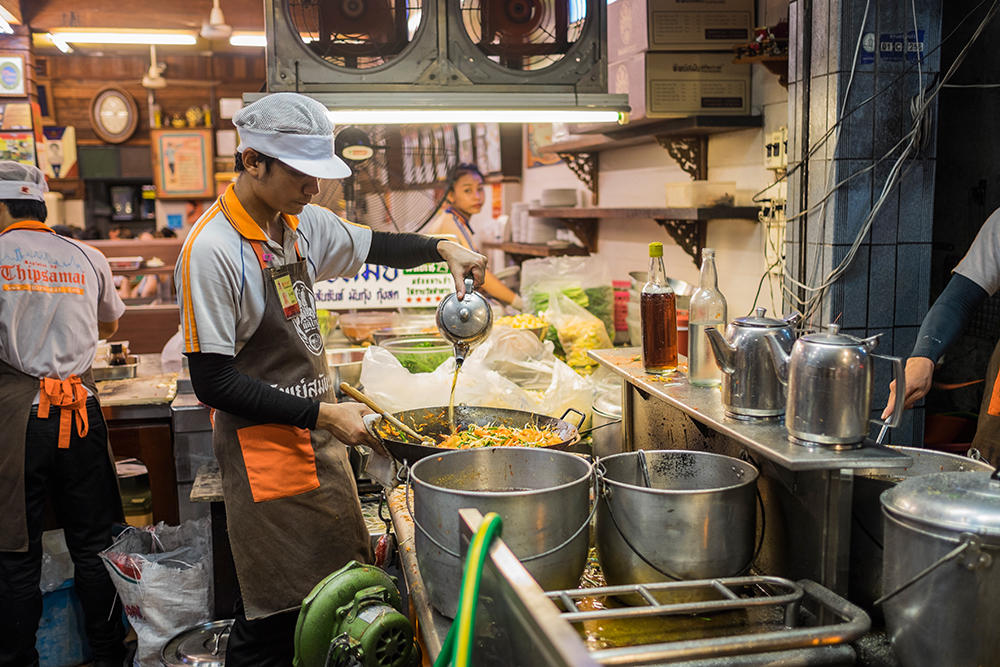 It was probably 10:30 p.m. by this time, and Jane and I were finally feeling the effects of our long flights from the U.S. to Bangkok that morning but, being the troopers that we were, we headed out on our tuk-tuk with the group for Yaowarat Road in Chinatown for dessert. And what was the dessert? A classic Chinatown dessert of Mango with Sticky Rice.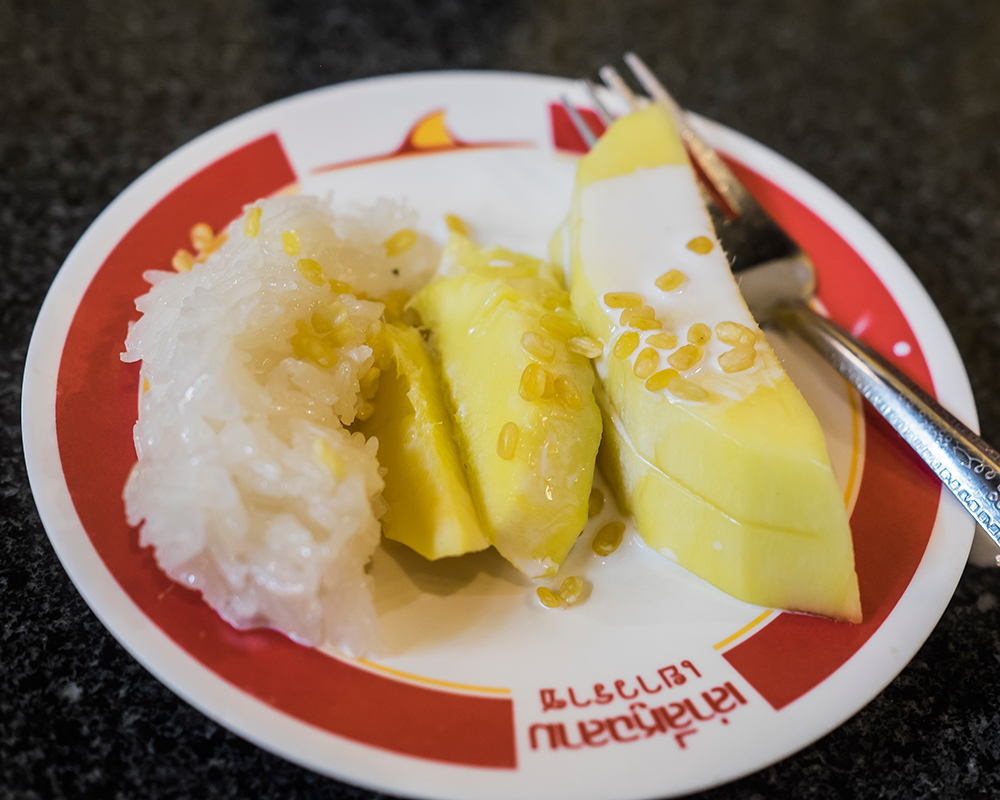 For this recipe, sticky rice is boiled in a creamy coconut milk broth; served alongside fresh mango drizzled with sweetened coconut milk and you have the perfect dessert.
Being stuffed to the gills and realizing that I had to pace myself because I still had sixteen days to go on this trip, our evening tour of Bangkok at night had ended. Our tuk-tuk driver drove Jane and me back to our respective hotels. We had a great time, and this tuk-tuk tour was the perfect way to begin my trip. We gave each other a big hug goodbye and wished each other well as we started our separate tours. No one was happier than I was when the hotel staff advised me that my luggage had arrived from the airport. I had a wonderful first day in Bangkok and looked forward to meeting my new tour buddies the following morning.
————
Please note that I have not been compensated by any of the above vendors whose businesses I have referred to in this blog post. All opinions are my own.