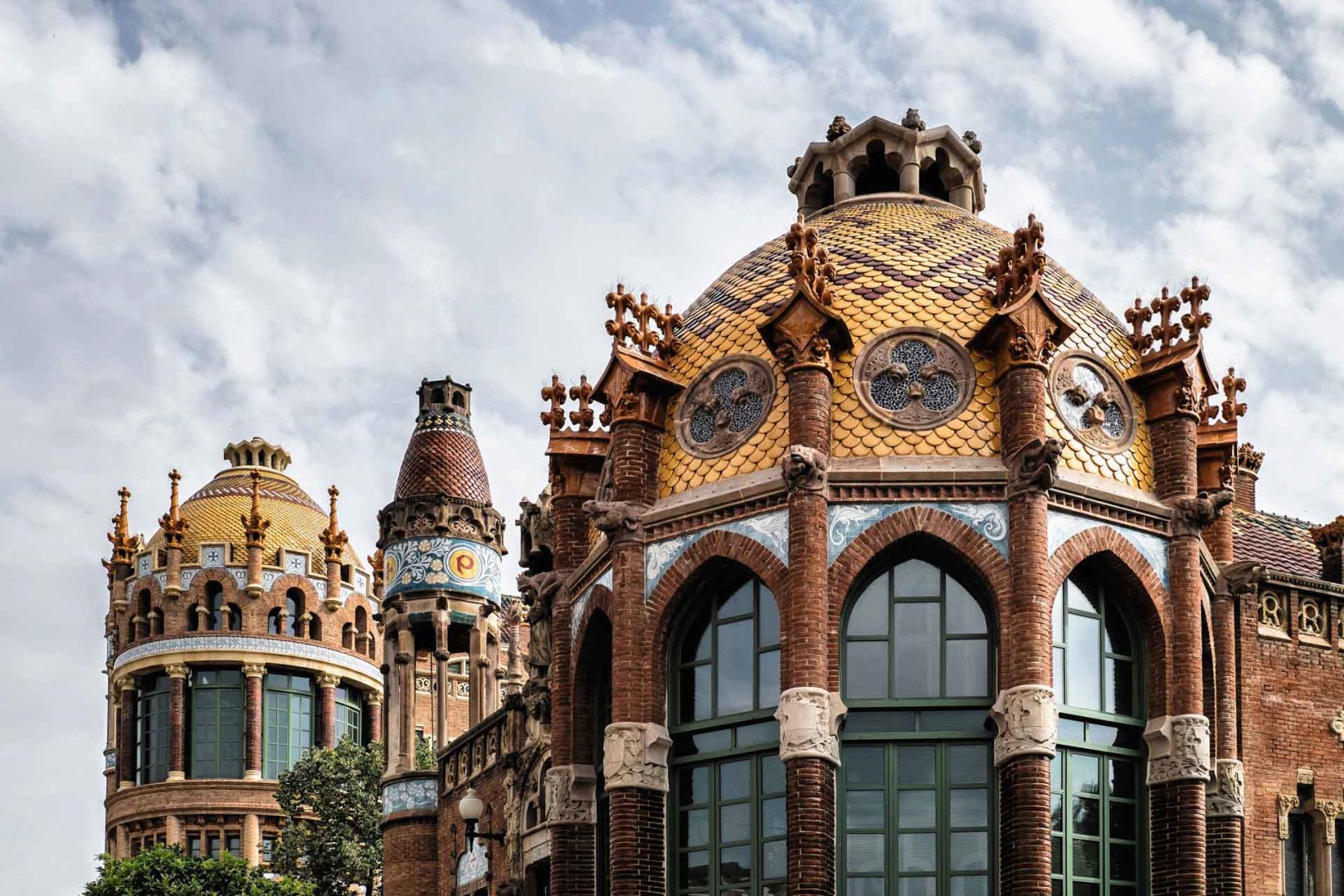 I remembered that I needed more toothpaste while I was walking back to my hotel to grab my luggage before heading to the train station. I saw a farmacia along the way and stepped inside. I saw the boxes of oral care products along the back wall. Seeing that they were written in Spanish, I grabbed a box of toothpaste and walked up to the counter to pay for it. A young female employee asked me a question in Spanish, but I couldn't understand what she said because I don't speak Spanish, and she didn't speak English. Because of that, I simply paid for the toothpaste and left the farmacia wondering why, at 8€, their toothpaste was so expensive. As I was walking towards the hotel, I opened the toothpaste to taste it, wondering what toothpaste from Spain tastes like. (Lame; I know.) I tasted a little bit of it, and it tasted terrible! It was very sticky, and it immediately stuck to my teeth. The more I tried to wipe it off my teeth, the more it spread, and it became harder to remove. It suddenly occurred to me that I must have bought denture adhesive instead of toothpaste! That's why it was so expensive! I realized then that the farmacia employee was probably asking me if I knew that I was buying denture adhesive. I threw the denture adhesive in the trash, feeling very foolish and fully realizing that I needed a better grasp of the Spanish language.
I discovered that I had a little extra time to explore Zaragoza, so I headed back to Plaza del Pilar. I discovered a small cafe located behind La Seo, and I saw that they sold Chocolate con Churros! I quickly sat down and indulged.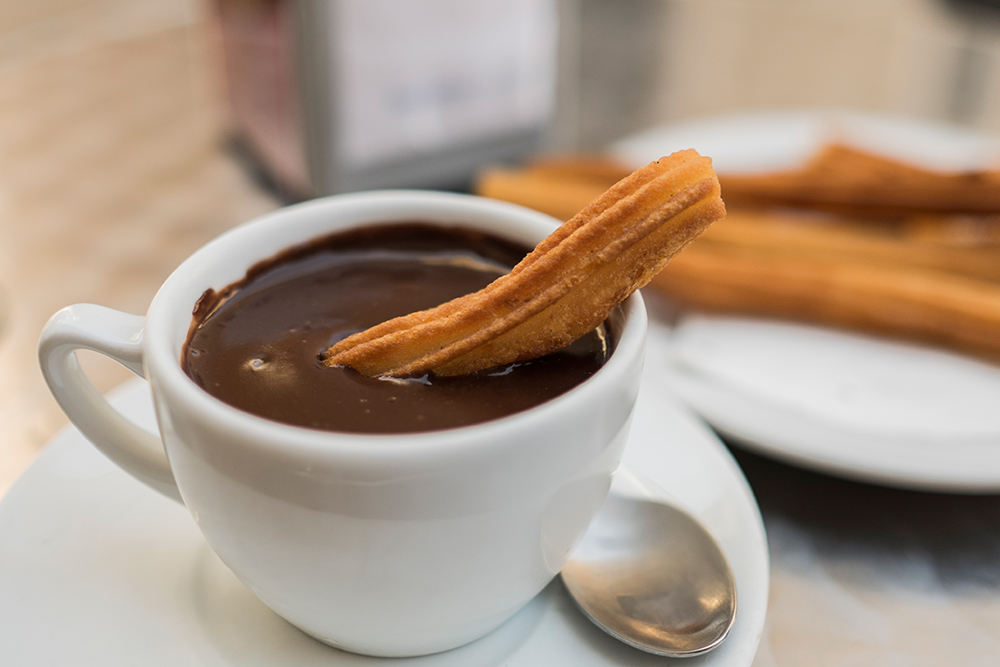 It was decadent, but it was not what I had imagined it would taste like. The consistency of the chocolate was similar to a chocolate pudding that had not entirely set. Both the chocolate and the churros were not as sweet as what we would buy in the U.S. Because I never tasted the Chocolate con Churros at Chocolatería San Ginés in Madrid which is where this dessert was invented, I will reserve my judgment of this dessert until I return to Madrid!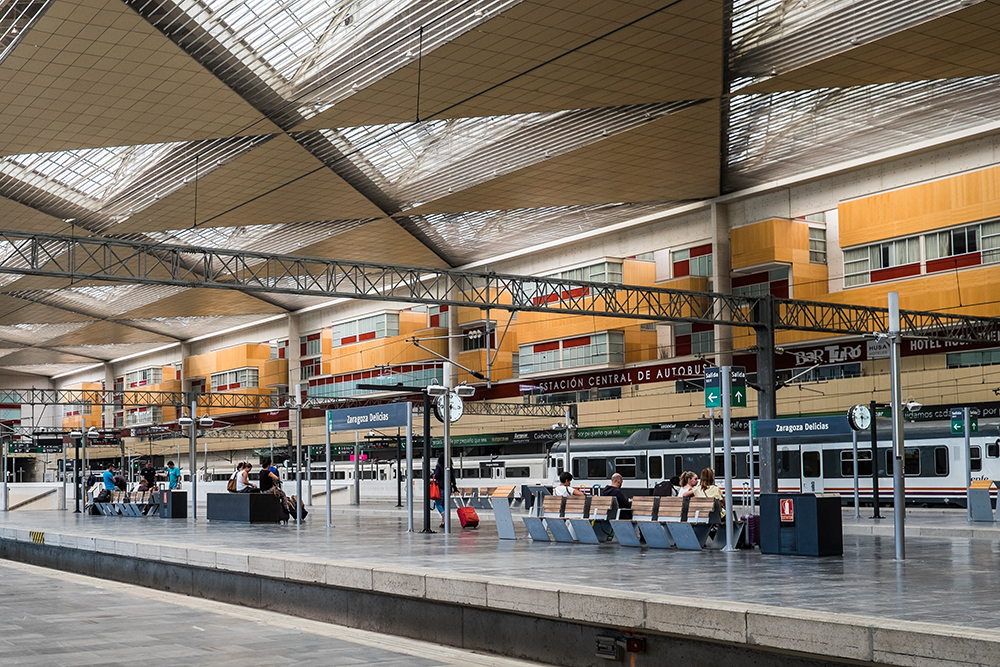 The Zaragoza-Delicias train station is immaculate and very well run. Throughout my trip, I was very impressed with Spain's metro and train system. After another pleasant train ride, I arrived in Barcelona in the early evening. After settling into my cute little room with its balcony overlooking the magnificent Sagrada Familia, I ate dinner at La Piazzenza, a small outdoor cafe on Gaudi Avenue, which was around the corner from where I was staying, and ordered a straightforward and tasty calamari entree encircling a mound of rice and vegetables.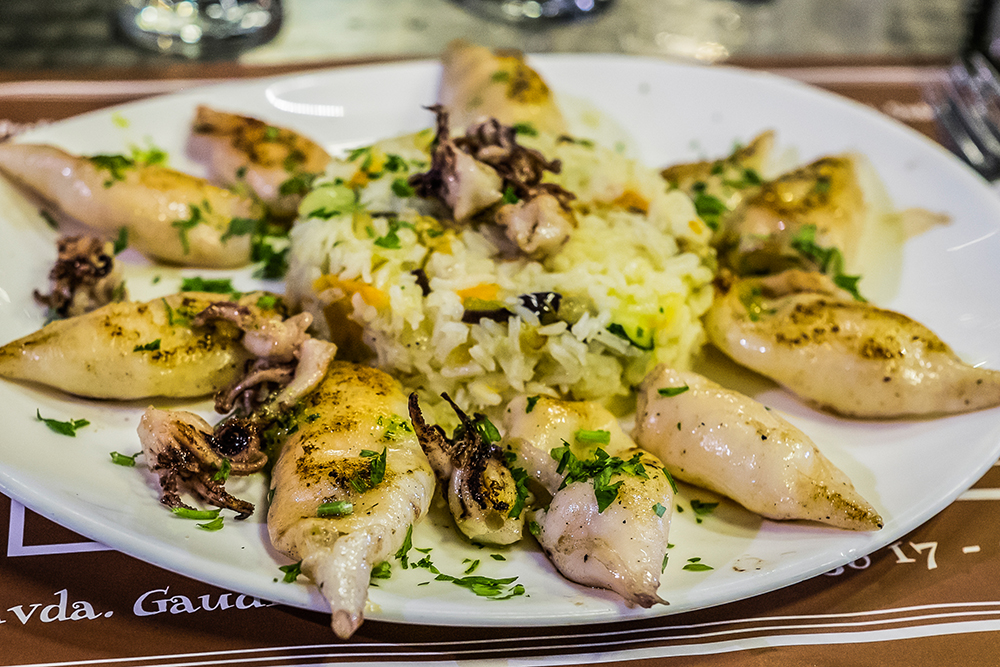 I headed out very early the following morning for Park Güell. The park, which is located on Carmel Hill, is named after Eusebi Güell, who commissioned Antoni Gaudí to design a park within a natural park. The concept for Park Güell was that a community of high-quality homes would be built and purchased by individuals who shared both the political and religious ideals of Güell and Gaudí. This housing site proved to be commercially unsuccessful, and only two homes were built, neither of which were designed by Gaudí. Gaudí eventually purchased and lived in the larger of the two homes for twenty years. This home is now used as the Gaudí House Museum.
I took the metro to one of the closest metro stops to Park Güell. I didn't realize that not only did I still have to walk twenty minutes to the park entrance, but the last quarter of the way was uphill. I'm a hiker and the slope of this hill, while steep, normally wouldn't have been difficult to climb, but Barcelona was experiencing sweltering and humid weather when I visited in August.
I'm one of those women who doesn't perspire much; perhaps after a long hike, my scalp might be a little damp. Well, let's just say that the minute I stopped to look around once I reached the main entrance, sweat immediately began POURING from my forehead and my scalp. My eyes were stinging because the sweat had dripped into my eyes, and I was sweating so much from my scalp that it dripped from my scalp to the bottom of my shoulder-length hair and then onto my shirt! I would have grabbed a mirror to see what I looked like, but I couldn't see a thing because I was blinded by my sweat in my eyes. I'm sure I looked lovely. So what is the lesson that I'm sharing here? Take a taxi from wherever you are staying directly up the park entrance! You're most welcome! To prove my point, take a look at the photo above. Do you see anyone else walking up the hill? No? That's because I was the only one who walked up the hill while everyone else rode in a taxi! It was a crazy humid morning, and it was only 8:00 a.m.!
The walk to the park was absolutely worth it, however. From the stunning and fanciful main entrance,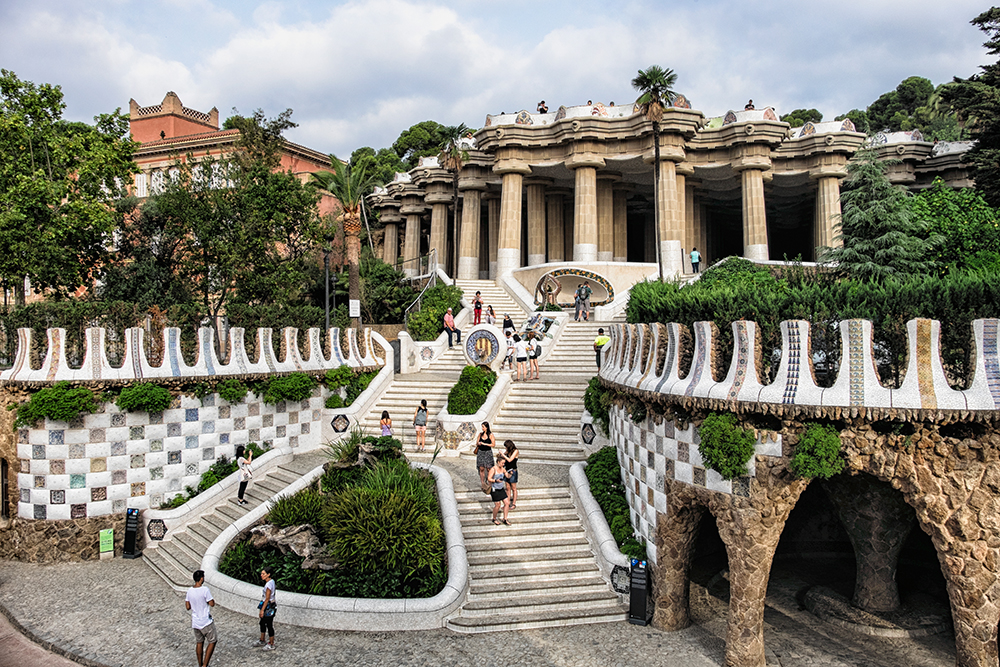 to the mosaic salamander, popularly known as El Drac (the dragon),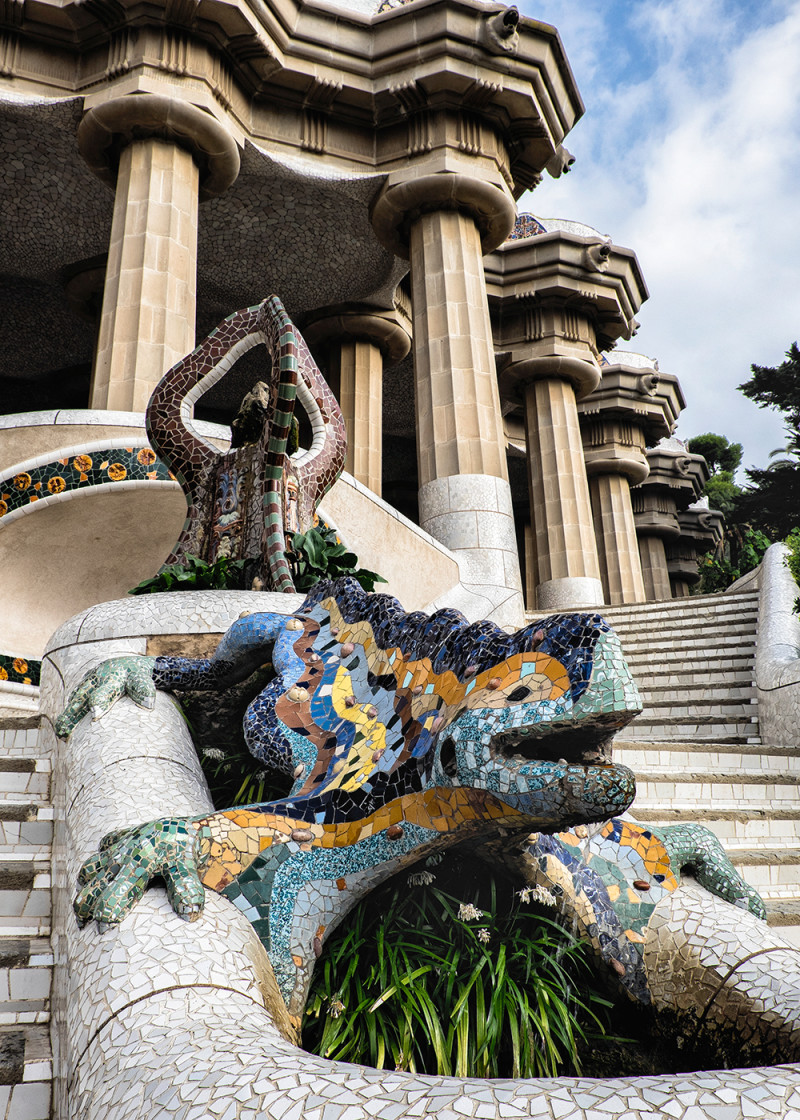 and on to the gorgeous mosaic patterned wall framing the main entrance's staircase,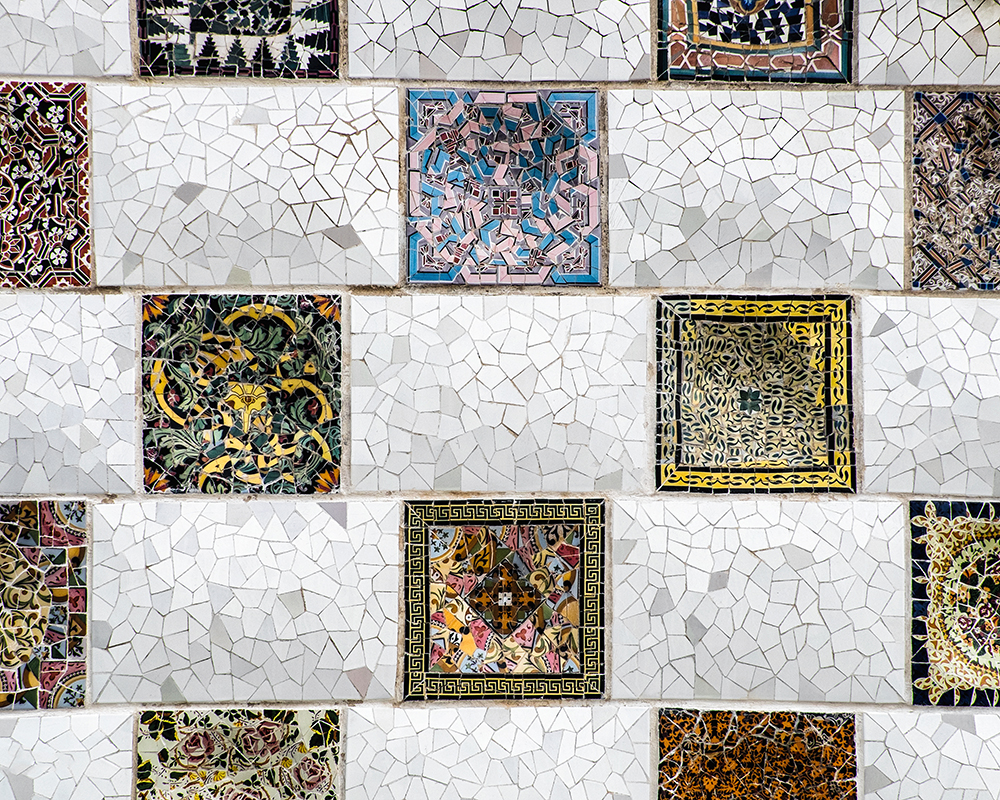 the main entrance was a showstopper.
Located above the main entrance staircase is Sala Hipóstila (Hundred Columns Hall or Hypostyle Hall), which is a pillared hall of Doric columns, designed to hold up the main square above. This area also been described as a "forest of columns" with some of the columns built at an incline for additional support. A forest indeed! Try to envision the patience, artistry, and backbreaking work of the artisans who laid out and installed the mosaic tile work on the ceiling of this hall. Their sense of pride upon viewing this hall after completion must have been immeasurable.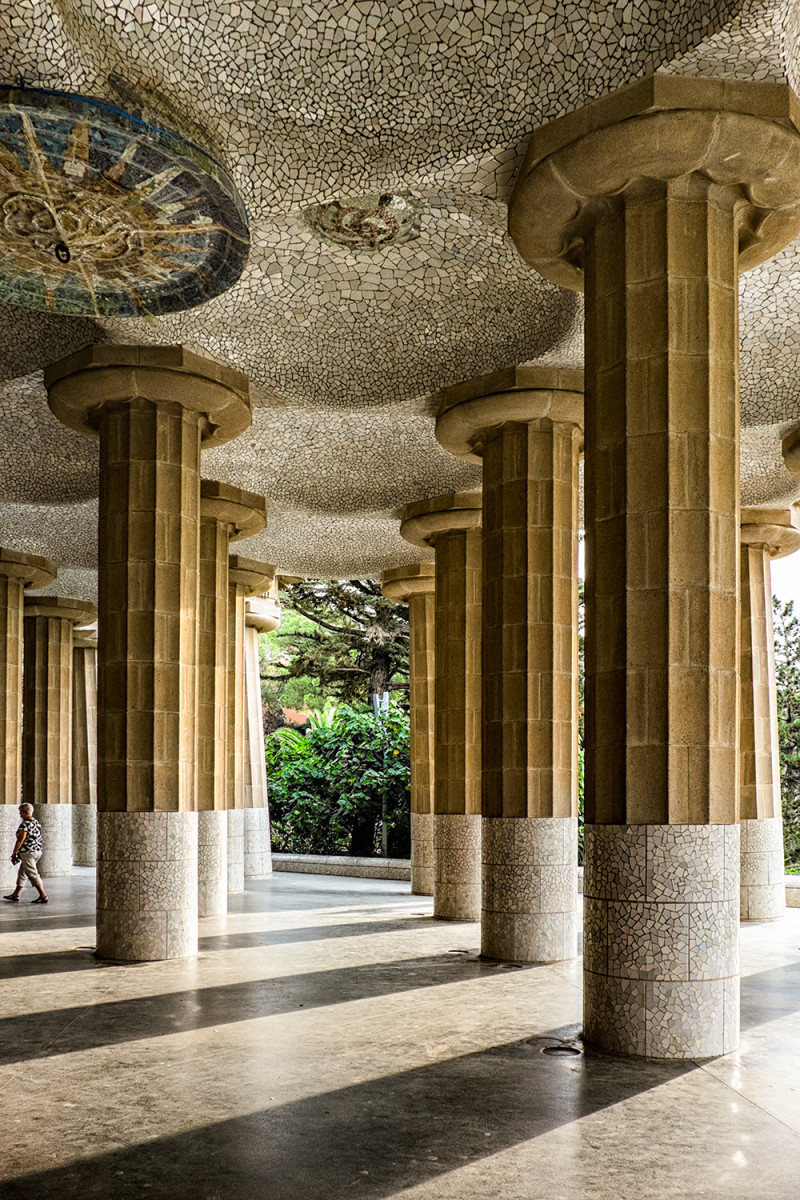 The hall was built to support the Plaça de la Natura (Nature Square), a gorgeous serpentine-curved mosaic seating area and open-air space, which is used today as a favorite gathering place.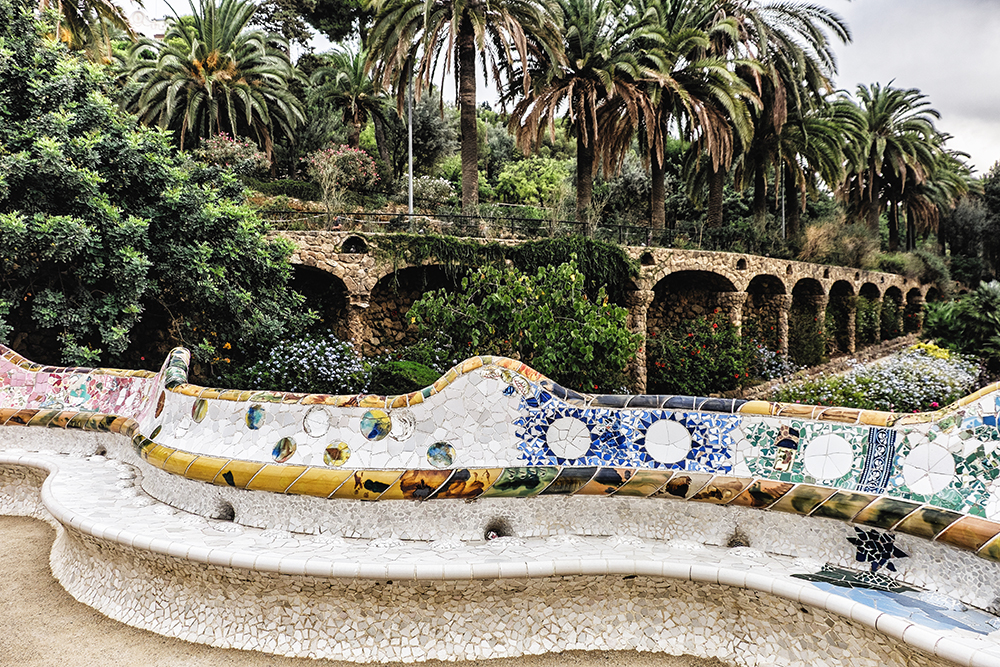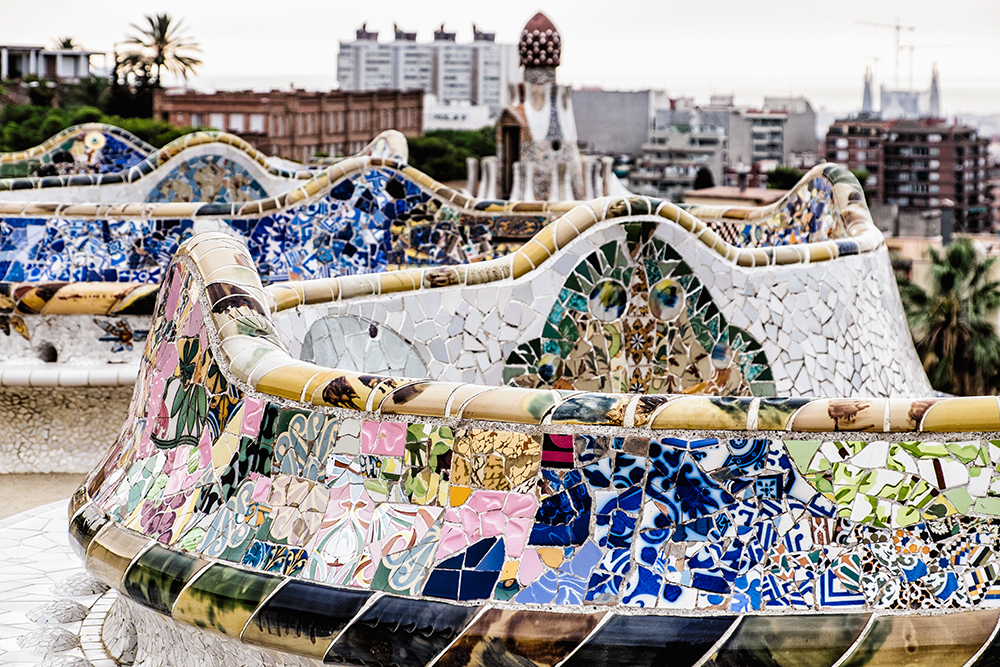 The little house below has a gingerbread house appearance and is now being used as a gift shop.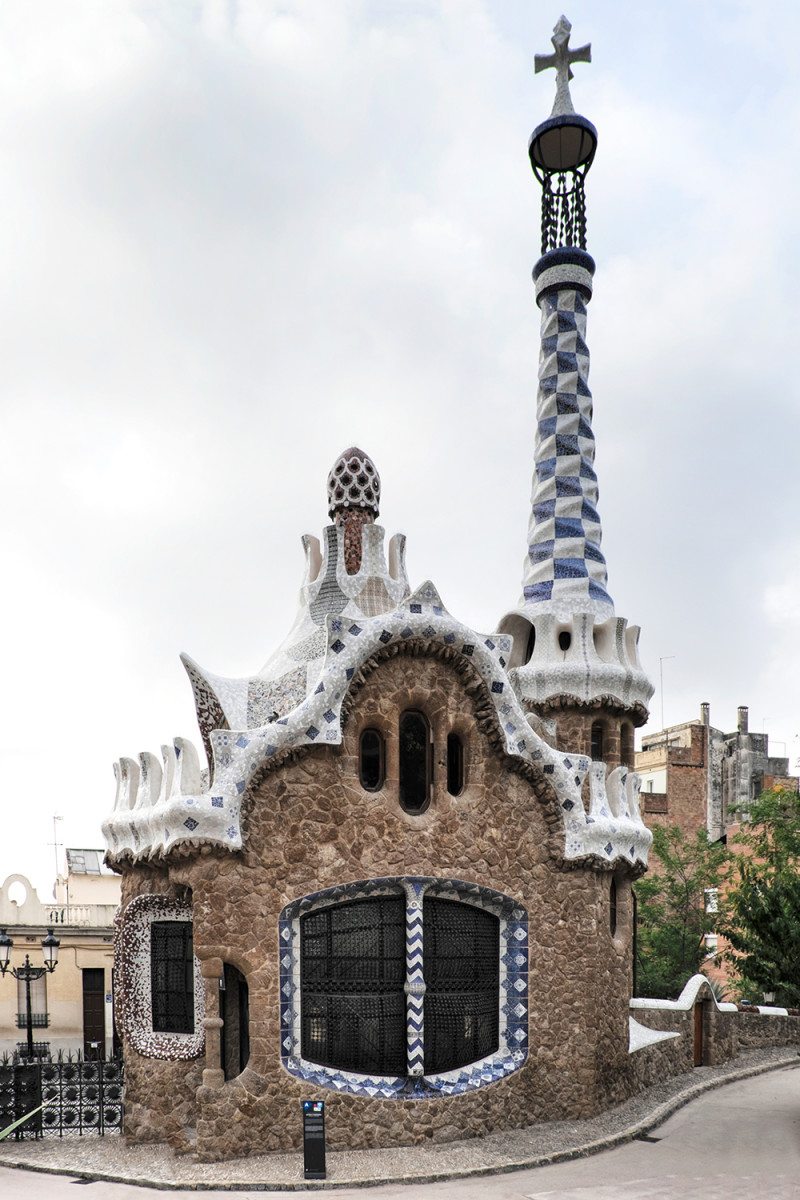 And from the viaduct below,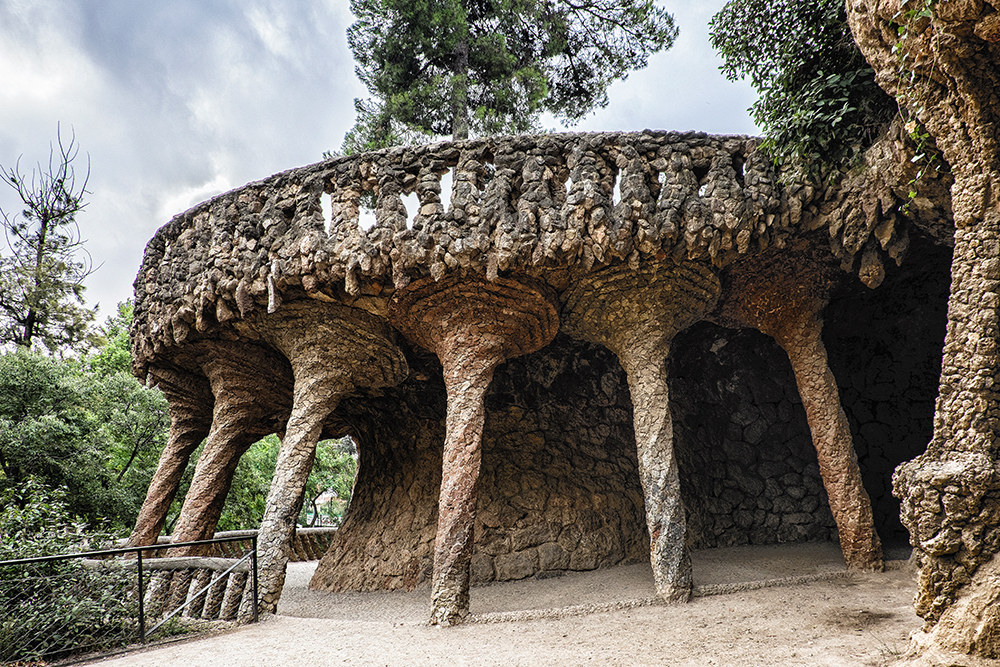 to the colonnaded pathway called The Laundry Room Portico,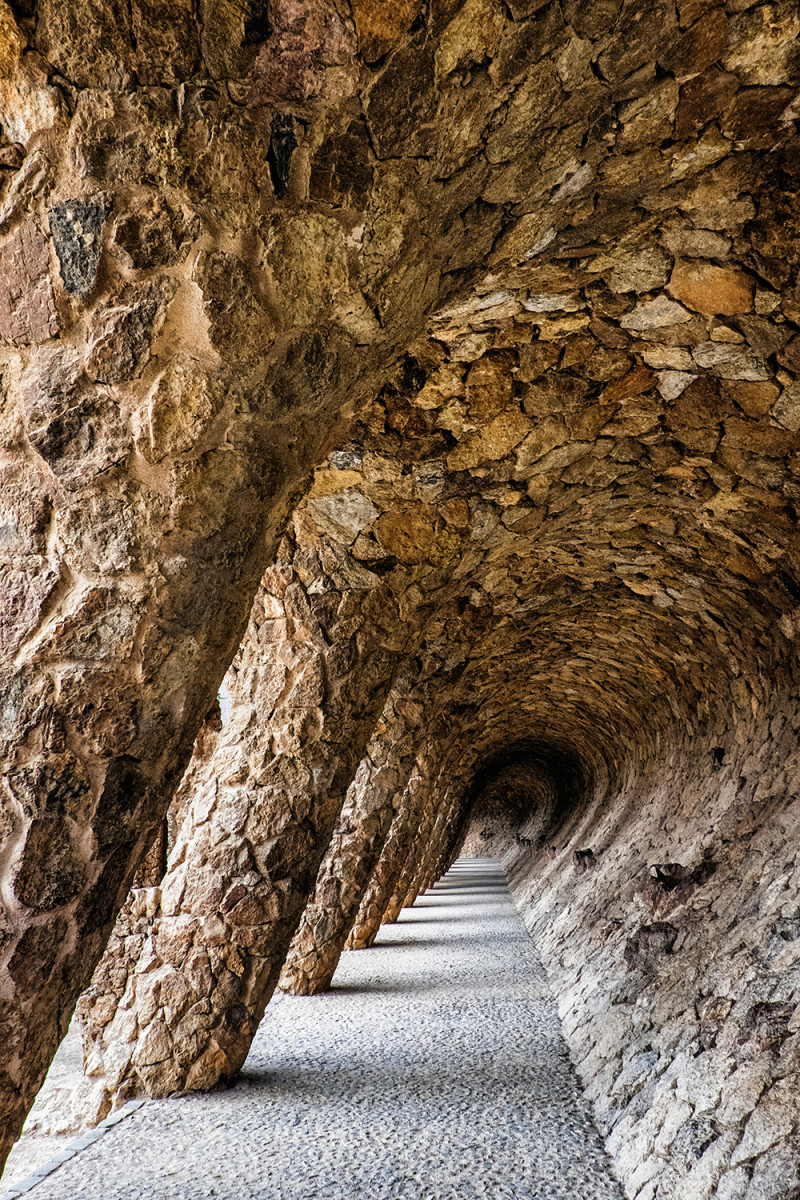 and to the exterior of the pathway which mimics the garden beyond, the park was simply magnificent.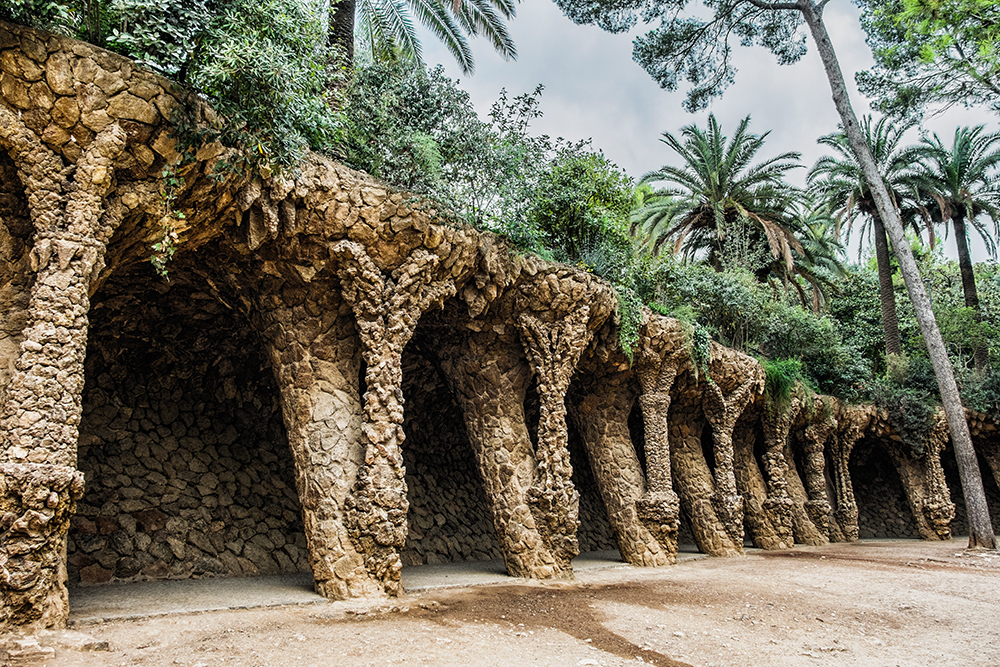 Silvia, my Barcelona host, told me that, in order to understand who and what influenced Gaudí's work, one must visit a site designed by Lluís Domènech i Montanerone, who was a Catalan modernist architect and one of Gaudí's professors. Due to time constraints, I reluctantly left Park Güell and walked a couple of miles to Hospital de la Santa Creu i Sant Pau (Hospital of the Holy Cross and Saint Paul), also known as Sant Pau.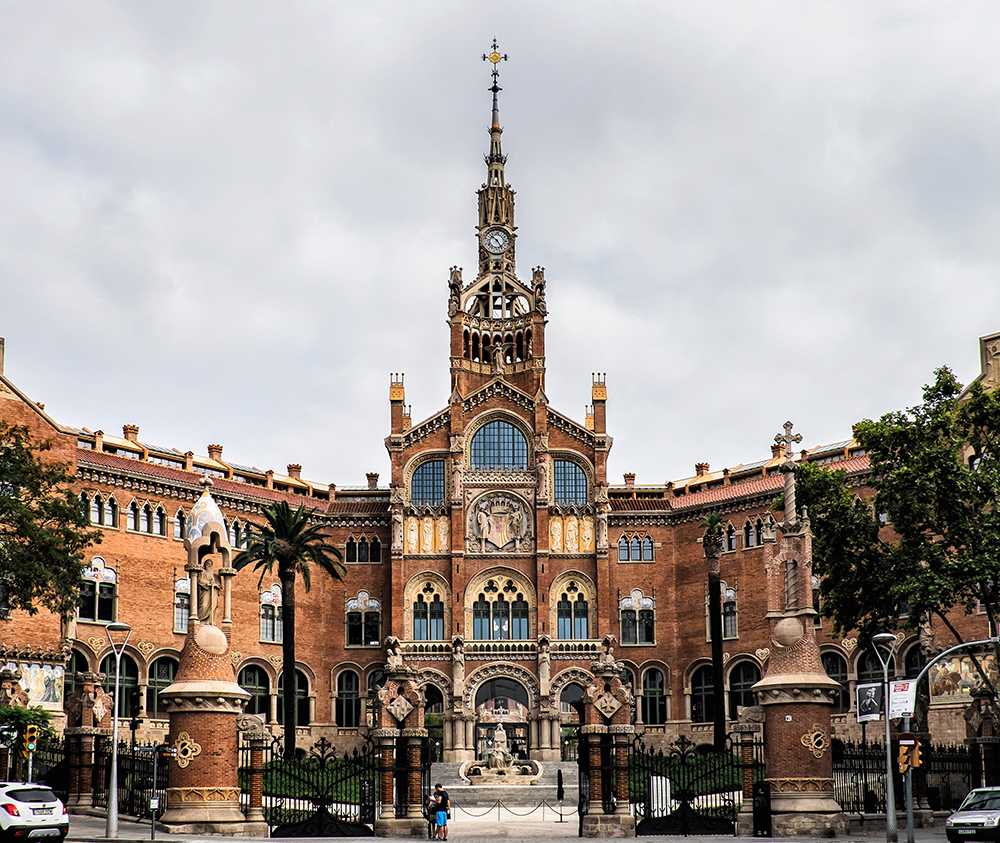 Built between 1901 and 1930 and designed by Lluís Domènech i Montanerone, Sant Pau is the world's largest Art Nouveau site and was in use from its opening until 2009 when a modern hospital was constructed adjacent to Sant Pau.
The craftsmanship of the ceiling, with its ornate stained glass windows and intricate mosaics, is exquisite.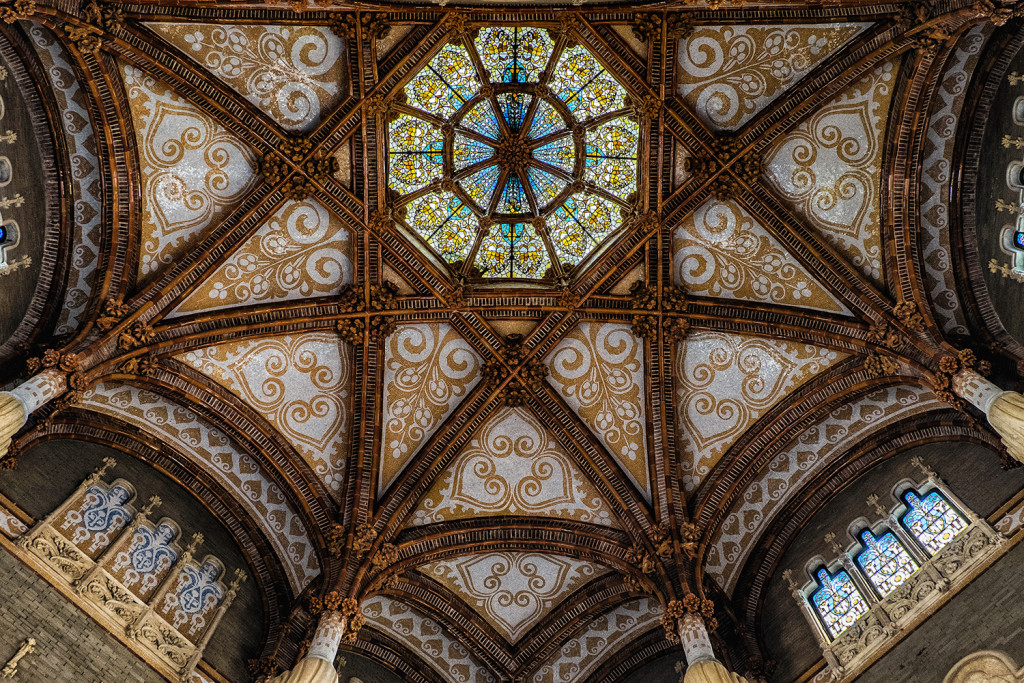 I came across a sight that unnerved me while I was meandering through the hospital's many hallways and underground tunnels. Because Sant Pau is now being used as a museum and cultural center, moving holograms of "hospital patients" were displayed on the interior hallway walls to illustrate this area's original use. To me, these holograms gave the hallways a ghostly and macabre quality. Trust me; I RAN out of that area….it was pretty creepy.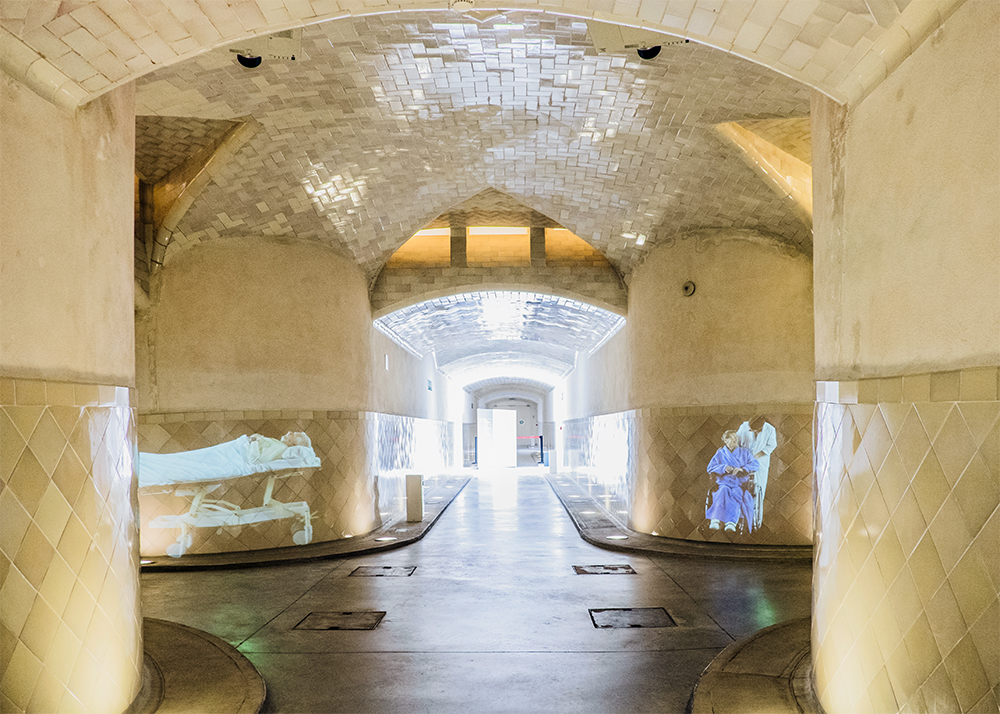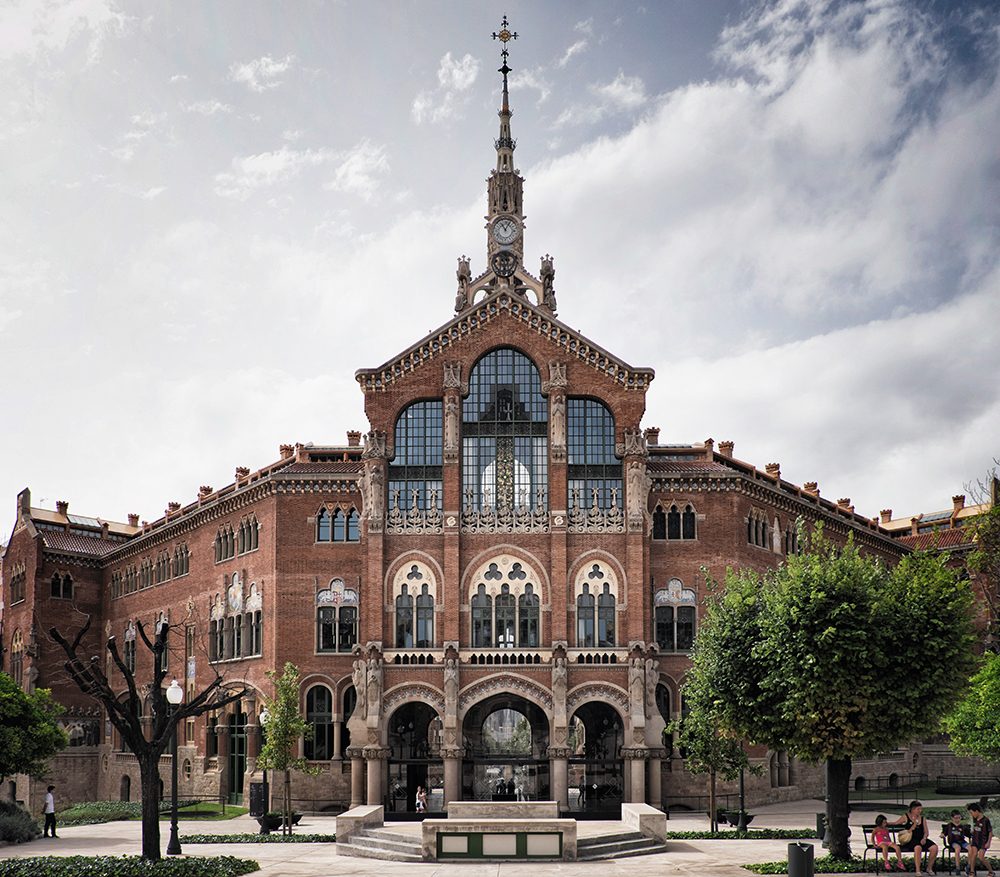 Shown below is a panorama of Sant Pau's garden and courtyard as viewed from the exit door shown above.

But the view from the upper floor of the main hospital building is what impressed me the most, as shown below.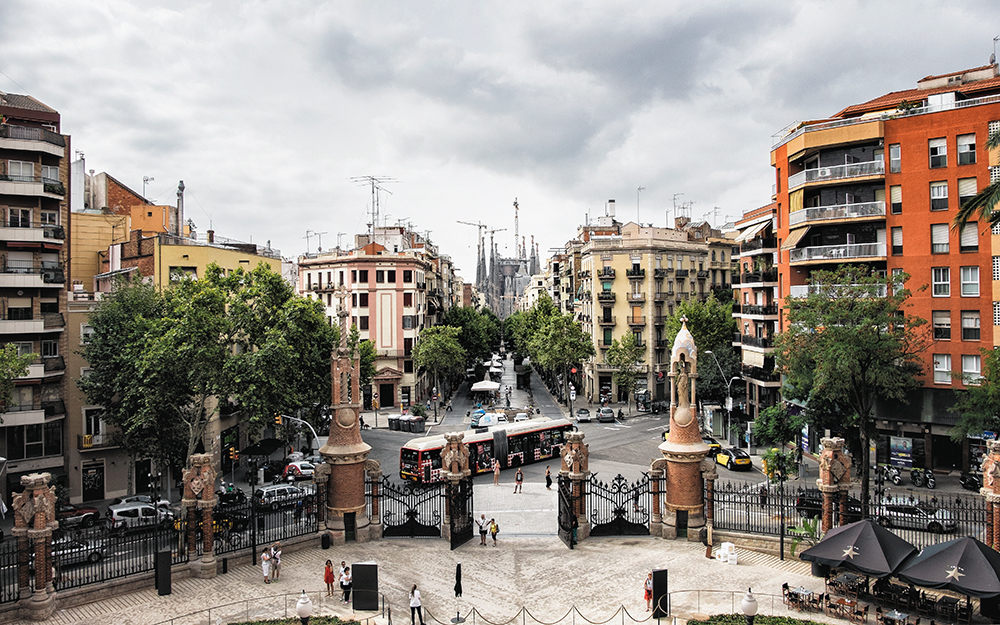 I found myself staring out of this window at this view for a long while. I know that it's odd for me to say this, but even though this was my first visit to Spain, I felt as if I had lived here before because it seemed very familiar. In my mind's eye, I could visualize horse-drawn carriages, and I could see this section of the city without modern cars and buses clogging the city streets. I could imagine myself eating at the outdoor cafe in the middle of this image. And while the famous Sagrada Familia would not have stood as tall in the far background of this picture, I know it was already under construction, considering that construction of the church commenced in 1882.
Once again, I was reluctant to leave this beautiful view, but I needed to hurry back to my room to get ready for a Spanish sangria, tapas, and paella cooking class that evening!