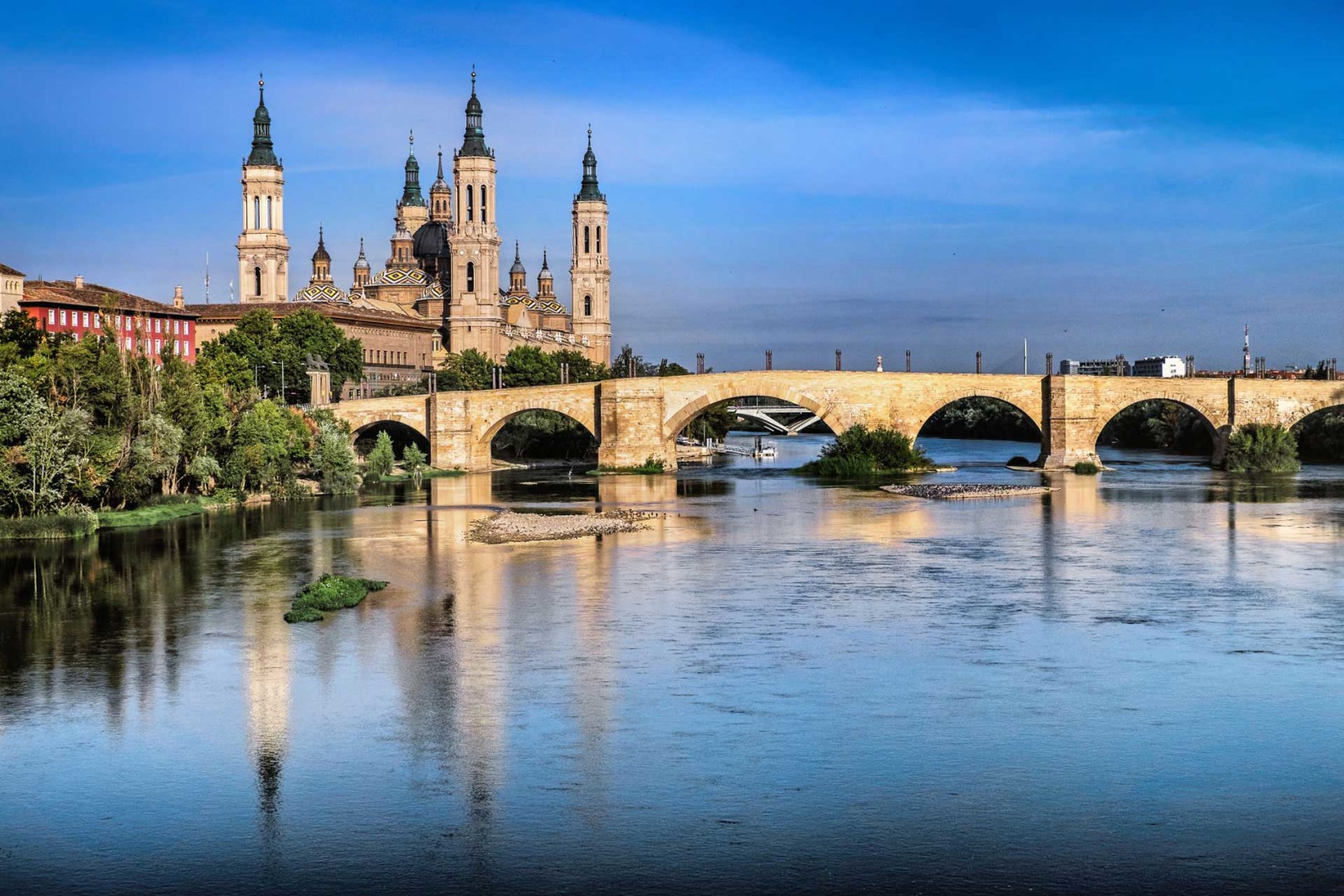 After my fun last evening eating dinner in Madrid with several of my VaughanTown friends, I headed out to the Madrid Atocha train station early the next morning with my buddy, Pat (from VaughanTown) to catch separate trains. I was on my way to Zaragoza!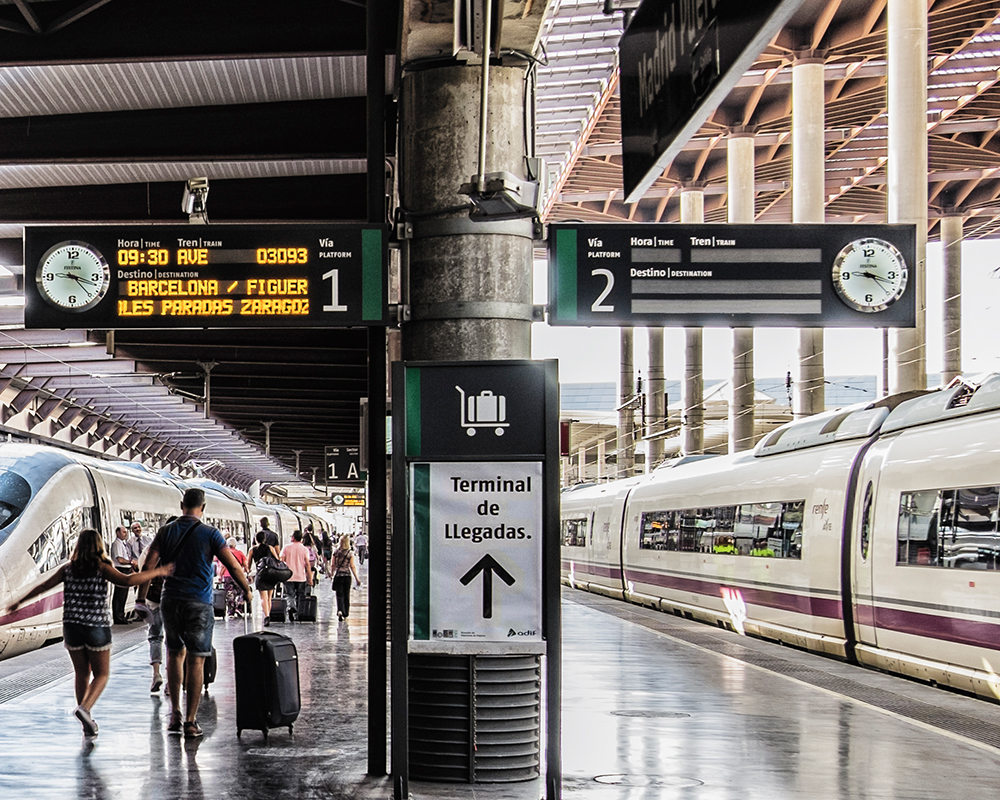 I must say that I could get used to public transportation if California's were more extensive and of this quality. Their train system, Renfe, even played a movie! OK, so it was "Superman" with Christopher Reeve, and it was dubbed with Spanish subtitles, but it was still a movie!
I had reserved a room at Hotel Sauce, which is a family-owned boutique hotel. I hope you will consider staying at this hotel when you visit Zaragoza. Its location was perfect, and the staff was accommodating, helpful, and very friendly. The hotel is located on the same block as the Goya Museum and is within close walking distance to the Basílica de Nuestra Señora del Pilar, also known as El Pilar (Basilica of Our Lady of the Pillar), Catedral del Salvador de Zaragoza, also known as La Seo Catedral (The Cathedral of the Savior), and Palacio de la Aljafería (the Aljafería Palace). It is also the ideal location for excellent shopping and dining as well.
I knew that my first stop would be the Basílica de Nuestra Señora del Pilar which I learned is the first church dedicated to the Virgin Mary. Although it was initially built in a Romanesque style and later a Mudéjar Gothic style, its current Baroque style was constructed between 1681 and 1872 with only a few remnants of its old architectural elements remaining.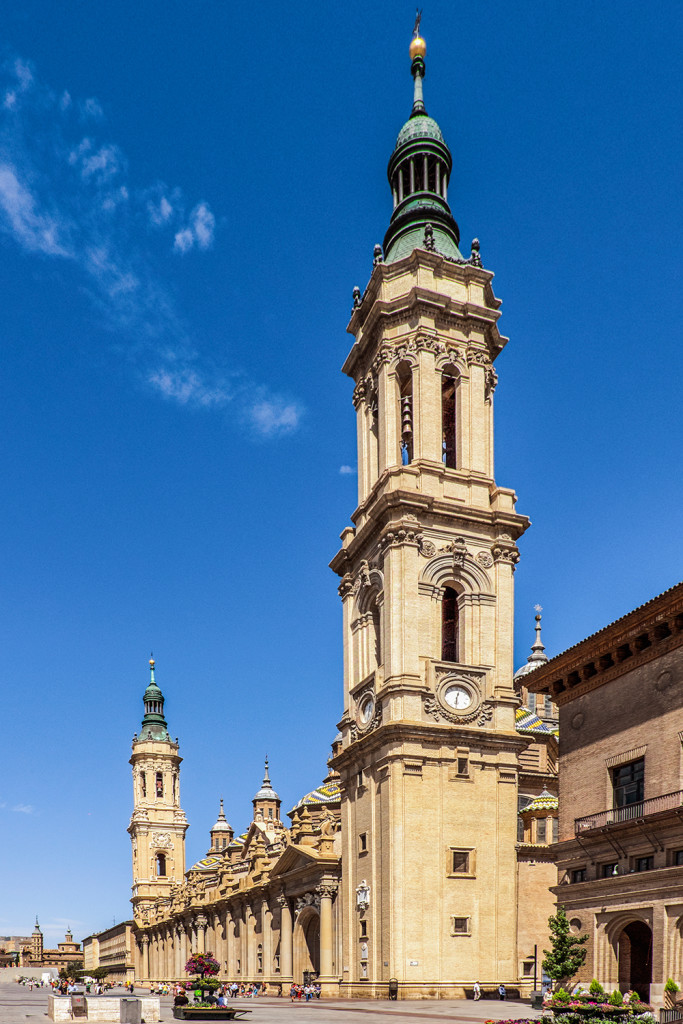 The many steeples and ornamentation of the roofline were stunning.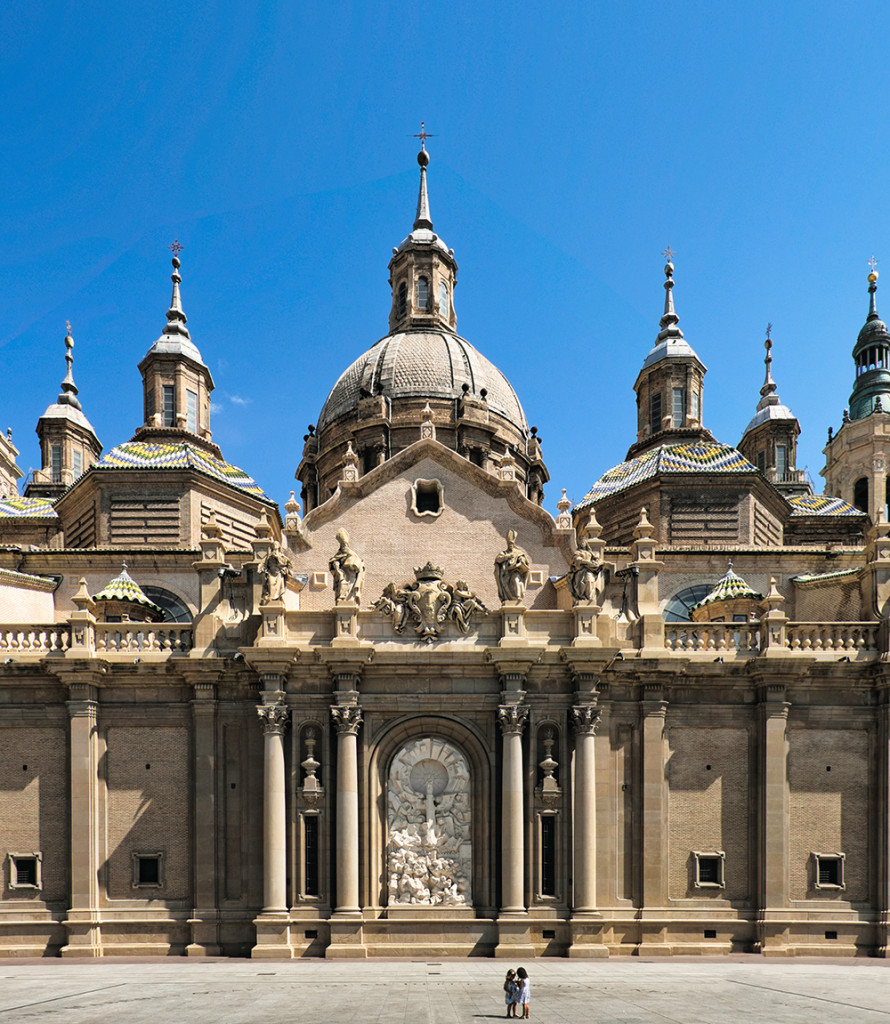 El Pilar is massive in its height, width, and breadth. The exterior was quite a challenge to photograph it in its entirety because of the sheer scale of the church when photographed from the Plaza del Pilar.
The interior of the Basilica was magnificent and richly ornamented. Although signs were stating that photography was not allowed, I think that I was the only person who was attempting to abide by the signs until I came to my senses and began quietly photographing it alongside hundreds of others.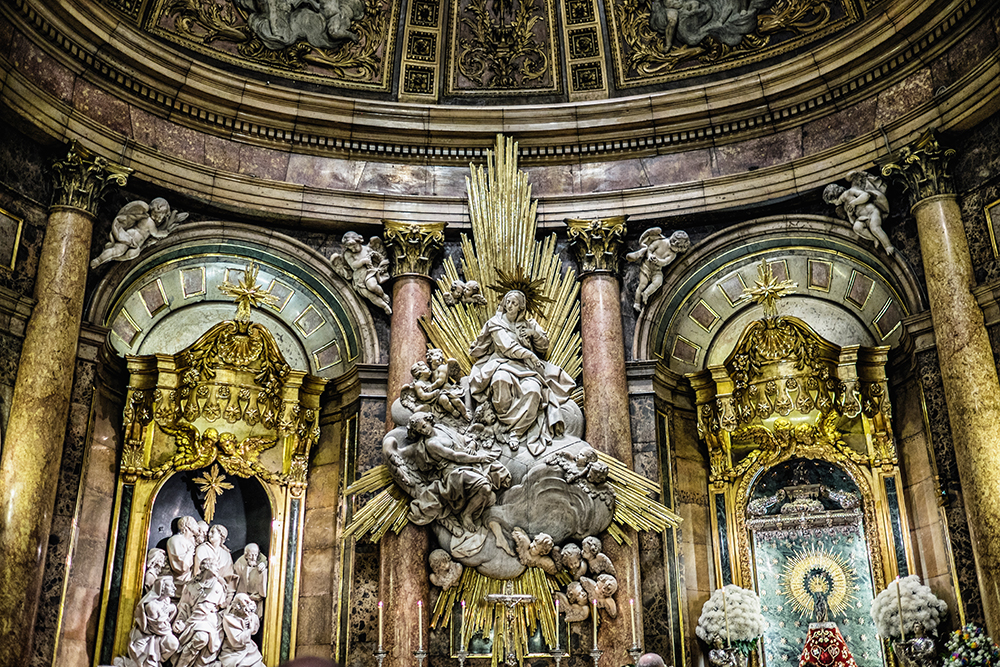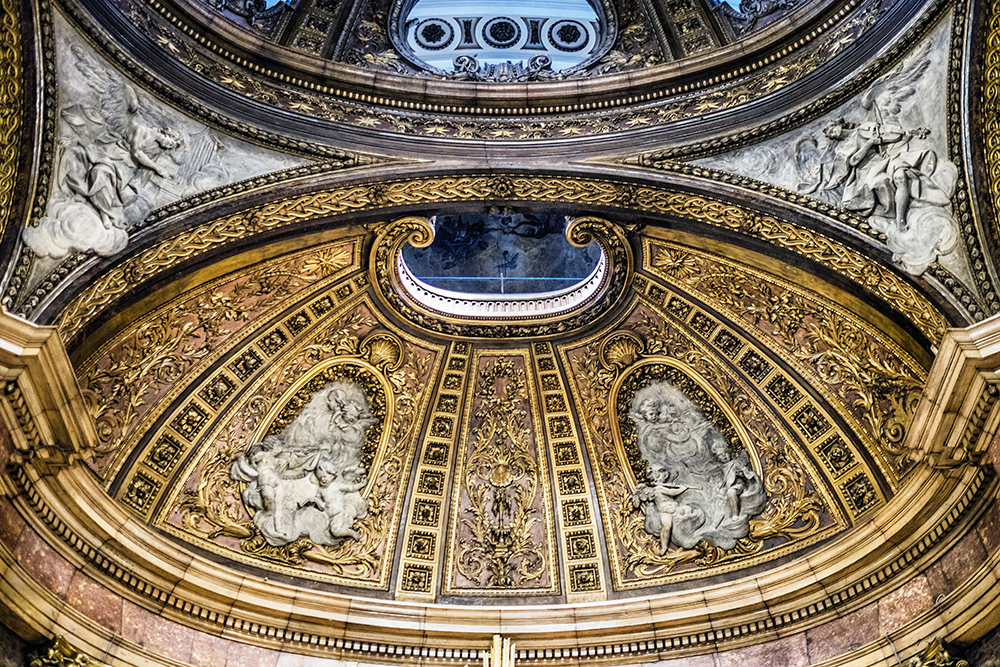 The image below does not do justice to the enormity and craftsmanship of this back altarpiece.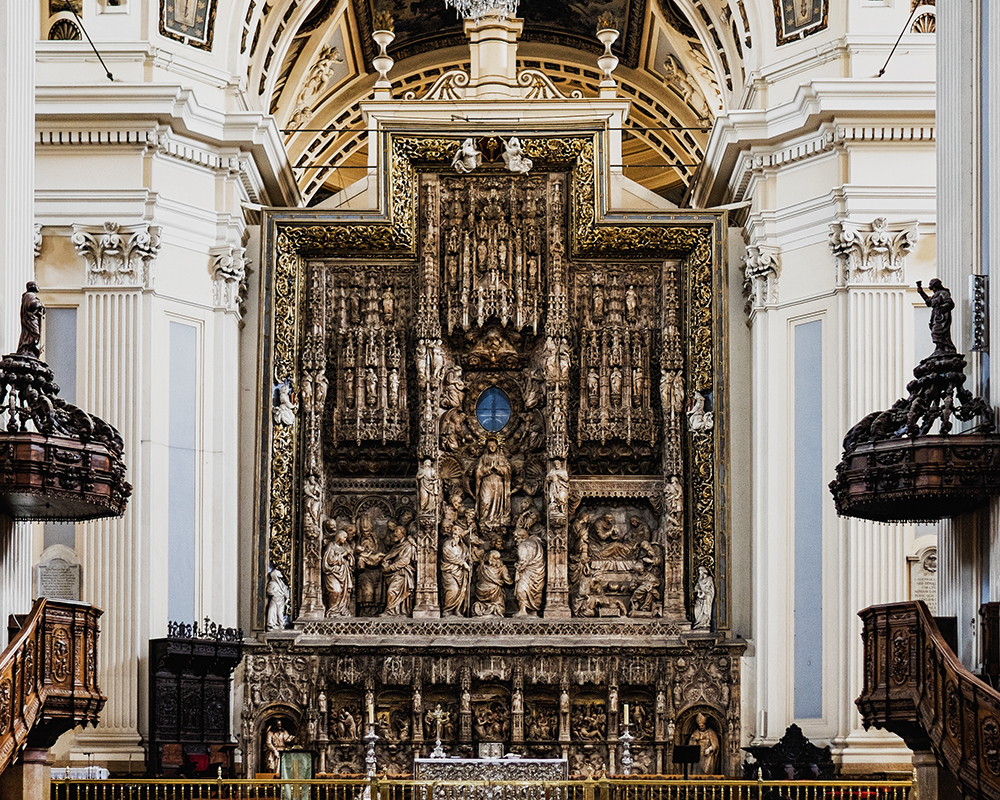 After leaving the Basilica, I decided to wander around the city. True to my traveling style, I became instantly lost. What's always puzzling to me is that I always feel that I have a clear sense of direction when my reality is that I have none! However, this always allows me to discover the nooks and crannies of the city so that, if need be, I can pretend that I wandered there on purpose! I typically take a photo of an area I wandered in that has signage and, upon returning to my hotel, I can look it up on a map to see where I walked. OK, so it only makes sense to me.
Shown below is Calle Estébanes, an attractive area of Zaragoza, which is filled with tapas bars. This is a typical scene in Spain; again, I love this social aspect of this beautiful country. La Ternasca, a highly-rated tapas bar, is located on this street.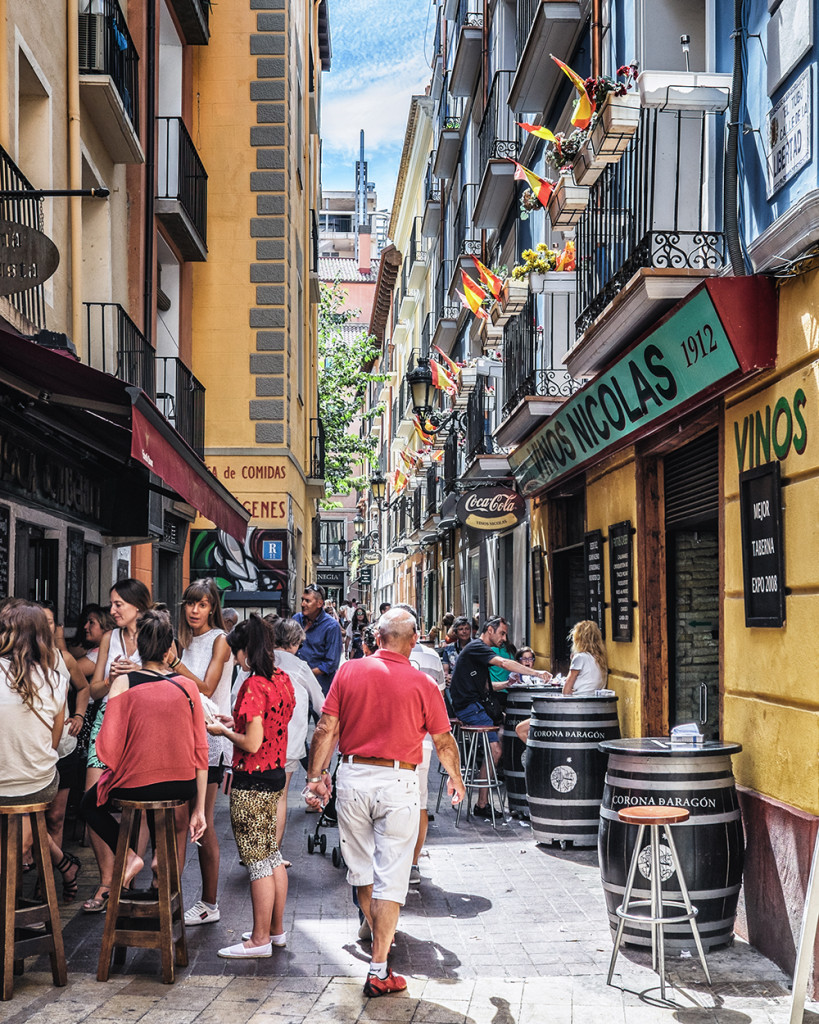 Along my walk, I found two examples of wall street art, found on the sides of tall buildings. This particular piece of art was stunning, both stylistically and for its rampant use of color.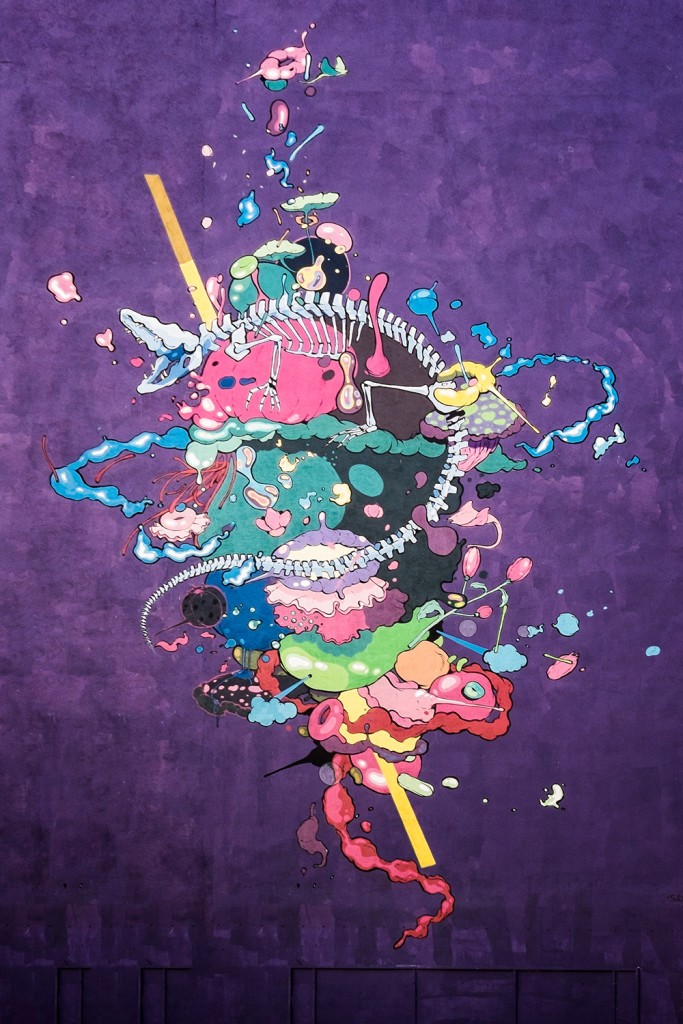 I love the whimsical quality of this primitive-styled street art shown below.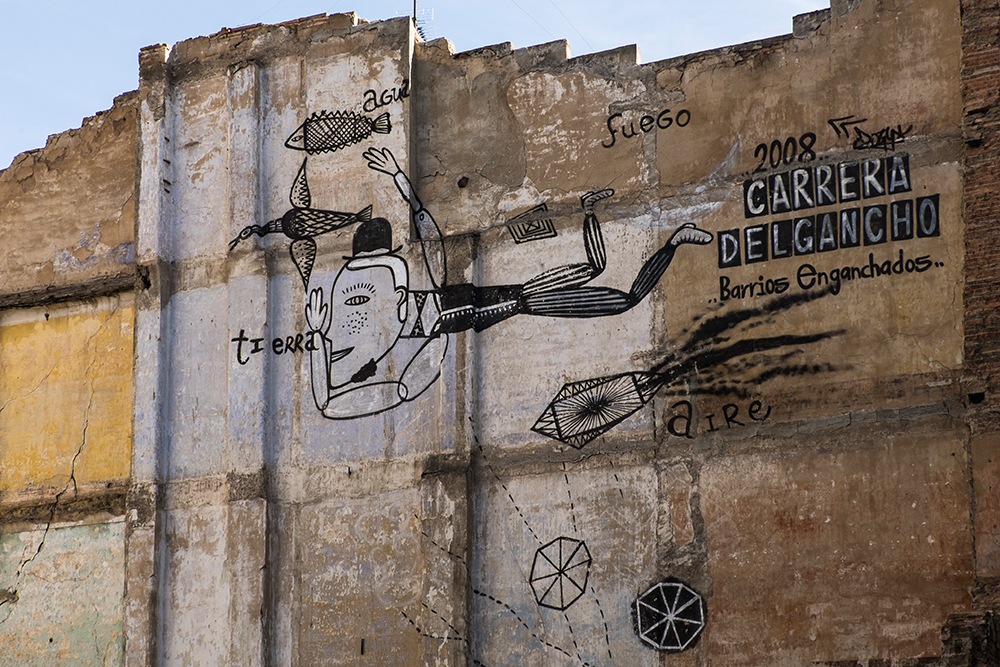 I became quite used to siesta after spending a week at VaughanTown Trujillo, so I decided to head back to my hotel to take advantage of my cute hotel room. Anchoring the Plaza del Pilar and built between the 12th and 17th centuries, I loved the façade of La Seo with its tall steeple bathed in late afternoon light.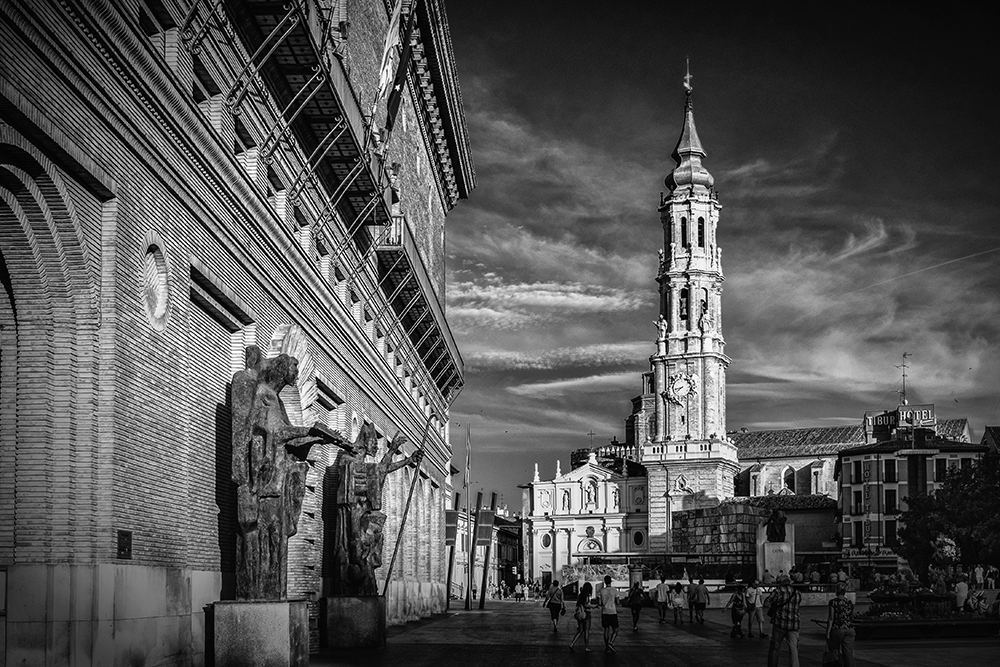 I was completely rested after my siesta and headed out for dinner at Birolla 4, which is a very short walking distance from my hotel. Beginning with Gazpacho casero de tomate (tomato gazpacho) and Croquetas cremosas de jamón y chipirones con ali oli (creamy ham croquettes and squid with garlic mayonnaise), my entrée shown below was Atún rojo a la brasa con pisto de verduras (grilled red tuna with ratatouille).
While all of the dishes were excellent, to be honest, the only thing I felt lacking not having my partner with me to share in a romantic dining experience. I had traveled solo to Spain, and I was surprised to discover that this simple restaurant was very romantic with only five tables, antique stone walls, a curved brick ceiling, and dark wood beams. Did my eating alone stop me from enjoying this meal? Heck, no! It was a lovely dinner.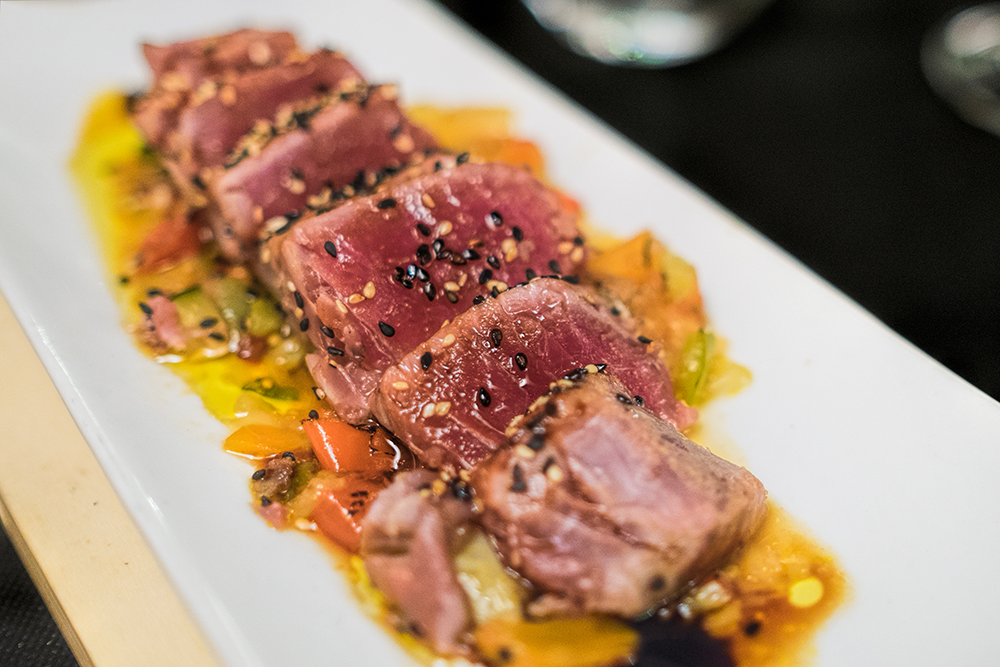 I will say, however, that Zaragoza is a city for lovers. There are many quiet streets to meander through, and you could cuddle with your partner in very safe surroundings, making this an excellent destination for solo travelers as well.
Just look at this street! It's lovely.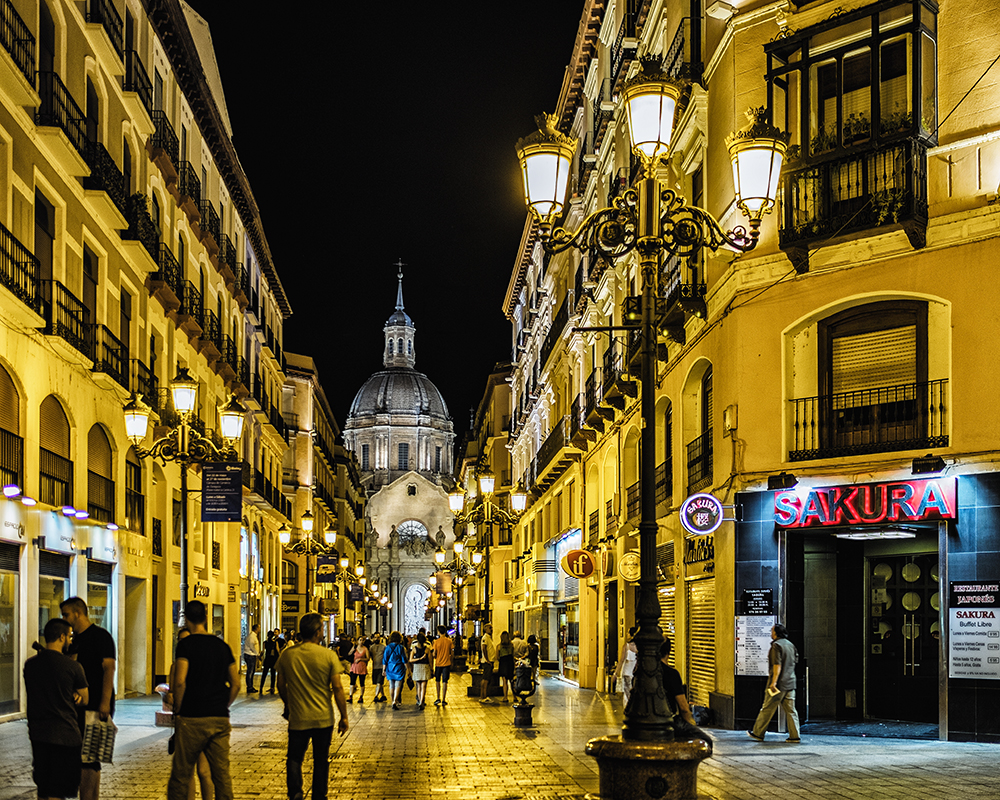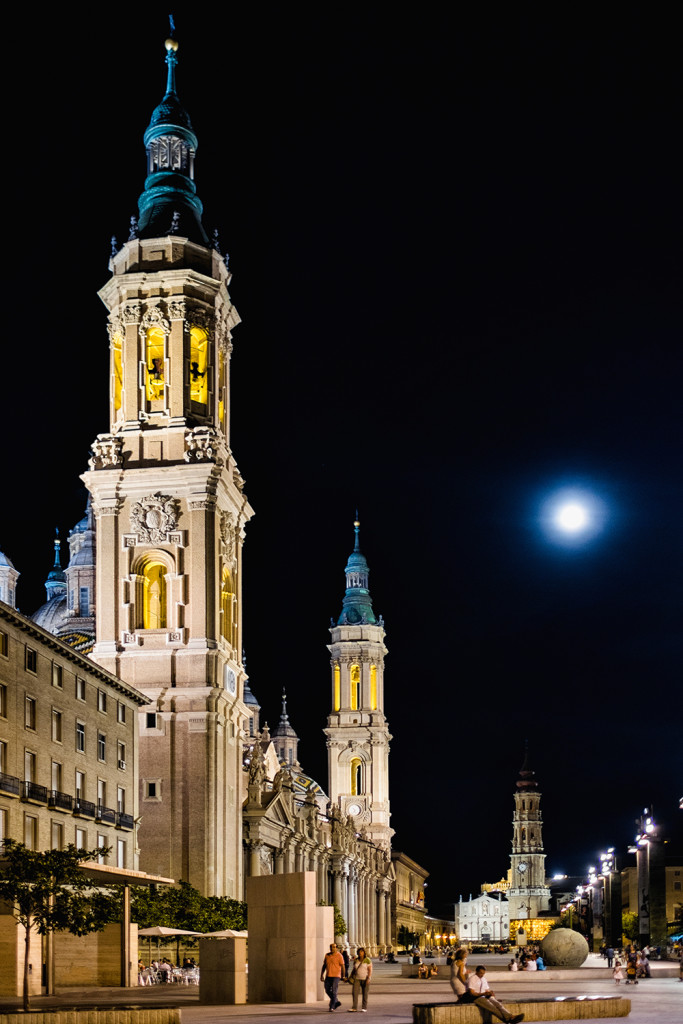 The following morning, I left my hotel room to photograph El Pilar in the early morning light. Although this is my first trip to Spain, I was highly impressed with and well aware of the cleanliness of the cities I was visiting. Look at the street below; it was washed down and cleared of any and all debris. I found this to be true throughout my stay in Spain. Please feel free to scan through any of my outdoor images and you will see that this is true across the board.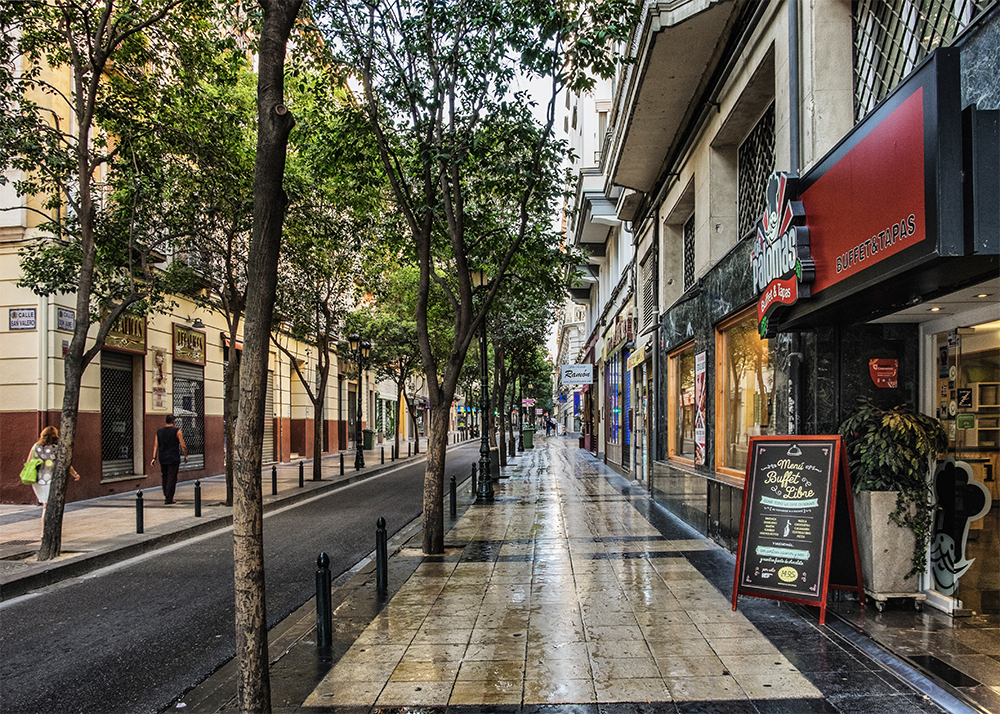 I wanted to cross over the Puente de Piedra Bridge to photograph El Pilar from the other side of the Ebro River. Flanking both ends of the bridge are a pair of majestic lions. If you look closely at the first image at the top of this blog post, you will be able to see a teeny tiny view of these lions at the left end of the bridge.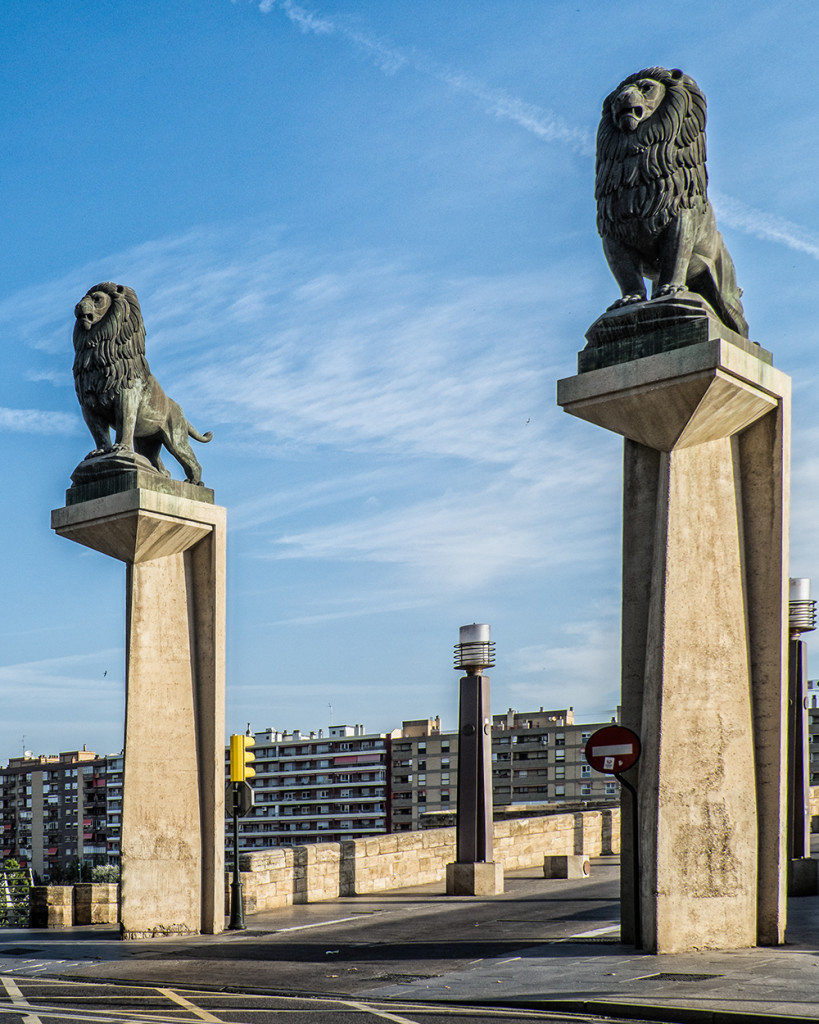 Rebuilt in 1659 after a flood destroyed two central bridge spans, the Puente de Piedra Bridge reconstruction was important because it greatly increased the economic development of the region.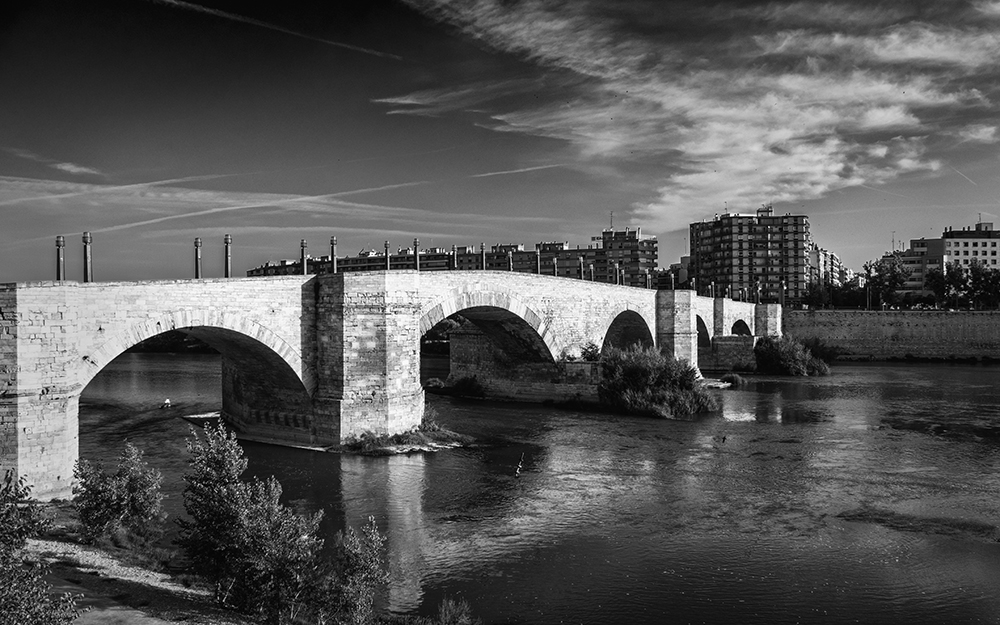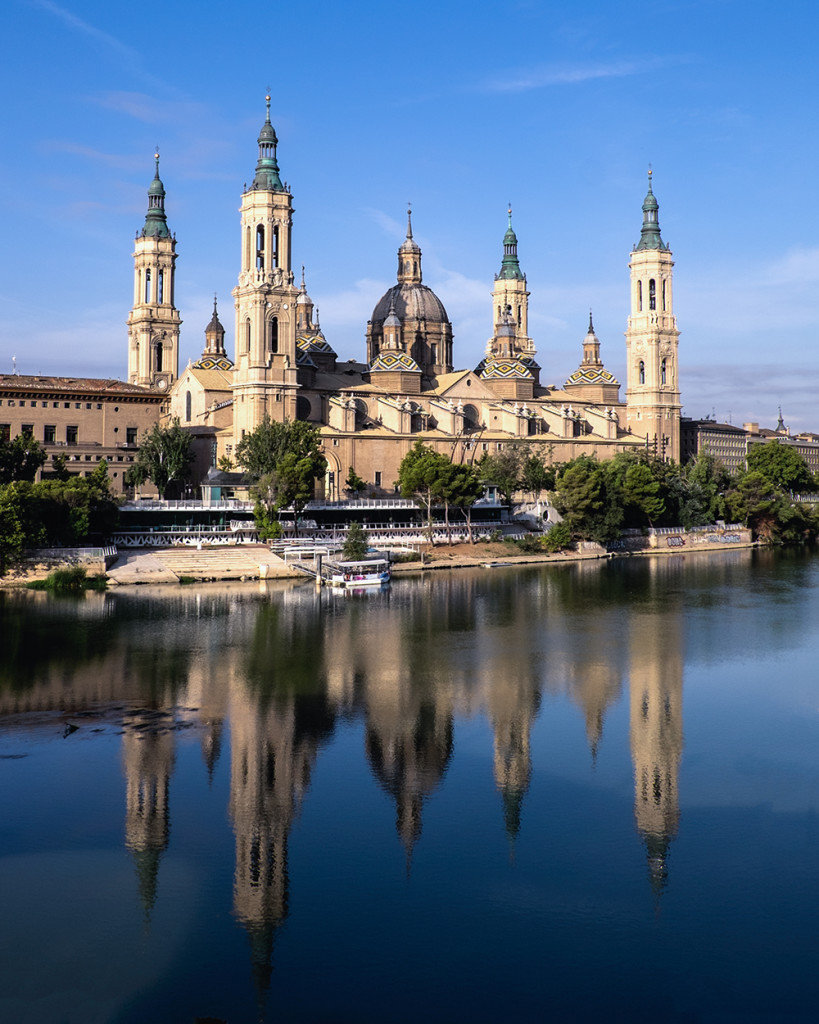 I returned to the hotel in time for their famous breakfast. Score! I finally had my first serving of a Spanish omelet, or Spanish tortilla, as it's also called. This egg and potato omelet was delicious. The buffet also included fresh fruit and many breakfast pastries. My breakfast also included Manchego cheese, bread with fresh tomato smeared on it, and my now beloved Jamón ibérico and Spanish chorizo. YUM. Trust me; this will be my daily breakfast whenever I visit Spain in the future.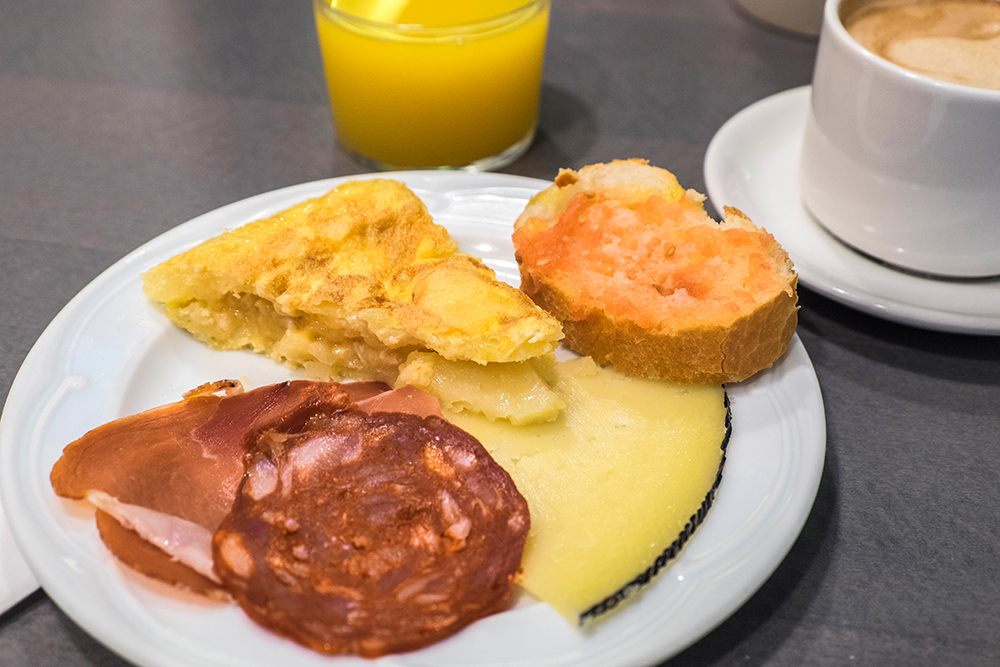 I didn't have much time to visit Zaragoza because I was taking a train to Barcelona in the afternoon. After checking out of the hotel where they graciously held my luggage, I walked to Palacio de la Aljaferia (Palace of Aljaferia). Here are a couple of views from my walk: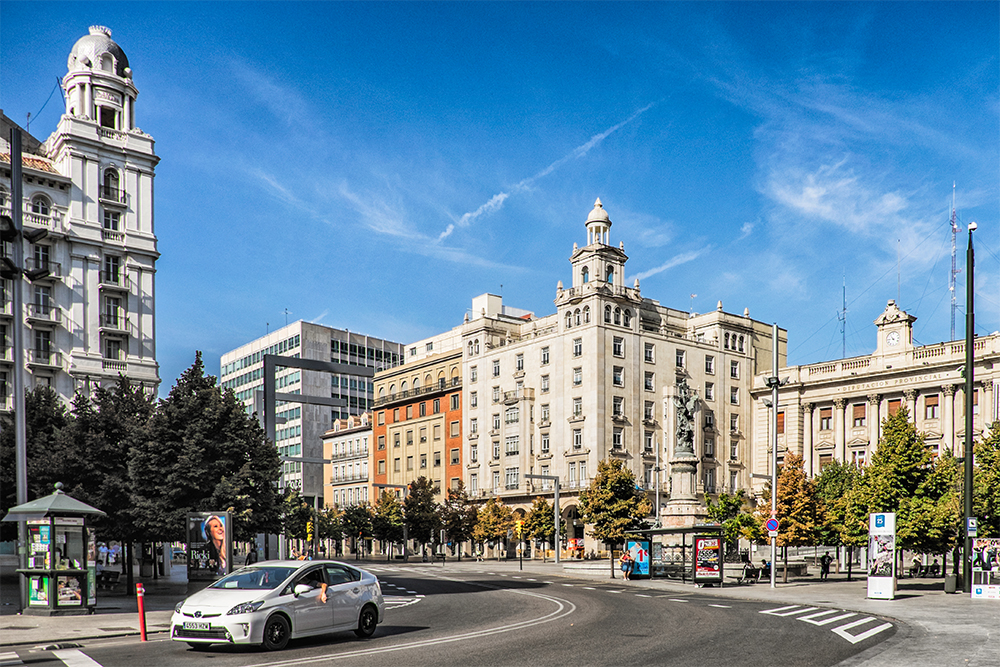 I think the image below of a residential building reflected in a mirrored office building was a precursor to seeing Antoni Gaudí's masterpieces in Barcelona!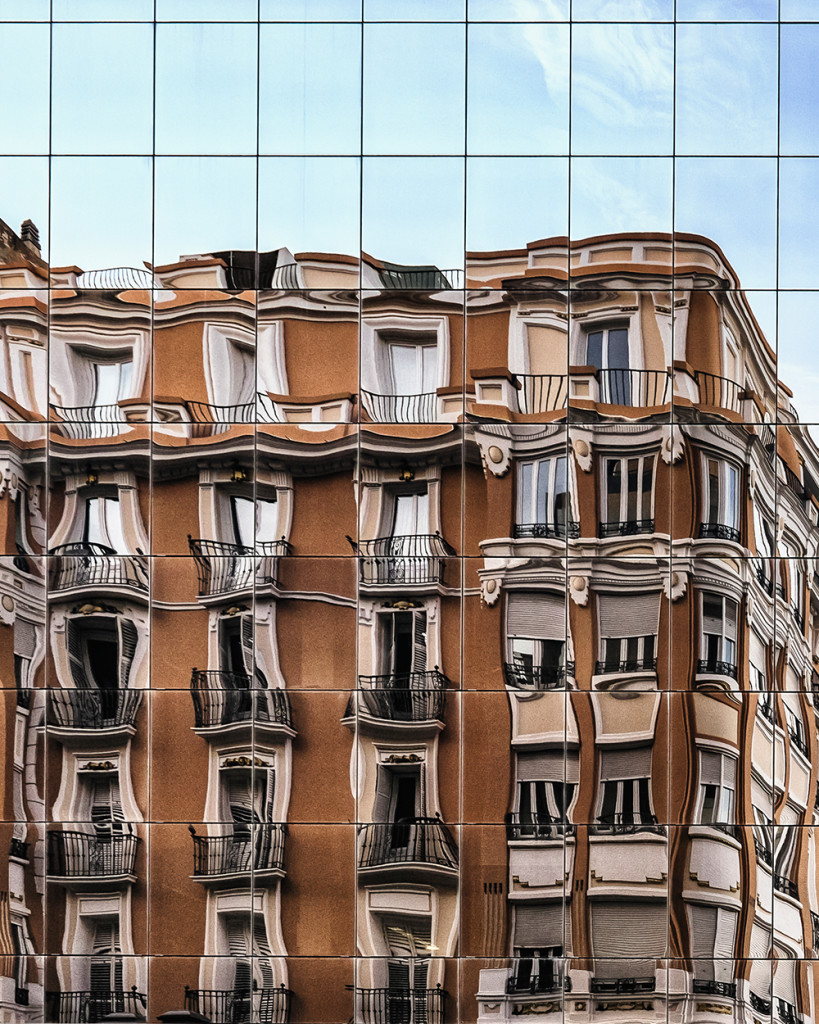 Like perhaps much of Spain, the city of Zaragoza showcases important buildings of both Christian and Islamic design. The Aljafería Palace was a fortified medieval Islamic palace built during the second half of the 11th century and currently holds the distinction of being the only conserved building of that era. The square tower in the center of the image is the Troubadour Tower, which was a defensive tower and dates back to the 9th century AD. I have to say that I'm often astounded seeing and wandering through buildings with such history.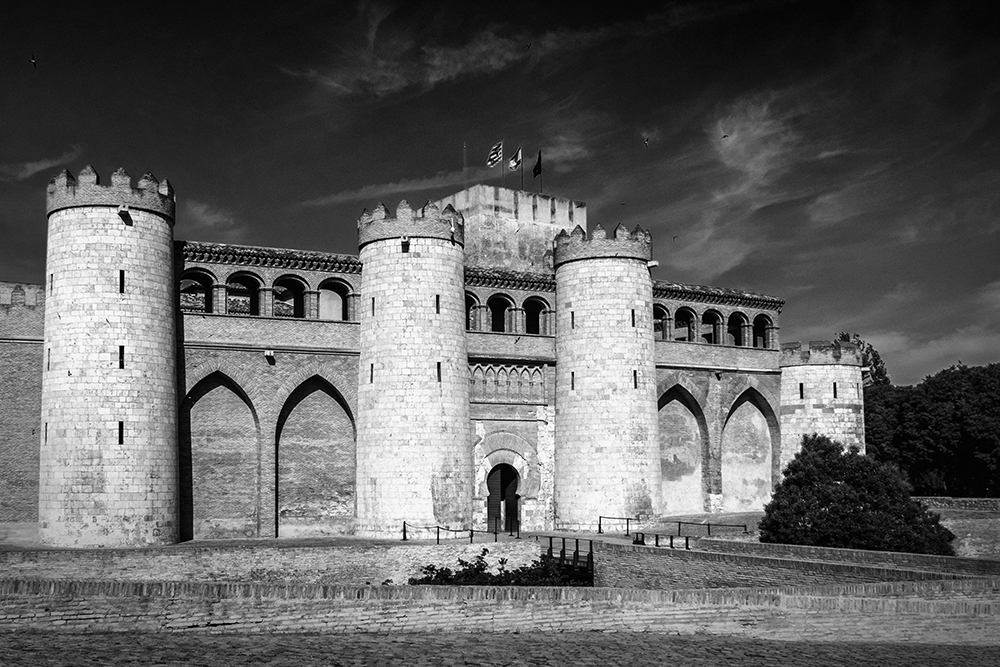 Behind the walls and beyond the spare front entry of this Palace showcases magnificent examples of intricate and highly geometric arches and ornate ceiling designs.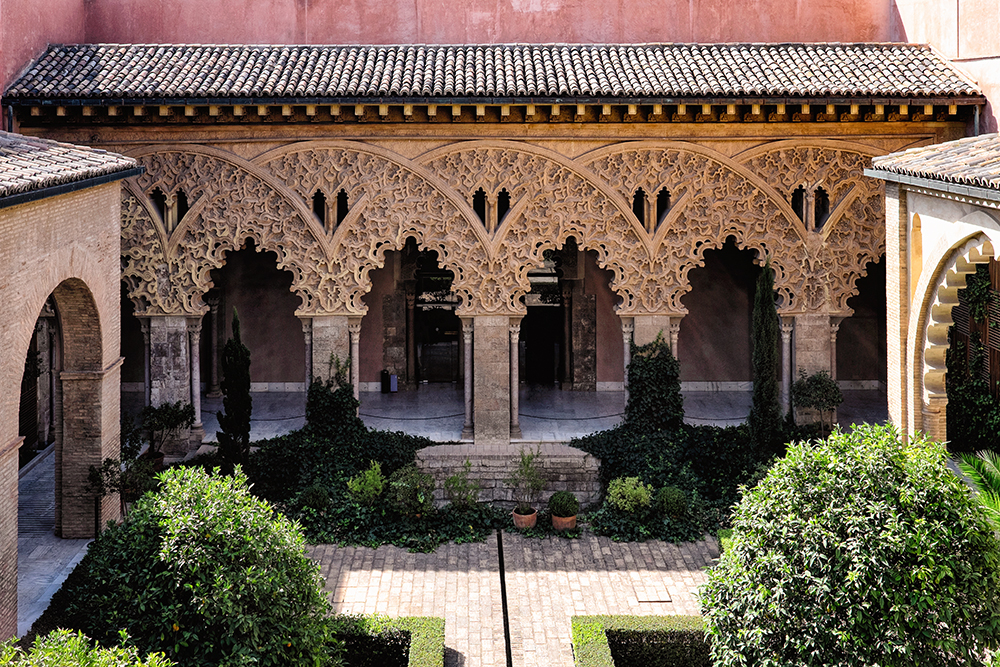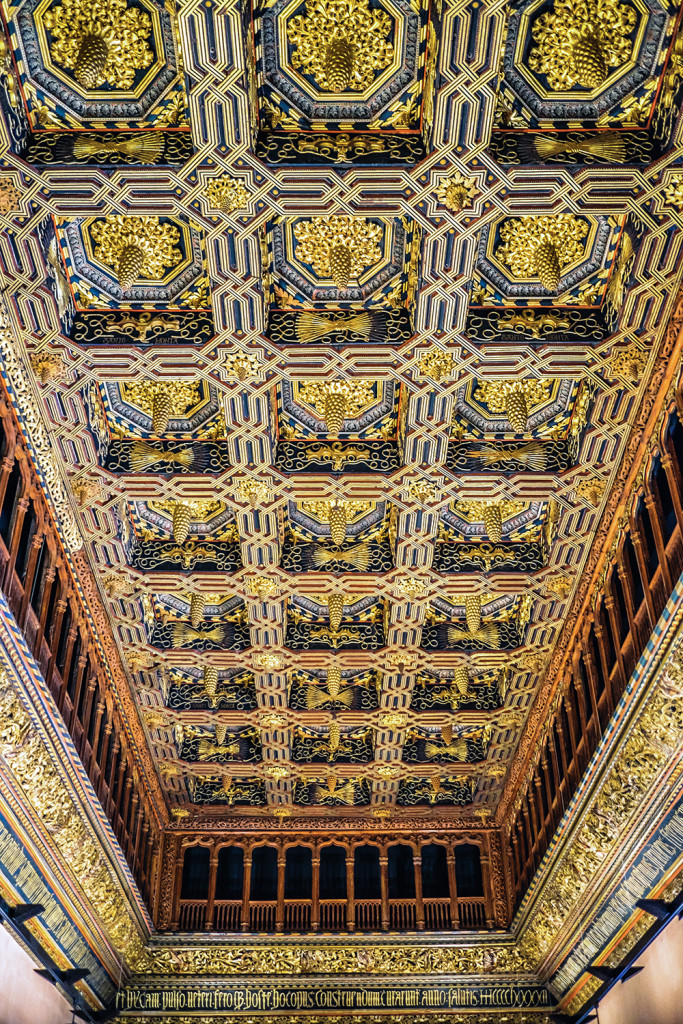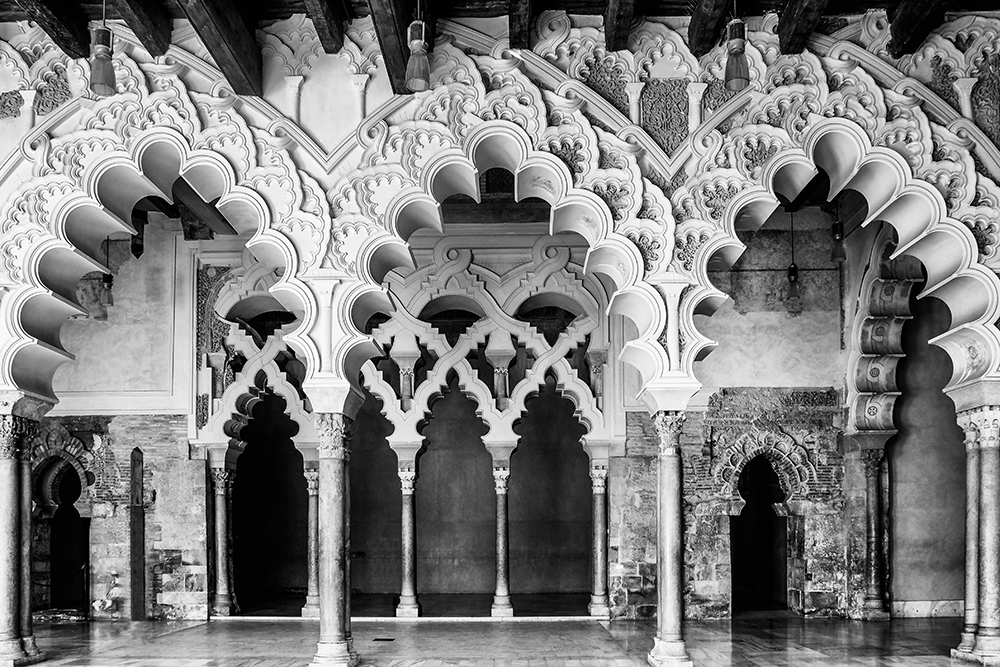 I spent a very long time wandering through this Palace. Trust me when I tell you that I have many more images of the rooms of this Palace! However, I needed to hurry back to the hotel to grab my luggage before heading off to Zaragoza-Delicias for my train to Barcelona.
When walking back to the hotel, a man sitting at a small table on the sidewalk called out, "Buenos días" to me. When I responded in English because my Spanish is so poor (ugh), he stood up and spoke to me in English. He asked me where I was from. When I told him I lived near Los Angeles, he became very animated and said, "My nephew lives in Los Angeles! Do you know him? His name is David." I told him that I live with millions of other people in Southern California so, of course, I didn't know his nephew. He said, "When his family moved to California, he was a small boy. He returned to Zaragoza two years ago, and he's now THIS tall!", stretching his hand well above his head. He then told me, "Wait. I have something to show you." He reached deeply into his wallet and pulled out a folded one dollar bill which was tucked away in a small pocket. "This is a real dollar! Look at it! Touch it! I have had this dollar in my wallet for over twenty years!" He was highly animated, which might have been brought on by his beer. I told him that I had to hurry back to the hotel because I was leaving Zaragoza. I asked him if I could take his picture. "OF COURSE!" Here is that photo.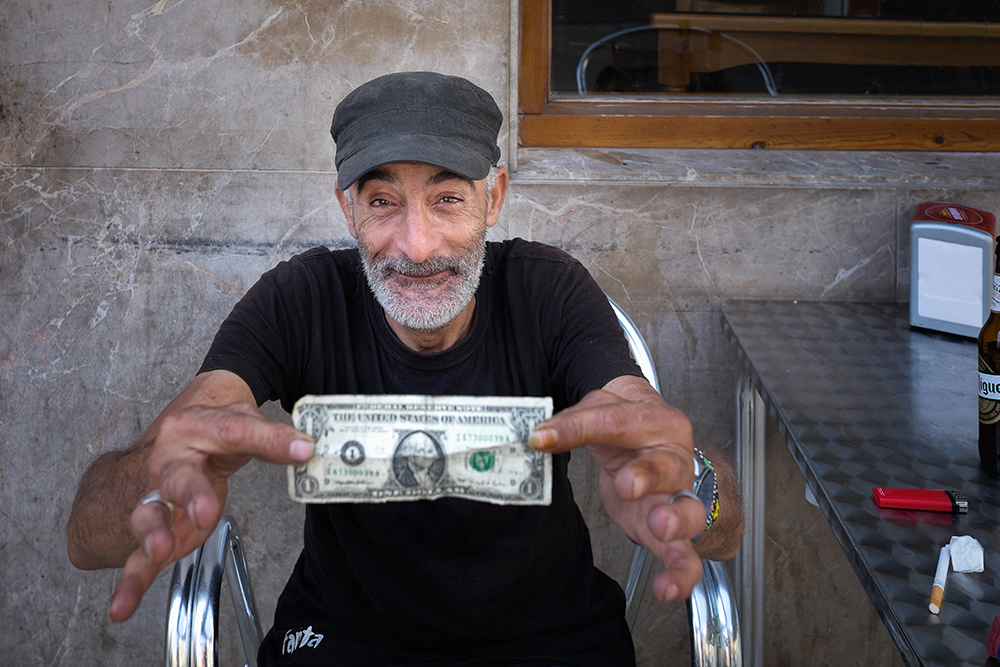 Honestly, this picture still brings tears to my eyes. Look at the pride in his eyes of what he is holding between his fingers. This simple man represents the romantic and idealistic vision that many foreigners have of my beloved country. I am so thankful that I walked back to my hotel instead of taking a taxi that afternoon.